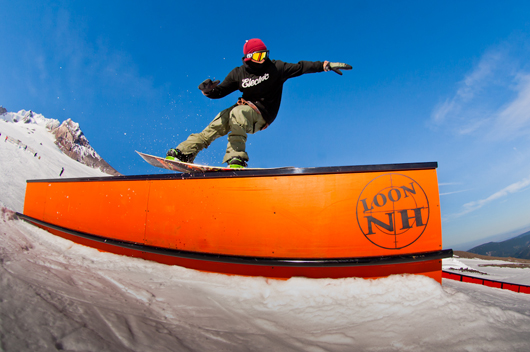 Photo: High Cascade Snowboard Camp, Greg Furey
In the last month or so, have you found that you've been suffering from the need to shuffle everywhere sideways? Do you wear your goggles all day (and night) to preserve the evidence of last season's shred? Have you been told multiple times that snowboard boots just aren't a good look for casual strolls in 90 degree heat?
Well then, you might be suffering from On-Snow Withdrawal (OSW). But don't worry! There is a cure, if not just an effective way to take the edge off.
For those of you who can't seem to make it through an entire summer and fall season without snowboarding, High Cascade Snowboard Camp at Mount Hood is here to help you bridge the gap.
High Cascade Snowboard Camp (HCSC) is the only 100% snowboard camp at Mount Hood (sorry, no skiers allowed). Throughout the summer they offer six 8-day camp sessions that cater to all levels of snowboarders, from straight up beginners to kids on the verge of turning pro. All of HCSC's Signature Sessions feature a select group of pros that are there to coach, hold clinics, judge contests, and run activities. Some of the pros taking part in the 2012 summer sessions include Jed Anderson, Kevin Pierce, Scotty Lago, Mason Aguirre, Jaime Anderson, Pat Moore, Jeremy Jones, and Jess Kimura.
HCSC features three private parks. The Main Park includes two rope tows so you won't have to wait on the long lift lines at the bottom every run. There is a Super Pipe, Mini Pipe, multiple boxes and wall rides, a variety of different sized jump lines, and an Air Bag. The Air Bag gives campers the benefit of trying out new tricks without the threat of a crash landing. After you get your tricks down on the Air Bag you'll be ready to take them to snow.
Campers are divided into groups based on their age and ability level and spend the majority of the day with their coach and group. Group sizes are kept to between 7 and 8 campers, but if you feel you might be in need of a bit more personal attention private 1-on-1 coaching sessions are also available. In the second half of the on-snow part of the day, campers can choose from a variety of daily clinics such as freeride, lap park, jump, rail, and half pipe. Each session Signature clinics will also be offered by the pros in attendance.
In addition to full days of on-snow coaching and technique specific clinics, HSCS also offers a Photo Workshop and a Video Workshop during certain sessions. This allows campers to experience hands on instruction in shooting snowboard photography and videos with some of the best photographers and videographers in the industry. A highlight of these workshops is that participating campers will have the opportunity to shoot at sunset up on Mount Hood in HCSC's private park with the setting sun as the backdrop.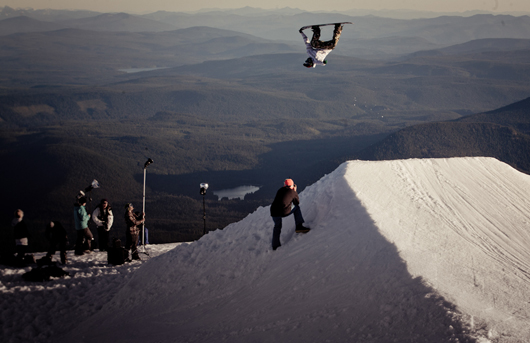 Photo: High Cascade Sunset Photo Shoot, Rider: Tim Humphreys. Photog: Owen Ringwall
A day at HCSC goes something like this: 8am wake-up. Head to Boardwalk for some serious breakfast eats. At 9am meet up with your coach and group and grab a lift ticket. Hop on the lifts at 9:45 and shred till your 12pm lunch break on the hill. From 12:30 to 3pm take part in an afternoon on-hill clinic of your choosing. Between 1:30-3:30 the camp shuttle runs every 20 minutes to take you down the hill back to camp. At 4pm meet up at the lodge for afternoon activities including skating in the camp's private skate park, dodgeball, jumping on the trampolines, video analysis, and arts & crafts. Enjoy a home cooked dinner from 5:30-7pm. Meet up at 7:15 for evening activities including soccer, yoga, skating the ramps, bouncing on the trampolines, mountain biking ect… 9:30pm curfew means head back to your Chalet and chill out with your bunk mates till lights out at 11pm.
High Cascade offers Youth Camps for ages 9-20, and Adult Camps for ages 21+. You can find out dates, prices, and availability on their website. They also offer a Day Camp option, which is great for parents escorting their kids to camp, or for campers who would like to do something a bit different with their off-snow time.
What ever you do, get out there and head to camp to calm those between season jitters, and hone your skills for another season of epic shredding. Check out High Cascade's Vimeo page for some inspiration from this summer's earlier sessions. There are still Youth Camp spots available in session 6 (August 5-12) for all ages. The Adult Camp has spots available for session 6 (August 5-12).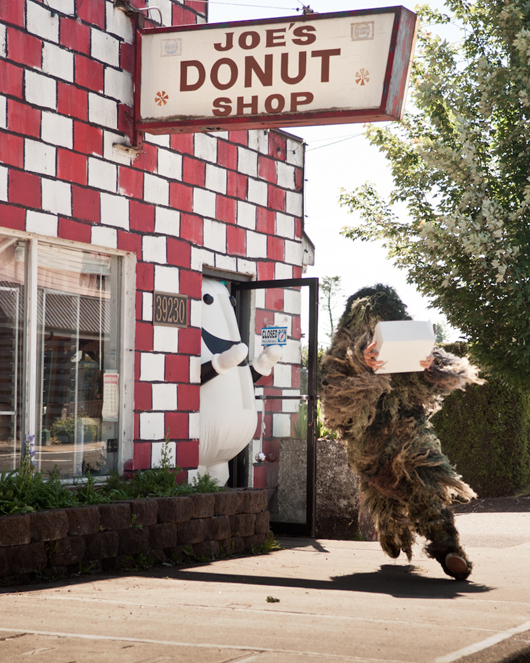 Photo: The notorious HCSC Manimal stole the Marshmallow's donuts! P: Furey
Related posts: