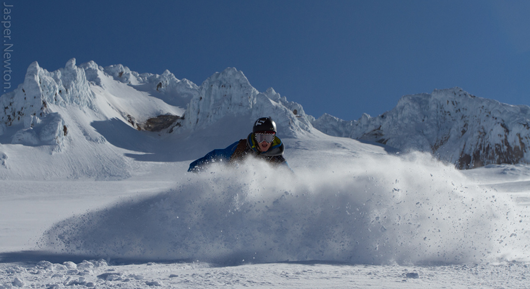 Photo: June snowstorm brings summer powder skiing, Mount Hood, OR. P: Jasper Newton
SO HERE'S THE SITUATION:
You've just discovered that you can find snow in the summer, in North America no less, and now you want to know more about where to go and what to do.  There are so many camps to choose from, so where do you start?
If you're looking to stay in the US of A, start with the oldest ski & board camp in America: Mount Hood Summer Ski Camps (MHSSC).
Don't let the name fool you. MHSSC, founded in 1979, offers programs for skiers, snowboarders, and even rock climbers.  This is the only camp at Mount Hood where you have the option to ski race for part of the week, then try snowboarding for the other half. The ski-racing program boasts an experienced coaching staff that has worked with, and raced at, the Europa Cup and World Cup levels. Now how often is it that you get that level of coaching on your home hill? (During the summer?)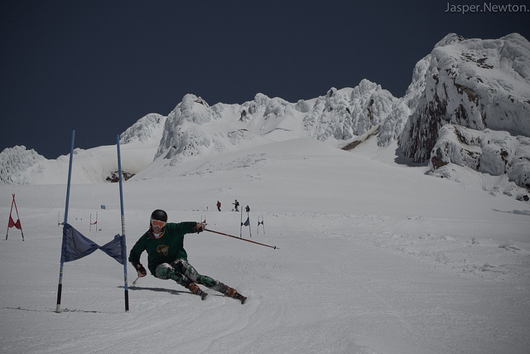 Photo: GS Training on Palmer Glacier, Mount Hood, OR. P: Jasper Newton
You couldn't truly call this place a ski camp if their ski program was limited to racing. That's why MHSSC offers the best freeski and mogul skiing programs around.  The coaches are not only experienced, but also dedicated to teaching you what you want to learn. Head Mogul coach Darren Owen hails from Salt Lake City, Utah and has been with MHSSC for over 15 years. He's coached all levels of mogul skiers, from beginners and seasoned intermediates, to NorAm and World Cup level athletes. Both East and West coast-based skiers round out the freeski coaching staff. Among them are Shea Flynn, Maks Gorham, Nolan Willard, and Jasper Newton. They know where you Coasties are coming from, and just how beneficial one week on snow can be.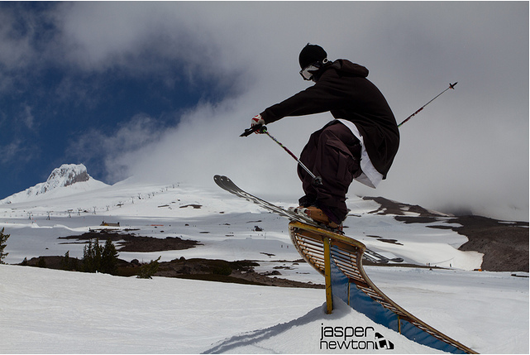 Photo: Skier: Nolan Willard. P: Jasper Newton
MHSSC has their own private mogul lanes and jumps, as well as their own private terrain park complete with rails, boxes and 45'-60' booters. Last season their park boasted some of the biggest jumps at Mount Hood. The Timberline Public Park begins at the end of the MHSSC Private park which gives MHSSC skiers and boarders the exclusive advantage of an extra-long park lap. This is the camp for skiers and boarders who want to learn from pros, and not just ski next to them and watch. Check out what campers have been saying about MHSSC compared to the other camps at Hood.
Now onto the snowboard side of things.  MHSSC offers both Alpine snowboarding (snowboard racing) and freeride snowboarding. The racers have the opportunity to train on the steeper upper lanes while the freestyle snowboarders get to take advantage of both the MHSSC Private Park and the Timberline public park. Head snowboard coach, Rick Millett, has been at MHSSC since 2006 and takes pride in building the camp's meticulous jump line. The small group sizes make MHSSC the ideal place for one on one coaching and for learning specific skills.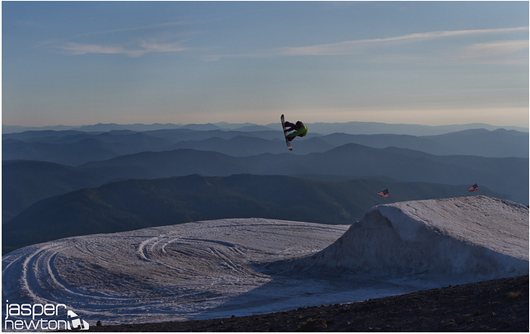 Photo: Coach Rick Millett in the MHSSC Private Park, Mount Hood, OR. P: Jasper Newton.
A typical day at camp goes something like this: Breakfast buffet at 6:15 am.  Head downstairs and make your own sandwich to bring for lunch. First busses (usually racers) leave for the mountain at 6:45am, then freeride skiers and snowboarders leave at 7am. Arrive at the mountain, get your boots on and load first chair at 7am. The racers free-ski and do warm-up drills until 8:15 and then head up to the race lanes to work with their coaches and run the racecourse. The freeskiers and snowboarders will free-ski with their coaches until the snow softens up and the park opens at 10am. Everyone will take a lunch break around 11:30. Race training ends around 12:30pm and the racers head down to take the first busses back to camp. The freeskiers and snowboarders may stay till 1:30-2pm if the snow permits and then head back to camp. At 2:30pm all campers will do video review of their morning training with their coaches. Then, at 3:30 everyone heads off to his or her afternoon activities.
Afternoon activities are chosen individually the night before and can be anything from whitewater rafting, paintball, cliff jumping, rock-climbing, trampoline, field sports, ropes course & zip-line, swimming, gym time, skateboarding ect…  Everyone meets back at camp for dinner at 6:30, followed by evening activies which might include skateboarding, basketball, ping pong, pool, or trampolining. Around 8pm an all-camp meeting is held every night to plan the next day's activities and for general announcements. Finally, around 9pm it's been a full day and all of the campers head to bed, stoked and ready to wake up and do it all over again the next day.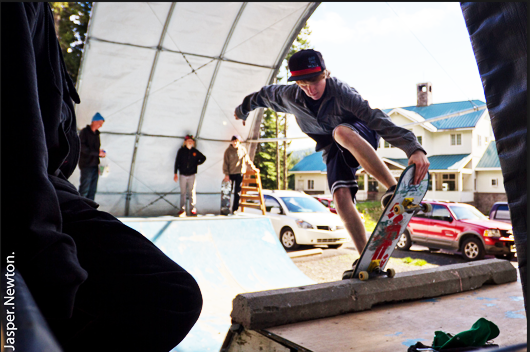 Photo: Campers taking advantage of the MHSSC Skate Ramp; P: Jasper Newton
If this sounds like your kind of summer check out the Mount Hood Summer Ski Camp website for more details. The summer is far from over and there's still time to sign up and get out there.
The camp sessions at MHSSC are week-long sessions and run Sunday to Saturday through September 1st. The August 26th-September 1st session is an Adult Only camp. The Smith Rocks Rock-climbing Camp runs from July 29th-August 4th.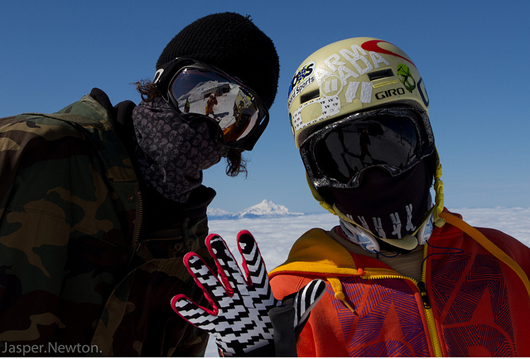 Photo: Nolan Willard and Jonah Elston at MHSSC, Mount Hood, OR. P: Jasper Newton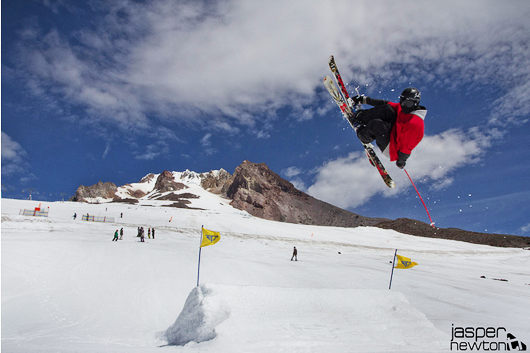 Photo: Counselor-In-Training Patrick Cygańek Rychter rodeoing in Timberline park, Mt. Hood, OR. P: Jasper Newton
Do you feel cheated? …..Deceived?…… Or downright insulted?
Cheated, deceived, and insulted by the fact that winter neglected to make an appearance in 2012. You would've rather been stood up by your prom date, had your apple juice pee'd in, and the toilet seat saran wrapped…but no, instead "winter" left you high and dry.
Lucky for you, seasons change and it's a sure thing (unlike your prom date) that "winter" will get another shot to be just that in a few months time. But, don't you dare put all the blame on "winter". Ski season has always been about what YOU make of it and it ends when YOU say it does.
Summer doesn't mean it's time to throw your skis in the garage and forget about them (actually, no season, time, date, or minute means put your skis in a garage so please never do this. Please).  Instead it's the perfect time to hone your tricks, try out some new ones on the tramp, and take your stuff to the hill. You heard me, the Hill. North America was blessed with Oregon and Canada (yes, even Canada) or more specifically Mount Hood in Oregon, and Whistler/Blackcomb in British Columbia. To these nearly religious pillars of magical season-less winter flock thousands of skiers and snowboarders every summer to spend a solid week or weeks in wonderland keeping the winter flame alive.
Summer ski camps such as Mount Hood Summer Ski Camp , Windell's, High Cascade Snowboard Camp, Momentum Ski Camp, and Camp of Champions provide week-long on snow camps featuring über knowledgeable coaching staff and typically include appearances and coaching from today's pros (Yo, Coach White!). Imagine getting more out of seven days on snow than you've gotten out of the whole season, plus bragging rights to say you nailed your dub cork 3 in July in front of Tanner Hall or Scott Stevens.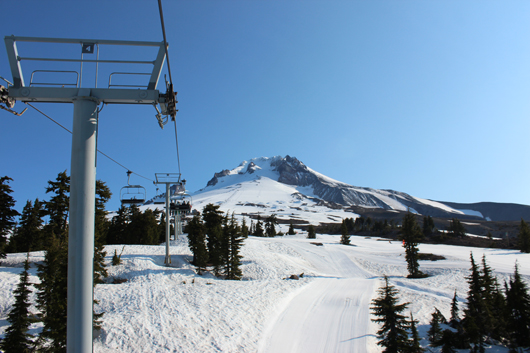 Photo: Mid-July and Mount Hood is still prime for skiing and riding. P: S. Karapetrova
But wait, there's more! The fun doesn't stop when the day on the hill is over. What would any typical summer be without whitewater rafting, paintball, cliff jumping, trampolining, rock-climbing, skateboarding, zip-lining, surfing, pick-up sports games, barbeques, bonfires, and Fourth of July firework extravaganzas (just to name a few).
It's already July, but don't worry, it's not too late to sign up for summer sessions! All of the camps have spaces available in upcoming summer sessions, but they are limited so be proactive and do it now! Check out Windell's, Mount Hood Summer Ski Camp, and High Cascade Snowboard Camp for dates, prices, and availability at Mount Hood. If you're interested in heading up to Canada for some late summer shredding, check out Momentum Ski Camp for spots in their Adult Camp from July 22nd-July 30th.
So stop whining you pansies, and be thankful for all of your opportunities for summer shredding (and the fact that the Jersey Shore is only a TV show and not real life. We're from Jersey, we know.)
And keep up with our blog during the """"Off Season""" cause next year's gear is starting to roll in and we have the pictures to prove it.
Keep on Claiming.