When's the last time you hit the park and didn't see more than half of the riders crushing it on some of Capita's outlandish and in your face graphics. The brand has all but taken over the freestyle snowboarding scene and showing no signs of slowing down. With a wide range of technical boards and apparel that cater to a continuously varying customer base they have grown rapidly since their debut in 2000 with the Black Snowboard of Death which remains one of the best selling boards in their lineup to this day.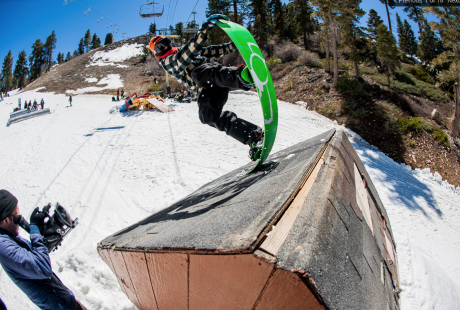 Scott Stevens throwing down a seriously flexy tail block.
 Capita has been a staple in the Mount Everest line for years now and continue to be a top seller across the board (no pun intended) whether you're looking for the next board to crush some rails, or slay some fresh powder in the glades Capita offers a deck catered to your needs.
Capita MFG boasts one of the most technically sound pro teams in the biz. Some of the most iconic and innovative riders are strapping into a Capita deck year in and year out. Familiar names include Kazu Kokubo, Scott Stevens, Dan Brisse, and for the ladies you'll find the likes of Jess Kimura who rides harder and heavier than any dude you know. Watch Scott Steven's change your definition of snowboarding real quick…
Below are some of the top product offerings from Capita via Mt. Everest:
1. The Capita Black Snowboard of Death 2016  (Mens) 
MSRP: $599.95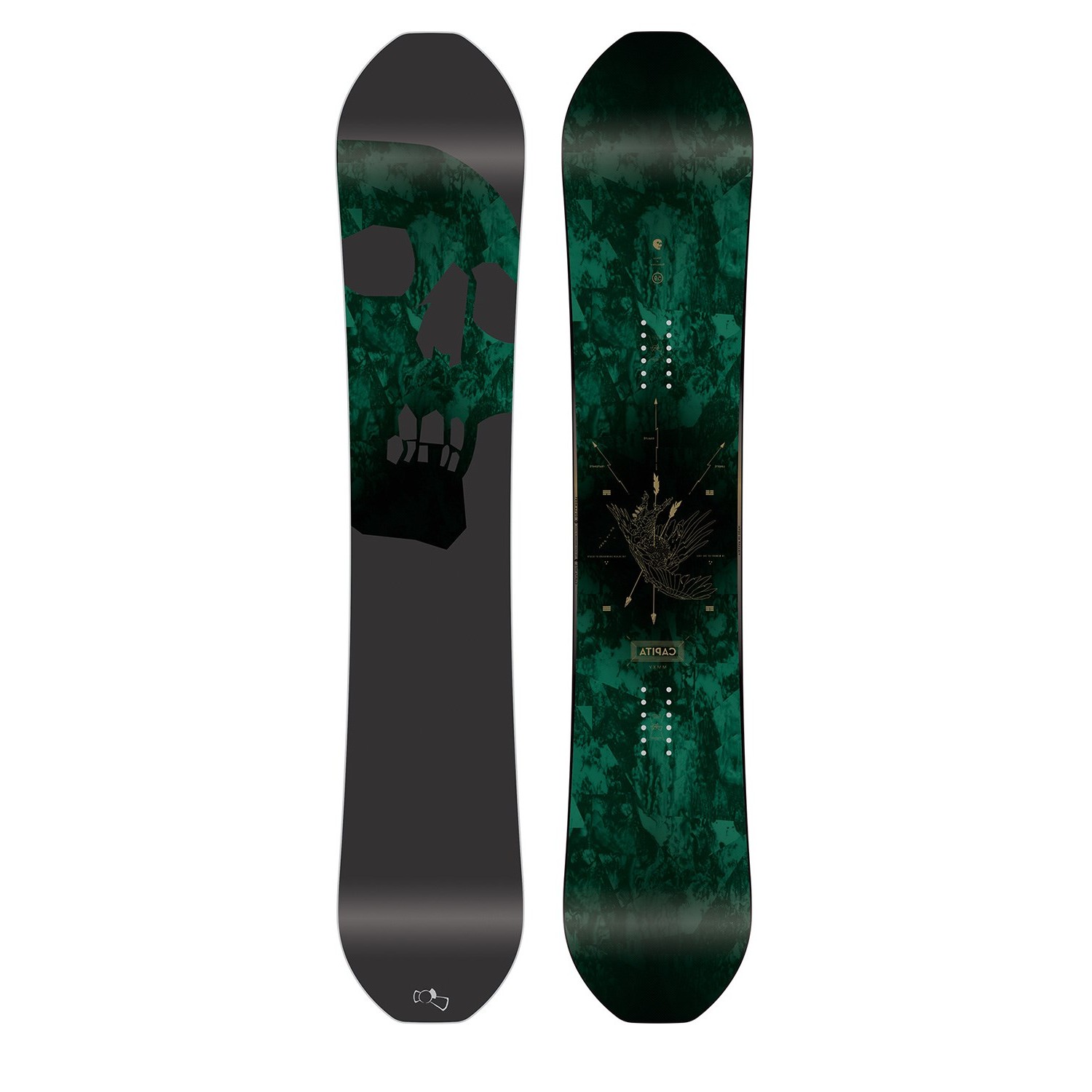 Available Sizes: 156,159, 162, 165
Shape: Directional All Mountain
Camber: Mountain Flat Kick
Flex Rating: 7 of 10
Additional Features
2 year warranty from date of purchase covering manufactures defect.
Rider Style + Ability
For that hard charging all mountain rider thats looking to get the most out of every turn. With a ton of tech and back to back to back Good Wood Awards this board has everything you need and more.
Not only is the Black Snowboard of Death the OG Capita, it remains one of the most popular all mountain boards on the market due to its slick style and all around performance level. An iconic all terrain slayer with a tendency for dropping big cliffs and ripping deep pow slashes, the BSoD offers a mix of positive and reserve camber that offers tons of pop, epic control, and float you can only dream of. This board offers one of Capita's lightest cores, paired with carbon forks and progressive geometry to help you crush any conditions the mountain can throw at you.
2. Capita Birds of a Feather 2016 (Womens) 
MSRP: $419.95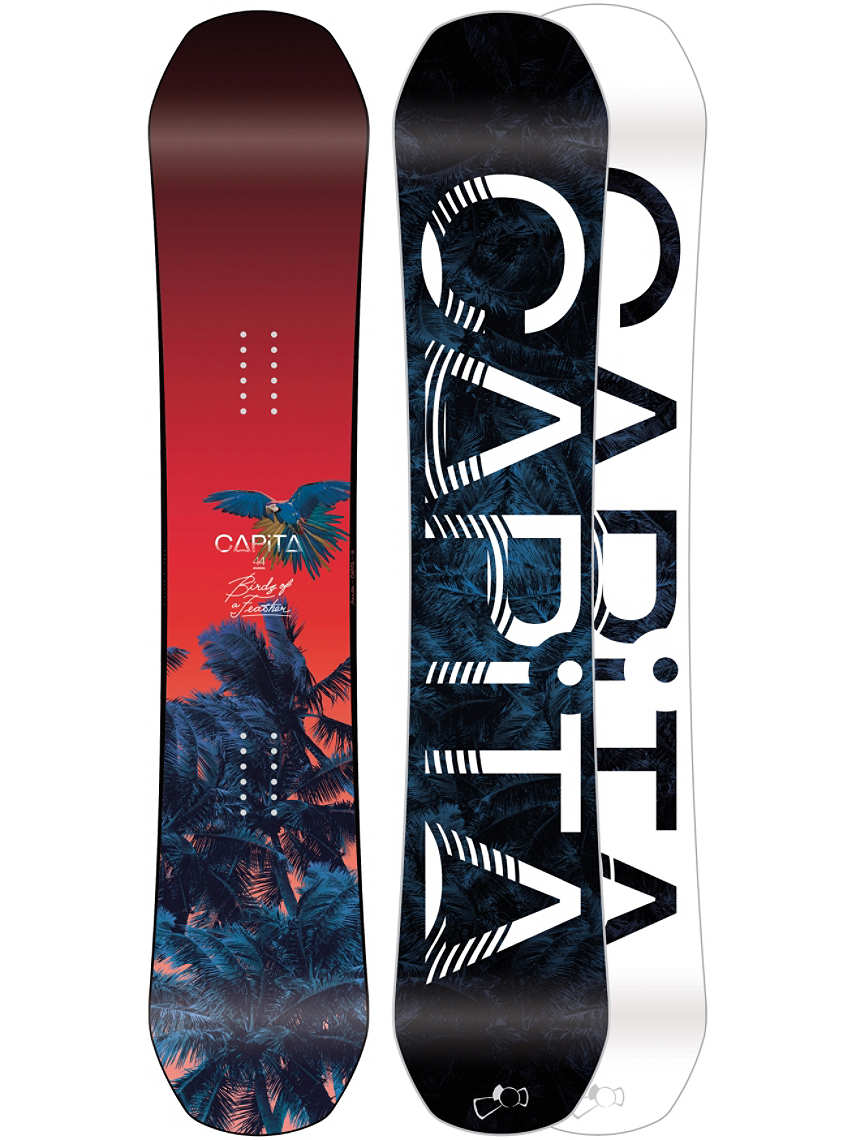 Available Sizes: 140, 42, 46, 48, 50, 52, 54
Shape: True Twin
Camber: Hybrid Flatkick
Flex Rating: 4 of 10
Additional Features
2 year warranty from DOP covering manufacturer defects.
Rider Style + Ability
This is the board for that girl that rides the whole mountain hits the park and loves snowboarding and everything it has to offer.
A standout in women's snowboarding the Capita Birds of a Feather has quickly established itself as a top contender for the next board to add to your quiver, regardless of your style. With a go anywhere, do anything and crush it all mentality this board puts an all mountain weapon under your feet. Not only has it repeatedly outshone the competition as a good wood winner for 3 straight years, its tough as nails with kevlar enforced sidewalls that guarantee longevity, because we guarantee you wont want to let this board go.
3. Defenders of Awesome : Stay Bad Ass 2

MSRP: $14.00
A movie made to take everything you thought you knew about snowboarding and flip that on its head. Prepare yourself as you experience some of the most forward thinking riding on the planet exhibited by the Capita team and more. If you think your DIY setup in the backyard is sufficient prepare to have your mind blown by the like of Scott Steven's and co as they shape hit features in some of the most mind-blowing fashions.
Related posts: