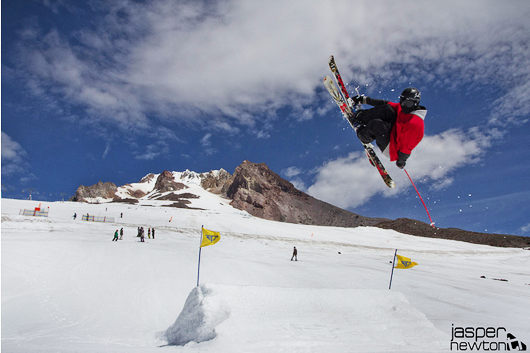 Photo: Counselor-In-Training Patrick Cygańek Rychter rodeoing in Timberline park, Mt. Hood, OR. P: Jasper Newton
Do you feel cheated? …..Deceived?…… Or downright insulted?
Cheated, deceived, and insulted by the fact that winter neglected to make an appearance in 2012. You would've rather been stood up by your prom date, had your apple juice pee'd in, and the toilet seat saran wrapped…but no, instead "winter" left you high and dry.
Lucky for you, seasons change and it's a sure thing (unlike your prom date) that "winter" will get another shot to be just that in a few months time. But, don't you dare put all the blame on "winter". Ski season has always been about what YOU make of it and it ends when YOU say it does.
Summer doesn't mean it's time to throw your skis in the garage and forget about them (actually, no season, time, date, or minute means put your skis in a garage so please never do this. Please).  Instead it's the perfect time to hone your tricks, try out some new ones on the tramp, and take your stuff to the hill. You heard me, the Hill. North America was blessed with Oregon and Canada (yes, even Canada) or more specifically Mount Hood in Oregon, and Whistler/Blackcomb in British Columbia. To these nearly religious pillars of magical season-less winter flock thousands of skiers and snowboarders every summer to spend a solid week or weeks in wonderland keeping the winter flame alive.
Summer ski camps such as Mount Hood Summer Ski Camp , Windell's, High Cascade Snowboard Camp, Momentum Ski Camp, and Camp of Champions provide week-long on snow camps featuring über knowledgeable coaching staff and typically include appearances and coaching from today's pros (Yo, Coach White!). Imagine getting more out of seven days on snow than you've gotten out of the whole season, plus bragging rights to say you nailed your dub cork 3 in July in front of Tanner Hall or Scott Stevens.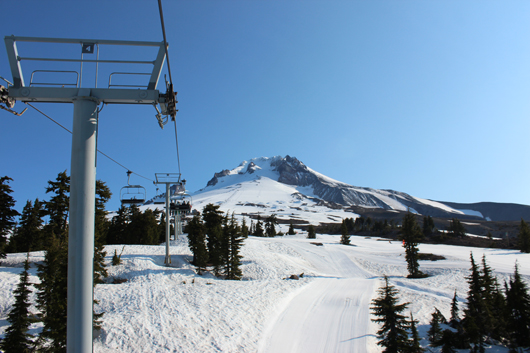 Photo: Mid-July and Mount Hood is still prime for skiing and riding. P: S. Karapetrova
But wait, there's more! The fun doesn't stop when the day on the hill is over. What would any typical summer be without whitewater rafting, paintball, cliff jumping, trampolining, rock-climbing, skateboarding, zip-lining, surfing, pick-up sports games, barbeques, bonfires, and Fourth of July firework extravaganzas (just to name a few).
It's already July, but don't worry, it's not too late to sign up for summer sessions! All of the camps have spaces available in upcoming summer sessions, but they are limited so be proactive and do it now! Check out Windell's, Mount Hood Summer Ski Camp, and High Cascade Snowboard Camp for dates, prices, and availability at Mount Hood. If you're interested in heading up to Canada for some late summer shredding, check out Momentum Ski Camp for spots in their Adult Camp from July 22nd-July 30th.
So stop whining you pansies, and be thankful for all of your opportunities for summer shredding (and the fact that the Jersey Shore is only a TV show and not real life. We're from Jersey, we know.)
And keep up with our blog during the """"Off Season""" cause next year's gear is starting to roll in and we have the pictures to prove it.
Keep on Claiming.