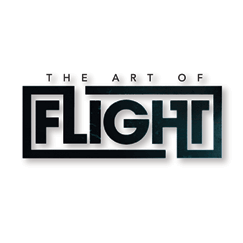 No introduction necessary:
We'll give you a minute to compose yourself.
The Art of Flight is the mind-melting work of Brain Farm Cinema (the producers of That's It, That's All), Quiksilver & Red Bull Media House due out this September. The film follows Travis Rice, John Jackson, Mark Landvik, Scotty Lago, Jake Blauvelt, Nicolas Muller, Gigi Ruf, DCP and Pat Moore as they progress the sport of snowboarding to unimaginable levels. Shot in Jackson Hole, Aspen, Alaska, British Columbia, & Patagonia, viewers can also expect to be blown away by the epic filming locations.
As if the multitude of rider talent wasn't enough, Brain Farm's advanced camera technologies capture unbelievably high quality footage. Thanks to their Cineflex HD, watching this on the big screen will be as close to riding shotgun in the Red Bull helicopter as you can get. If this was just a teaser, we can't even begin to imagine what to expect in September.
This Saturday, the North America F* It tour moves on to Day 3 with simultaneous stops in Portland and NYC. Stevie Bell, Cameron Pierce, Jake Welch, Austen Sweetin, and Peter Line will be stopping by the Williamette Riverfront Warehouse over in Oregon, while over here on the left coast, Nic Suave, Pat Moore, John Jackson, Andreas Wiig, and Niko Cioffi will be busy f***ing up the Red Bull Space in SoHo.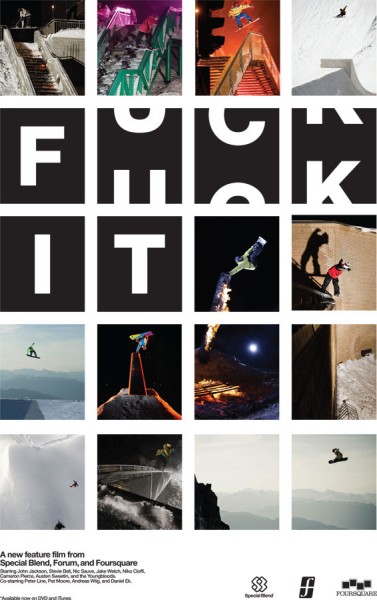 F' It is the 7th team-inspired film from Special Blend, Forum, and Foursquare and a shop-favorite here at EV. If you haven't already seen it, the movie's pretty much what you'd expect from the title: hilarious, inappropriate, and all-around badass. (If you're already a fan, why not grab some of our gear from the F' It Collection for this weekend….who knows, it might earn you special line-cutting privileges)
Doors open at 9pm (or 8pm if you're VIP-status) so if you're down to watch some snowboarding and enjoy an adult beverage or two, we'll see you there!