The Red Bull Butter Cup is coming to Prospect Park this Saturday for a little change of scenery. The popular contest series showcases creativity and is all about going back to what made us all fall in love with shredding in the first place: FUN! Butter up and cut loose on the custom Red Bull butter pads and bring your bag of tricks.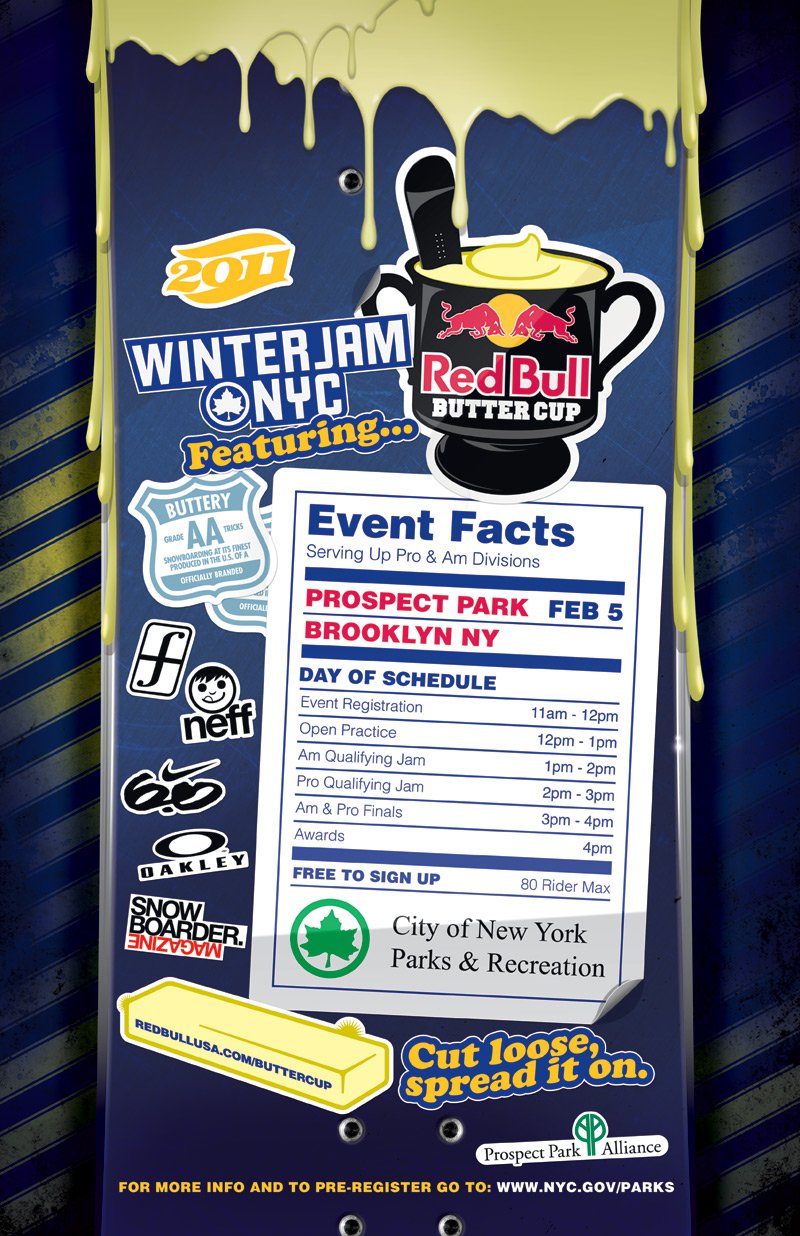 The jam session format keeps the action flowing while riders battle in Pro and Am divisions for cash and fresh gear from Nike 6.0, Neff, Forum, Oakley, and Snowboarder Magazine. Only trick sequences that include buttering will count so hit the snow and start polishing your skills.
Registration is limited to the first 80 riders and opens at 11am. For more info on the contest & directions to Prospect Park, visit the NY Department of Parks & Recreation online.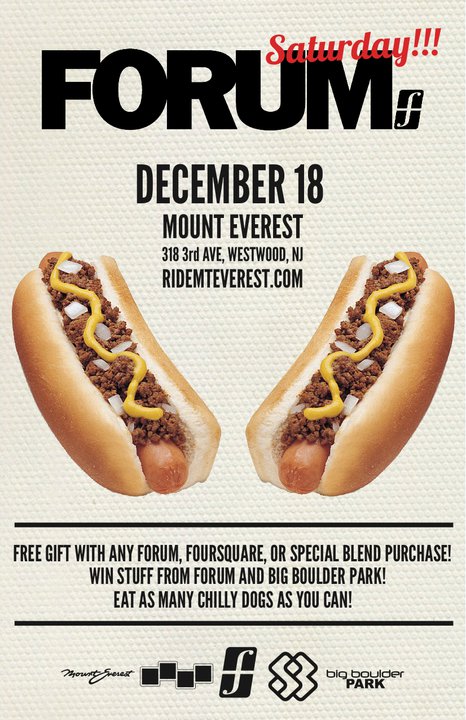 It's a Forum-filled weekend! For those of you who didn't get into the F* It NYC Premiere, swing by the Loop Lounge Friday night for a second chance to view it–check out the details on our Facebook event page. Then on Saturday join us at the shop for some mouth-watering Chillydogs to cure that hangover (proven to work 80% of the time, every time). You'll also have a chance to win free swag from Forum and Big Boulder Park & get some delicious discounts on any Forum, Special Blend, and Foursquare purchases!
Be there or be an isosceles triangle, d.o.g.g.!
This Saturday, the North America F* It tour moves on to Day 3 with simultaneous stops in Portland and NYC. Stevie Bell, Cameron Pierce, Jake Welch, Austen Sweetin, and Peter Line will be stopping by the Williamette Riverfront Warehouse over in Oregon, while over here on the left coast, Nic Suave, Pat Moore, John Jackson, Andreas Wiig, and Niko Cioffi will be busy f***ing up the Red Bull Space in SoHo.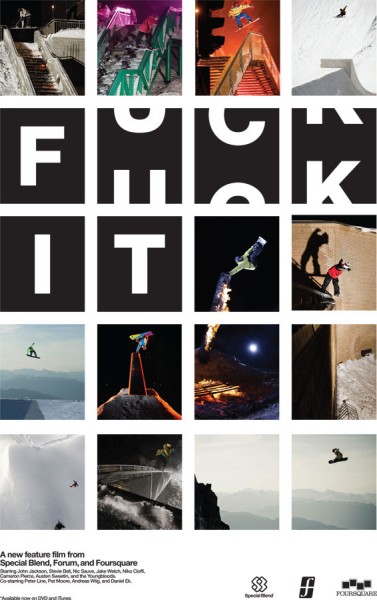 F' It is the 7th team-inspired film from Special Blend, Forum, and Foursquare and a shop-favorite here at EV. If you haven't already seen it, the movie's pretty much what you'd expect from the title: hilarious, inappropriate, and all-around badass. (If you're already a fan, why not grab some of our gear from the F' It Collection for this weekend….who knows, it might earn you special line-cutting privileges)
Doors open at 9pm (or 8pm if you're VIP-status) so if you're down to watch some snowboarding and enjoy an adult beverage or two, we'll see you there!