1. Capita Defenders of Awesome Snowboard 2016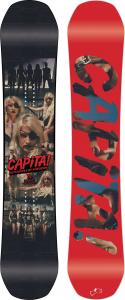 The Defenders of Awesome series has a big reputation and these boards back it up. And when we say they back it up, we mean they back to back to back it up. As winners of the most coveted design award in snowboarding three years in a row, this highly sought after series now has a Transworld Good Wood 3-peat. It's one of the best in the game and has the accolades to prove it. The DOA features a next-generation hybrid camber design, which delivers the pop and response of a camber board with the predictability of reverse camber. This truly is the go anywhere, do anything freestyle deck. For 2015 Capita has added an all new DS Select RFC Sustainable Dual Core and Fortress™ Kevlar Bound Sidewalls for bomb-proof construction.
MSRP: $419.95
The Westmark is a repeat winner of Transworld's Good Wood Award is guaranteed to satisfy the freestyle rider's appetite better than an all you can eat Chinese food buffet. This board provides the flex and response you want while jibbing, without sacrificing the stability and pop you need for higher speeds and bigger gaps
MSRP: $449.95
3. Jones Ultra Mountain Twin 2016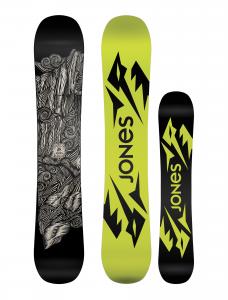 The new Ultra Mountain twin is the leaner, meaner brother of the time-tested award winning Mountain Twin. Using ULTRA Construction to eliminate weight and carbon stringers to add explosive pop, this board is designed to shred anything with playful finesse. Rocker tip and tail deliver serious float in the soft stuff while camber underfoot combined with Mellow Magne-Traction give the Ultra Mountain Twin snap and hold on hard pack. Bombing into jump lines, a sintered 9900 base will deliver the speed boost you need to go big while the carbon fiber stringers provide the stability to stomp. Though the base is as fast as it gets, it's also bullet hard and designed to withstand lap after lap buttering boxes and rails. For freestyle riders who take fun seriously, this is your shred stick. The Himalayan spine wall graphic on the Ultra Mountain Twin was drawn by artist Joseph Toney.
MSRP: $579.00
This creepy crusher developed by Louis-Felix Paradis has become one of the most popular creations in the Salomon line. The Rock Out camber is essentially normal, yet when loaded up and flexed, the tips flatten out to offer a nice stable zone for landing, pressing and powering up ollies. The kinked sidecut is subtle but disperses pressure and adds extra bite where you need it. The twin shape, rubber sidewall dampening, and ollie-promoting milled aspen core round out the rest of its sneaky traits.
MSRP: $449.95
Messing with something tried and true is always risky, but YES proto'd a few concepts, got them on snow, and soon uncovered what we can confidently say is the future of the Jackpot. It's still a true park master in every sense of the word. Responsive, fast, playful and stable. All thanks to the new MidBite outline. MidBite cheats by having a narrower waist width equaling faster toe-to-toe response time, while still maintaining the landing stability and ollie platform you need from width, just outside the bindings. Cheating or not, there's no need to compromise your ride any longer.
MSRP: $449.00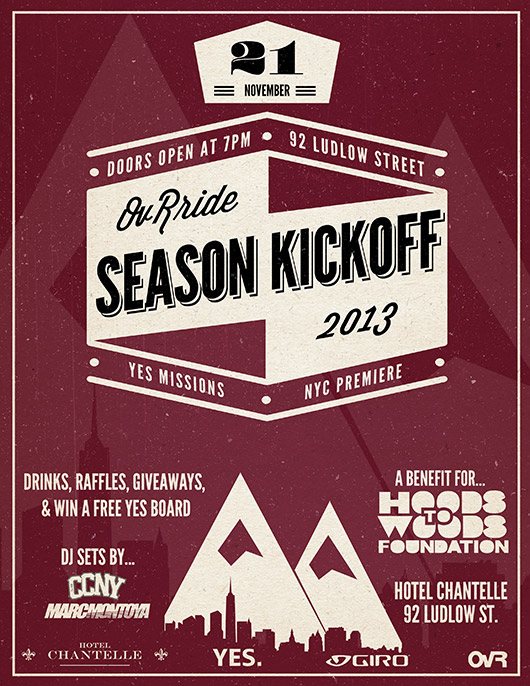 Lets start this season off with a celebration. OvRride is hosting their annual season kick-off party and premiering this years YES film "Missions".  There will be drink specials, giveaways, and raffles including a YES snowboard, gear from Giro, Mount Everest, SHUT skateboards, Homage Brooklyn, Blades, Skate Brooklyn, and more! If that doesn't sound tempting enough, OvRride is proud to donate a portion of the proceeds raised to benefit the Hoods to Woods Foundation. This great not-for-profit organization empowers under-served youth through outdoor sports.
So come out this Thursday to Hotel Chantelle, 92 Ludlow Street at 7pm to win some prizes and celebrate the arrival of winter with all of us!
OvR Season Kick-Off Party
Location: Hotel Chantelle 92 Ludlow Street NYC
Date: Thursday, November 21st
Time: Doors open at 7pm
Please email RSVP@OvRride.com to confirm a spot
Join the event on Facebook and invite your friends!