1. Capita Defenders of Awesome Snowboard 2016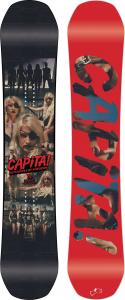 The Defenders of Awesome series has a big reputation and these boards back it up. And when we say they back it up, we mean they back to back to back it up. As winners of the most coveted design award in snowboarding three years in a row, this highly sought after series now has a Transworld Good Wood 3-peat. It's one of the best in the game and has the accolades to prove it. The DOA features a next-generation hybrid camber design, which delivers the pop and response of a camber board with the predictability of reverse camber. This truly is the go anywhere, do anything freestyle deck. For 2015 Capita has added an all new DS Select RFC Sustainable Dual Core and Fortress™ Kevlar Bound Sidewalls for bomb-proof construction.
MSRP: $419.95
The Westmark is a repeat winner of Transworld's Good Wood Award is guaranteed to satisfy the freestyle rider's appetite better than an all you can eat Chinese food buffet. This board provides the flex and response you want while jibbing, without sacrificing the stability and pop you need for higher speeds and bigger gaps
MSRP: $449.95
3. Jones Ultra Mountain Twin 2016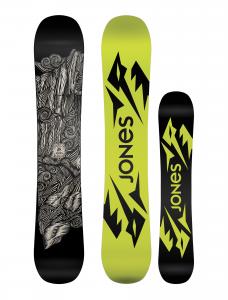 The new Ultra Mountain twin is the leaner, meaner brother of the time-tested award winning Mountain Twin. Using ULTRA Construction to eliminate weight and carbon stringers to add explosive pop, this board is designed to shred anything with playful finesse. Rocker tip and tail deliver serious float in the soft stuff while camber underfoot combined with Mellow Magne-Traction give the Ultra Mountain Twin snap and hold on hard pack. Bombing into jump lines, a sintered 9900 base will deliver the speed boost you need to go big while the carbon fiber stringers provide the stability to stomp. Though the base is as fast as it gets, it's also bullet hard and designed to withstand lap after lap buttering boxes and rails. For freestyle riders who take fun seriously, this is your shred stick. The Himalayan spine wall graphic on the Ultra Mountain Twin was drawn by artist Joseph Toney.
MSRP: $579.00
This creepy crusher developed by Louis-Felix Paradis has become one of the most popular creations in the Salomon line. The Rock Out camber is essentially normal, yet when loaded up and flexed, the tips flatten out to offer a nice stable zone for landing, pressing and powering up ollies. The kinked sidecut is subtle but disperses pressure and adds extra bite where you need it. The twin shape, rubber sidewall dampening, and ollie-promoting milled aspen core round out the rest of its sneaky traits.
MSRP: $449.95
Messing with something tried and true is always risky, but YES proto'd a few concepts, got them on snow, and soon uncovered what we can confidently say is the future of the Jackpot. It's still a true park master in every sense of the word. Responsive, fast, playful and stable. All thanks to the new MidBite outline. MidBite cheats by having a narrower waist width equaling faster toe-to-toe response time, while still maintaining the landing stability and ollie platform you need from width, just outside the bindings. Cheating or not, there's no need to compromise your ride any longer.
MSRP: $449.00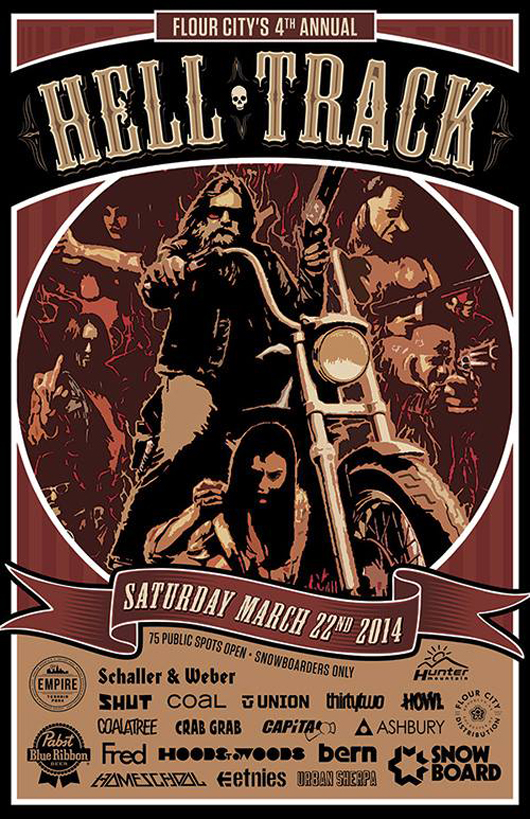 Flour City's 4th Annual Hunter Hell Track will be held this Saturday March 22nd.  This year the skate-style course will be slightly toned down but,  even longer than last years! Hunter Hell Track is free to enter and there will be 75 public spots open to snowboarders only of all ages.  The event is always a nonprofit event and once again we will be raising money for Hoods to Woods Foundation.
Final registration will be held at the Yurt from 10am-11:30am.  A riders meeting will be held at the Yurt prior to the contest at 11:30am. The contest runs from Noon until completion.  The Awards / Prizes will be handed out to the top 3 overall times within each division after the final racer crosses the finish line.
Divisions are based around the ages who have signed up so far:
Young Bucks 13 – 17
Younger Amateurs 18 – 35
Older Amateurs 35+
Women Amateurs
The Official After Party will be held once again at The Spinning Room with Tim MacKenzie's band The Stripdown. This is a 21+ event and $5 at the door. So, wax your shred unit and show your support for Hoods to Woods by shredding a skate-style rhythm course at Hunter Mountain!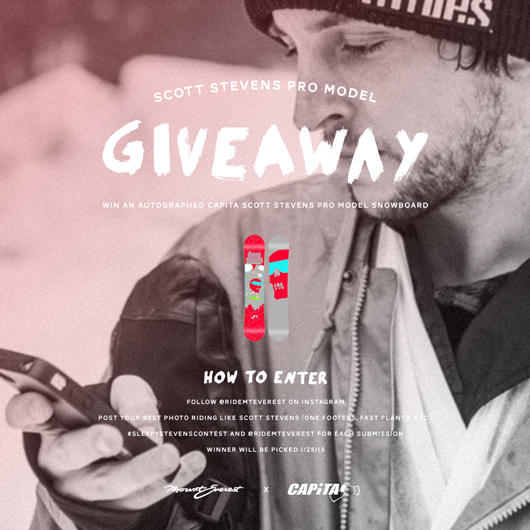 Want to win an autographed Capita Scott Stevens Pro Model Snowboard?  Follow @ridemteverest on Instagram and tag your best photo riding like Scott with #sleepystevenscontest and @ridemteverest.  Think outside the box: one footers, fast plants, creative spots, etc.
Follow us:  #ridemteverest
All entries must be submitted by 1/25/13.  Start 'grammin!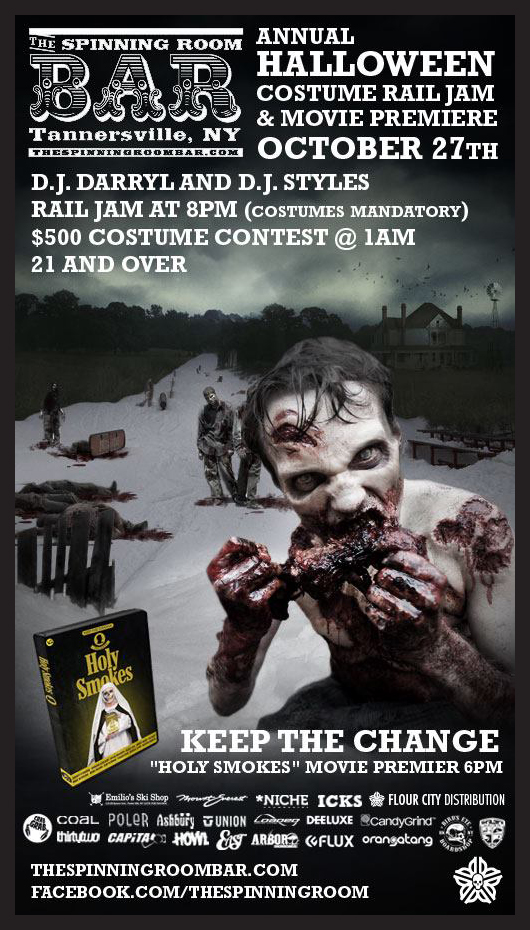 Slay zombies with your snowboard edges on Saturday, October 27th!  Not really, but if you dress up in costume you can show off your tricks (and treats, sorry I had to) at the 5th Annual Spinning Room Halloween Rail Jam & Costume Contest.  There will also be a premiere of Keep the Change's "Holy Smokes", featuring local Johnny O'Connor.  Oh yea, did we mention there will be a $500 Costume Contest hosted by DJ Darryl, DJ Styles and Sake The'Deejay?  It's going to get weird.
Join the event as spots are limited.
Location:  The Spinning Room, 5975 Main Street, Tannersville, New York 12485
Date:  10/27/12
Time: 6pm
KTC: Holy Smokes Early Teaser from VIDEOGRASS on Vimeo.
Sponsored by:  Ashbury, Capita, Coal, ThirtyTwo, Union, Arbor and more!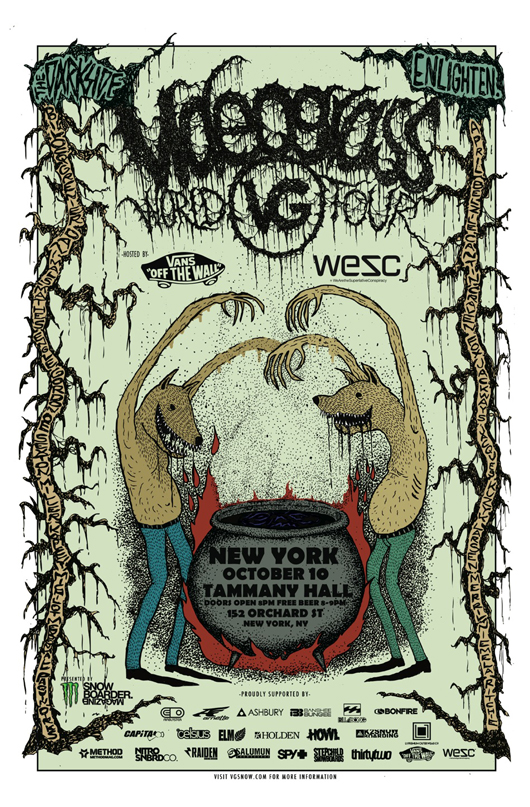 This Wednesday, October 10th, Videograss' new films "The Darkside" and "Enlighten" will drop the jaws of every spectator at Tammany Hall in NYC.  There will be FREE BEER at 8pm, so get there early and crack a few adult sodas with pro snowboarders Darrel Mathes, Jed Anderson and more.  Hosted by Snowboarder Mag, Vans and WESC.
Tammany Hall
Oct. 10th, 2012
Doors open at 8PM
Free to attend.
21+
Join the event on Facebook
The Darkside Early Teaser from VIDEOGRASS on Vimeo.
Enlighten Early Teaser from VIDEOGRASS on Vimeo.
"Enlighten" and "The Darkside" are sponsored by: Airblaster, Ashbury, Banshee Bungee, Bonfire, Capita, Holden, K2, Nitro, Salomon, Stepchild, ThirtyTwo and more.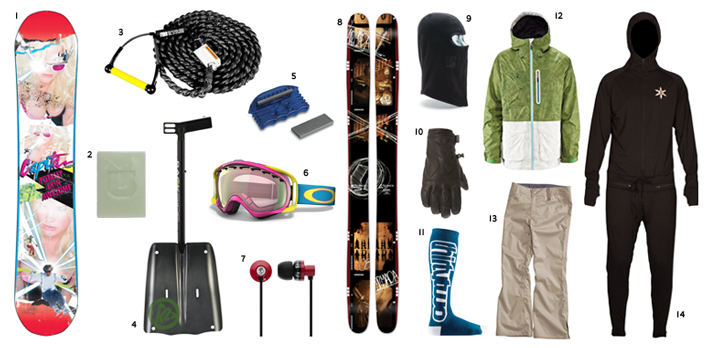 The forecast is showing that there is some white precipitation heading toward the East Coast.  In case you forgot what you need to make the best of a powder day, shop our guide to keep you getting freshies all day long.
1.  Capita Totally FK'N Awesome Snowboard
2.  Burton Hydrocarbon Hot Wax – All Temp
7.  Skullcandy Titan In-Ear Buds
11.  ThirtyTwo Double Down Sock
This Saturday show your support for Japan by shredding a skate-style rhythm course at Hunter!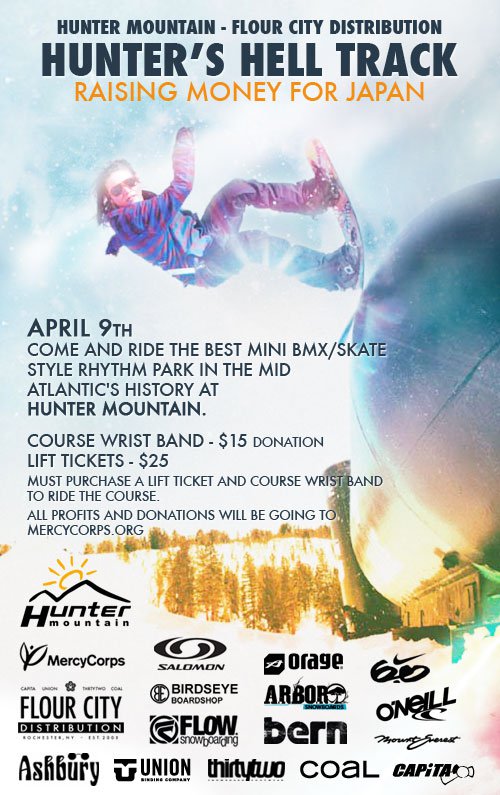 Registration will be open from 10am – Noon inside the Lodge, followed by a riders meeting at the Yurt.
The course promises be the most progressive BMX/Skate/Boardercross/ Rhythm Track you have ever seen on SNOW! Skiers and snowboarders welcome!
Course wristbands cost $15; all proceeds are being donated to MercyCorps to help the crisis in Japan. You'll be able to hit the track as many times as you want and receive raffle tickets for prizes including skis, snowboards, helmets, outwear, goggles and more. (Lift tickets are required to compete & can be purchased for $25. Season passes will be honored)
Raffle tickets will also be on sale to the general public, so there's really no excuse…good times for a good cause! RSVP & check Hunter's blog for event updates
This Friday we're pumping up our Test the Best demo fleet with 2012 early release gear and giving YOU a chance to demo 400% totally awesome decks, boots, & bindings from Capita, ThirtyTwo & Union.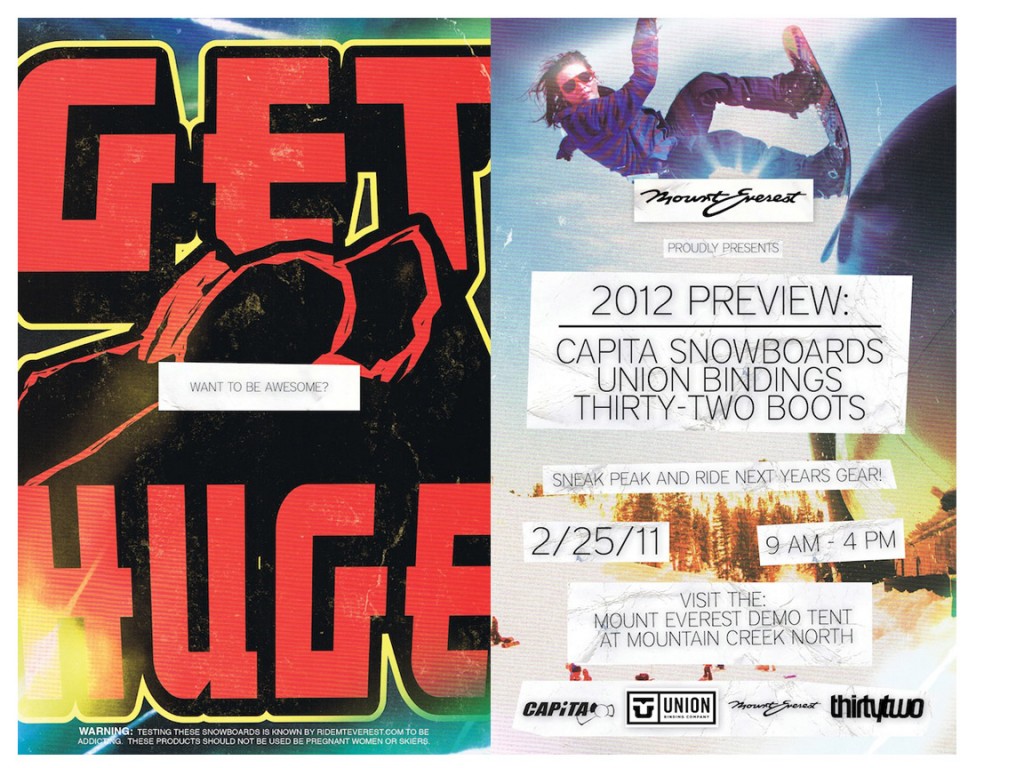 New tech, new models, new features…new EVERYTHING!
Check out our Facebook event to RSVP!