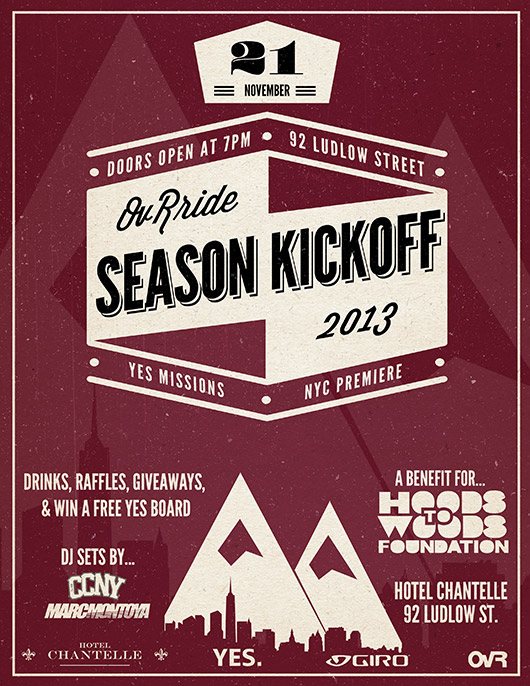 Lets start this season off with a celebration. OvRride is hosting their annual season kick-off party and premiering this years YES film "Missions".  There will be drink specials, giveaways, and raffles including a YES snowboard, gear from Giro, Mount Everest, SHUT skateboards, Homage Brooklyn, Blades, Skate Brooklyn, and more! If that doesn't sound tempting enough, OvRride is proud to donate a portion of the proceeds raised to benefit the Hoods to Woods Foundation. This great not-for-profit organization empowers under-served youth through outdoor sports.
So come out this Thursday to Hotel Chantelle, 92 Ludlow Street at 7pm to win some prizes and celebrate the arrival of winter with all of us!
OvR Season Kick-Off Party
Location: Hotel Chantelle 92 Ludlow Street NYC
Date: Thursday, November 21st
Time: Doors open at 7pm
Please email RSVP@OvRride.com to confirm a spot
Join the event on Facebook and invite your friends!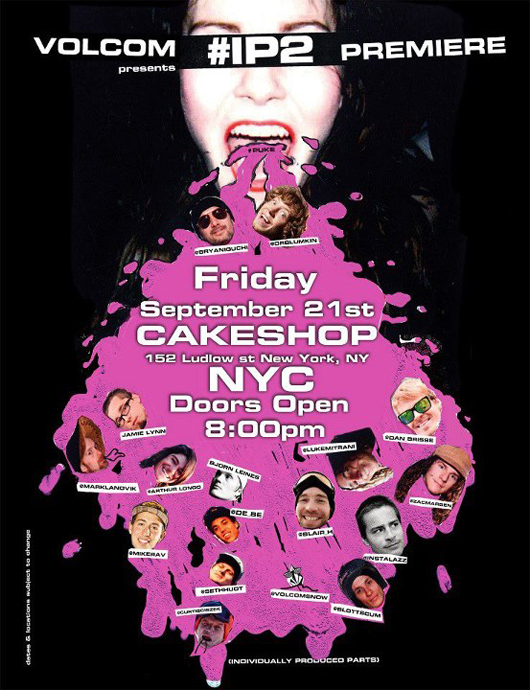 Come to the Cakeshop this Friday Sept. 21st to see the new movie from Volcom IP2.  Volcom riders traveled the globe filming "Individually Produced Parts" aka IP2s.  Each rider's segment is a mixture of their own personality, theme, and creativity.  Featuring riding from:  Curtis Ciszek, Jamie Lynn, Zac Marben, Bryan Iguchi, Bjorn Leines, Scott Blum, Seth Huot, Dan Brisse, Dyan Alito, and more.
Doors Open: 8PM
Location:  Cake Shop  152 Ludlow Street, New York, N.Y.