Who says there's no such thing as a free ride?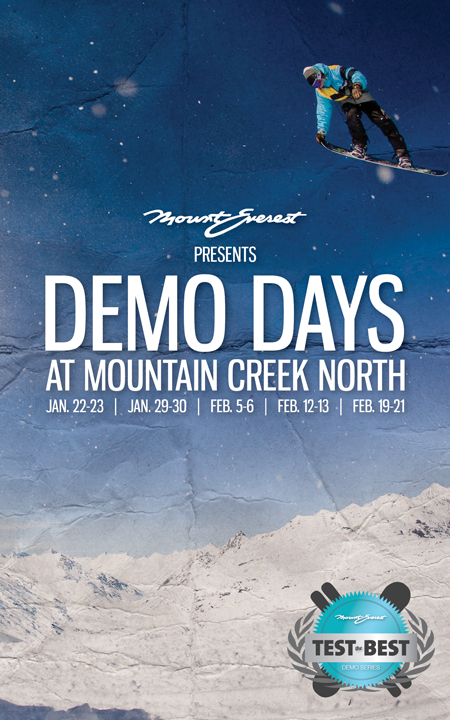 This weekend come see us at Mountain Creek North for round 2 of our on-snow demo series, Test the Best. We've brought in some of the industry's finest to create a fleet of 2011 demo boards & skis for you to try out this winter; we're talking about boards like the K2 Fastplant, Ride Machete, Capita Starimaster as well as other Platinum Picks, Good Wood & Best of Test winners.  Skiers can jump on a pair of Lib Tech NAS or try out K2′s Rocker line-up.
If you've been curious about rocker or wondering about the latest trends in tech, here's your chance to put your mind at ease. Our guys are there to answer your questions & get you fitted.. with 2011 gear from Arbor, Lib-Tech, K2, Forum, Ride, Roxy, Flow, Capita, DC, Rome, Gnu, & Union the hardest part will be deciding what to ride first.
Found a rad setup?  Another weapon for the quiver?  Just say the word & we'll place the order for you on the spot.  Thanks modern technology. Creek will even hook you up with a free lift ticket with your new purchase.
Our Mount Everest tent will be set up at North near the Cabriolet every weekend from Jan. 15th until Feb. 19th so be sure to stop by, throw some high fives & see what all the fuss is about. Test the Best & take your tech to the next level!