Burton's Standing Sideways will making it's NYC stop this Thursday 10/13 in SoHo. The flick is being shown at Santo's Party House on Lafayette, with an athlete autograph session beforehand at the B's Flagship store featuring Jussi Oksanen, Terje Haakonsen, Mark Sollors, Kazu Kokubo, Ethan Deiss, Mikkel Bang, Jack Mitrani, Danny Davis, Mark McMorris and Mikey Rencz.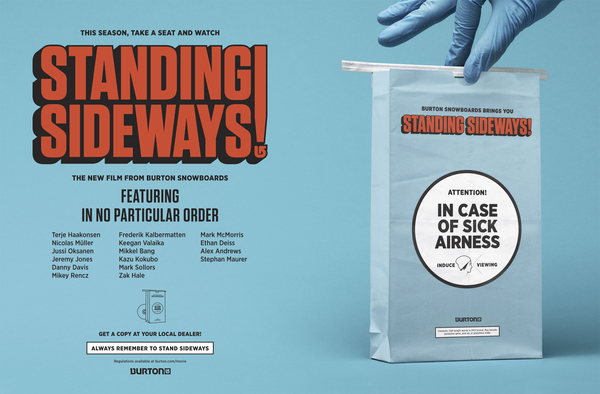 All-ages autograph session  is from 6:30 – 7:30PM
Doors to Santo's open at 9PM, madness ensues at 10:30PM — Sorry kids, Santo's is 21+
(After-party spot is yet to be announced, but should start around 11:30PM)
Brush up on some basic Do's & Don't's of Snowboarding, courtesy of Burton's latest teaser;
Standing Sideways comes to DVD & iTunes in September and features team riders Terje Haakonsen, Nicolas Müller, Jussi Oksanen, Jeremy Jones, Danny Davis, Mikey Rencz, Frederik Kalbermatten, Keegan Valaika, Mikkel Bang, Kazu Kokubo, Mark Sollors, Zak Hale, Mark McMorris, Ethan Deiss, Alex Andrews and Stephan Maurer.