&description=Eastern Snowboard League" class="pin-it-button" count-layout="none">
Tweet
Happy October, EV fans! Fall is in full-swing and today we've got even more news to throw at you. As if the steady flow of snow video releases and shipments of new product isn't teasing you enough, today is the official launch of ESL's website.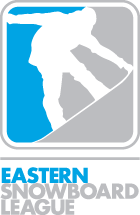 ESL, which stands for Eastern Snowboard League, is a new series of contests that'll have every rider this side of the Mississippi buzzing. Thanks to Junior Kantor of The Program (Forum, Foursquare, Special Blend), Joel Rerko of 7 Springs Terrain Parks, Ian Oliver of Big Boulder Park, and Pat Morgan of Holiday Valley's 42/78 Parks, all right-coast riders will have a chance to earn major bragging rights and some pretty cool prizes too.
ESL will make a stop at each of the resorts mentioned above, and allow contestants to compete in Pro or Am divisions; 'Destroyer' for our region's finest and 'Youngblood' for the best of the rest. Each location's top 3 Destroyers will walk away with $$$, and the Youngblood winners will get tons of sponsor swag. At the end of the series, however, the #1 riders overall will win entry to Superpark at Mammoth Mountain, CA (Destroyer division) or 1 week at Woodward Copper (Youngblood division). With payoffs that huge, we're gonna be seeing some serious snowboarding this season.
Along with highlighting the East's riding talent, ESL gives its resorts' park crews the chance to show off their skills. The guys at 7-Springs Terrain Parks, big boulder PARK, and 42/78 Parks will be building whatever features their little hearts desire, displaying their home mountain's signature style. 7-Springs and big boulder have already been recognized as 2 of the East Coast's top 5 parks by Transworld Snowboarding, so the inevitable attempts to out-do each other should have some impressive results.
The madness will ensue on January 15 up at Holiday Valley, so prepare yourselves accordingly. Next stop is at Big Boulder on February 5 (where I'll be a live witness) and last but not least will be the 7-Springs contest on February 19. ESL's combination of talented, dedicated founders & sponsor support has definitely laid the groundwork for an all-around awesome series of contests this winter. Now mark your calendars & pray for snow!

For more information visit ESL's website: www.easternsnowboardleague.com
Related posts: