If you caught our ad in Transworld's October issue, you saw that we were lucky enough to get an interview with K2's Danny Larsen. We asked him about his homeland, caffeine addition, art and snowboarding (duh).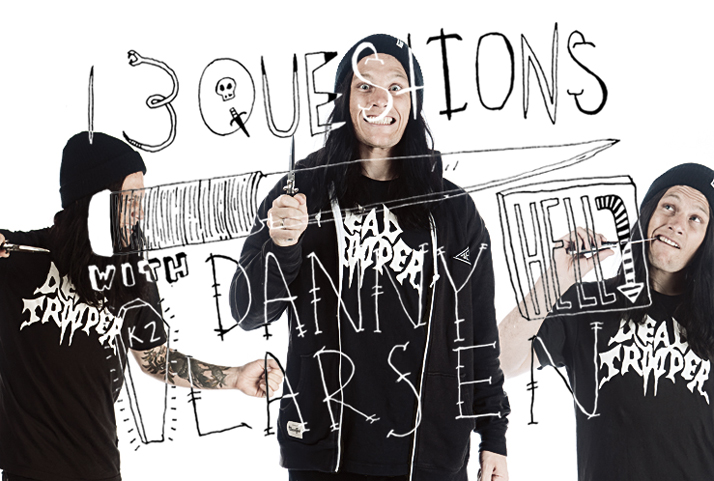 1.  We know you're a fan of living in Oslo, any other places you'd consider relocating to?
The Norwegian in me answered "no way!" before my eyes were done reading that question. But that's not quite true. Basically every time I'm abroad and having a good time I figure out that moving there could be pretty be cool. But only for a little bit naturally…Oslo sweet Oslo.
2.  There's an awesome coffee spot in Brooklyn called Oslo.  Next time your in NYC we'll have to take you to see how it stands up to real Norwegian coffee.  Where's the best cup of coffee in Norway?
I actually know about that one, my sister used to live in Williamsburg and told me that's where NY's best coffee is to be found. When it comes to Oslo's coffee shops I'm really not quite sure. Wille told me where to go, and I wrote it down on my phone but it got stolen before I managed to find it, so I'm still searching. Luckily we have tons of small coffee shops and chains and Starbucks haven't managed to spread its tentacles to the northern darkness yet, so there are a bunch of alternatives. I still think I prefer to grind my own beans and use one of my seven coffee preparation devices here at home though.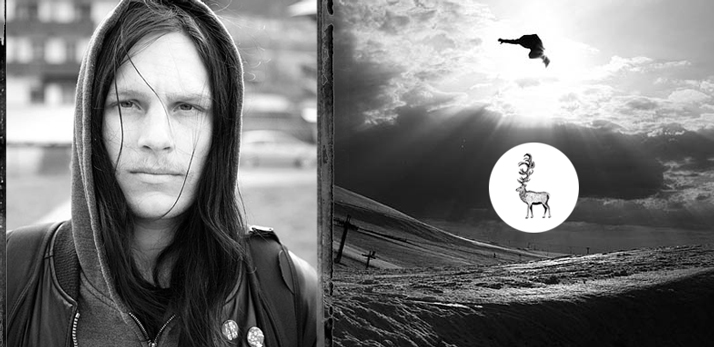 3.  From what we can tell, the K2 offices seem to have a sort of Fantasy Factory vibe. What do you look forward to on your visits to HQ?
There's so much, seriously, that place is a great place to hang out. The skate bowl is pretty damn awesome, but there's also this weird little slappy rail that you can just ride on to, not quite sure what it's for but it grinds really well and after last team shoot it has become my favorite feature in that big building. Oh, and naturally the bar in the office is pretty damn rad, it's kinda hard to miss that one.
4.  Mike Shine's whole creepy carnival vibe in the K2 catalog is amazingly disturbing…what would you be if you ran away to join a satanic circus? (Possessed tightrope walker? Decapitated fortuneteller?)
I think I might go with lazy popcorn-seller that feeds sleeping pills to the lion tamer without him knowing. That's how you get ahead in a satanic circus.
5.  If you were to have a dish named after you, what would it be? / It's lunchtime & I just ordered the "Danny Larsen" – what's on it?
I just created a new coconut beach-crab soup that I'm pretty stoked on that would be served with a six-pack of beer. I'd be proud to put my name on that and serve it to you.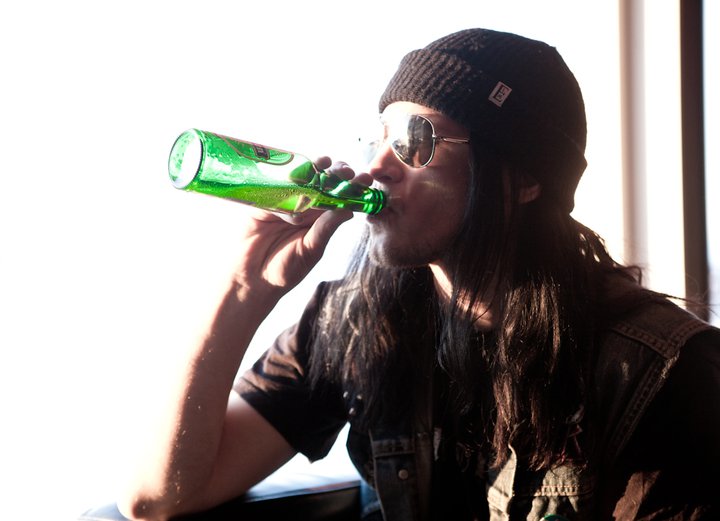 6.  If you could be a member of any metal band (dead or undead), which would you pick?
Oh damn, that's a hard one. It would be awesome to say Black Sabbath or Motörhead, but I'm to fond of my brain and liver to be in bands like that. Maybe some Norwegian metal band like Darkthrone or Immortal, that would be awesome. Just hang around in the forest and sing songs about how cold Norway is, haha.
7.  Your artwork on the K2 Happy Hour (and in general) is pretty epic. Besides black metal & gallons of coffee, what are some sources of inspiration?
Well, as you mention, tons of coffee and black metal are the main ingredients. I also get a lot of inspiration from Norwegian folklore. I grew up in a country where we believe mountains are trolls that has been hit by sunlight, goblins stab your farm animals to death if you don't feed them porridge for Christmas and witches ride around on goats. I just borrowed a fairytale book from the library and basically found the artwork for 10 new black metal albums, haha.
8.  Did you design your tattoos? Ever try your luck at a tattoo gun?
Have you ever seen Nick Dirks in shorts without a shirt on? Well, that's why I don't want to own my own tattoo gun. I'm sure every boring moment would be a "maybe a new tattoo?" moment if I had one. I didn't design my own tattoo because I was so impressed with how this artist was at doing black feathers. So I asked him to do a black raven for me. But I think the next one will be something I draw myself. I'm constantly looking through ugly-tatt blogs to get inspiration. I might be so avant garde that I reintroduce the tribal tatts… no, that was a horribly stupid idea.. I still try to convince Nick of getting a Tribal tatt though.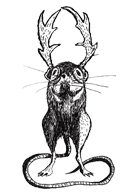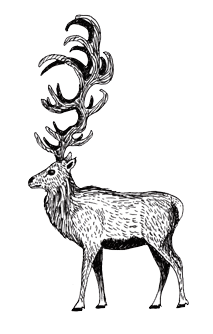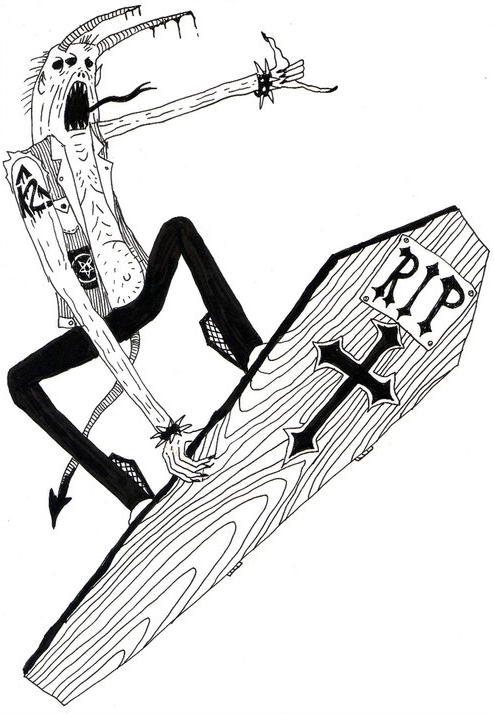 9.   We're seeing a trend with your impressively antler-ed beasts. Which one would make your ideal pet?
Without a doubt a black wolf with the horns of a Jacobs goat. I saw a pic of a Jacob's goat this winter and couldn't believe that I had been drawing them for so long without even knowing they existed. That creature must be the grimmest looking animal out there, until I manage to cross breed it with a black wolf that is.
10.  Your piece for ESPN did a great job of voicing the uneasiness many of us feel about competitive riding & the future of snowboarding.  What would you tell a young kid just starting out?
Have fun figuring this board out, you can't really do anything wrong.. Except grabbing tindy.
11.  On a more positive note, what are you most excited about/looking forward to in coming seasons?
Trying out that new secret K2 board technology that I can't really tell you about yet, haha, give me pow!
12.   Snowboarder, artist, pirate, blogger, musician…any talents we don't know about?
The one thing I'm most proud of at the moment is my cooking. I think that's the only thing I'm willing to brag a little bit about. I take great pride in cooking everything from scratch, and try to get a hold of the ingredients myself without going to the shop. I've been pretty busy with tri-fork spear in the fjords this summer.
13.   Gigi vs. Depp – who's a better pirate?
Gigi is the only one that has bought me beer, so I'm going with him.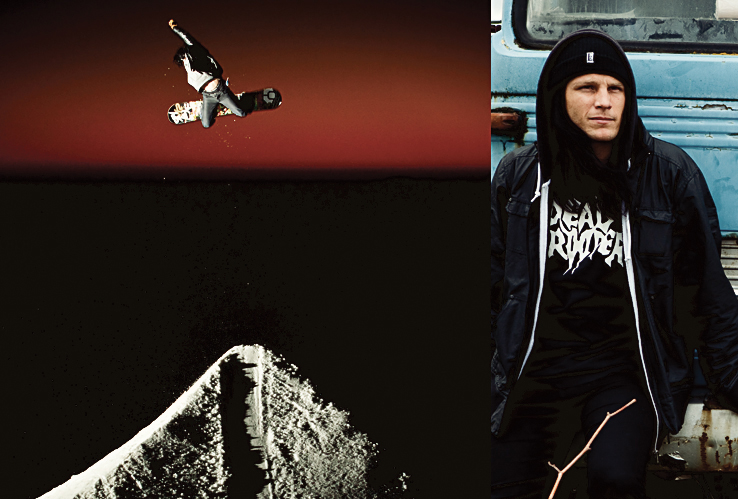 Look out for Danny in this fall's Bottom Line. See the Happy Hour featuring original art by Danny & the rest of the K2 2012 collection on www.ridemteverest.com
Related posts: