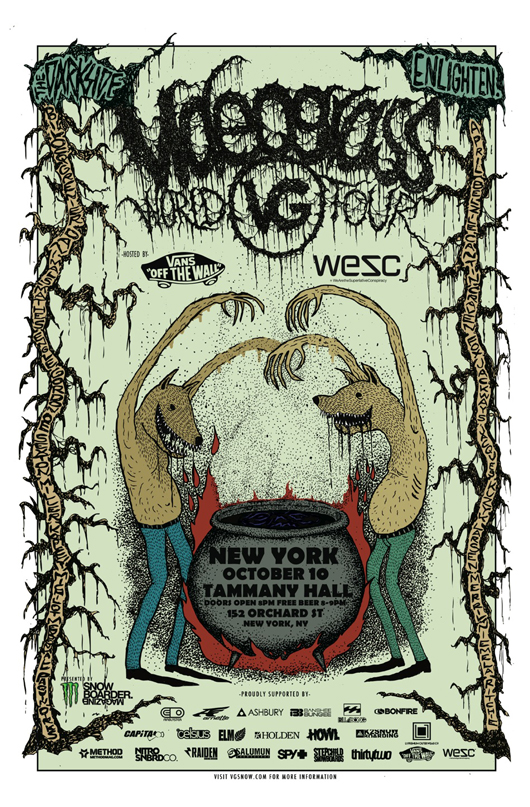 This Wednesday, October 10th, Videograss' new films "The Darkside" and "Enlighten" will drop the jaws of every spectator at Tammany Hall in NYC.  There will be FREE BEER at 8pm, so get there early and crack a few adult sodas with pro snowboarders Darrel Mathes, Jed Anderson and more.  Hosted by Snowboarder Mag, Vans and WESC.
Tammany Hall
Oct. 10th, 2012
Doors open at 8PM
Free to attend.
21+
Join the event on Facebook
The Darkside Early Teaser from VIDEOGRASS on Vimeo.
Enlighten Early Teaser from VIDEOGRASS on Vimeo.
"Enlighten" and "The Darkside" are sponsored by: Airblaster, Ashbury, Banshee Bungee, Bonfire, Capita, Holden, K2, Nitro, Salomon, Stepchild, ThirtyTwo and more.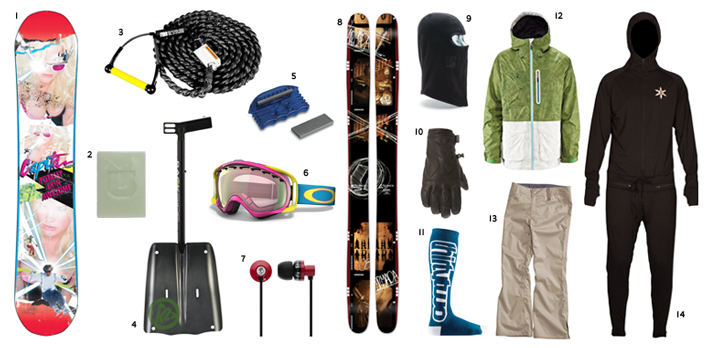 The forecast is showing that there is some white precipitation heading toward the East Coast.  In case you forgot what you need to make the best of a powder day, shop our guide to keep you getting freshies all day long.
1.  Capita Totally FK'N Awesome Snowboard
2.  Burton Hydrocarbon Hot Wax – All Temp
7.  Skullcandy Titan In-Ear Buds
11.  ThirtyTwo Double Down Sock
Leanne's forces unite with Jed Anderson, Nick Dirks, Brandon Cocard, Ben Lynch, Travis Parker, Austin Hironaka, Jonas Michilot, Austin Smith, Jonas Carlson, TJ Schneider, Jesse Burtner, Tim Eddy, Eric Messier, Colleen Quigley, Johnny Miller, Sebi Muller, Aivaro Vogel and Robin Van Gyn to form Team Airblaster! The crew celebrated up at Baldface Lodge and got some nice footage of Miss Pelosi getting rad in Airblaster's Nicolette Jacket;

Airblaster – Welcome Leanne Pelosi! from Airblaster on Vimeo.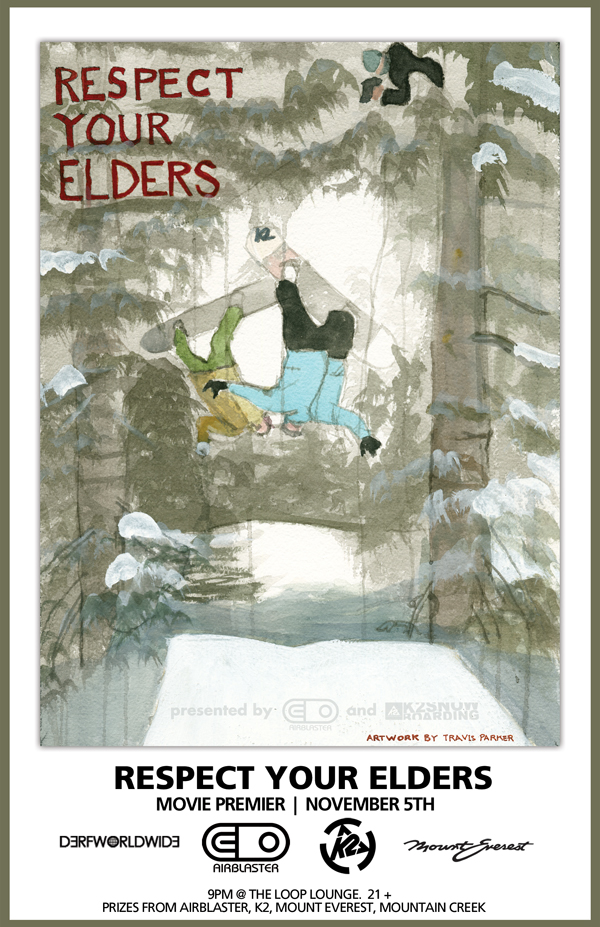 Come check out the new AIRBLASTER TEAM video RESPECT YOUR ELDERS tonight
21+ DOORS OPEN AT 9:00 PM VIDEO STARTS AT 10:00 PM LOOP LOUNGE: 373 Passaic County 622 Passaic, NJ 07055
PRIZES FROM AIRBLASTER, K2, MOUNT EVEREST, AND MOUNTAIN CREEK
Respect Your Elders Teaser from Resourceful Gnome on Vimeo.
RIDERS:
Travis Parker
Brandon Cocard
Ben Lynch
Josh Dirksen
Jed Anderson
Nick Dirks
Austin Hironaka
Temple Cummins
Aaron Robinson
Jonas Michilot
Tim Eddy
Eric Messier
Shaun McKay
Skylar Thorton
Pat McCarthy
and more…
Check out ESPN to read about Travis's return to snowboarding and K2
BAMBOOYAH!