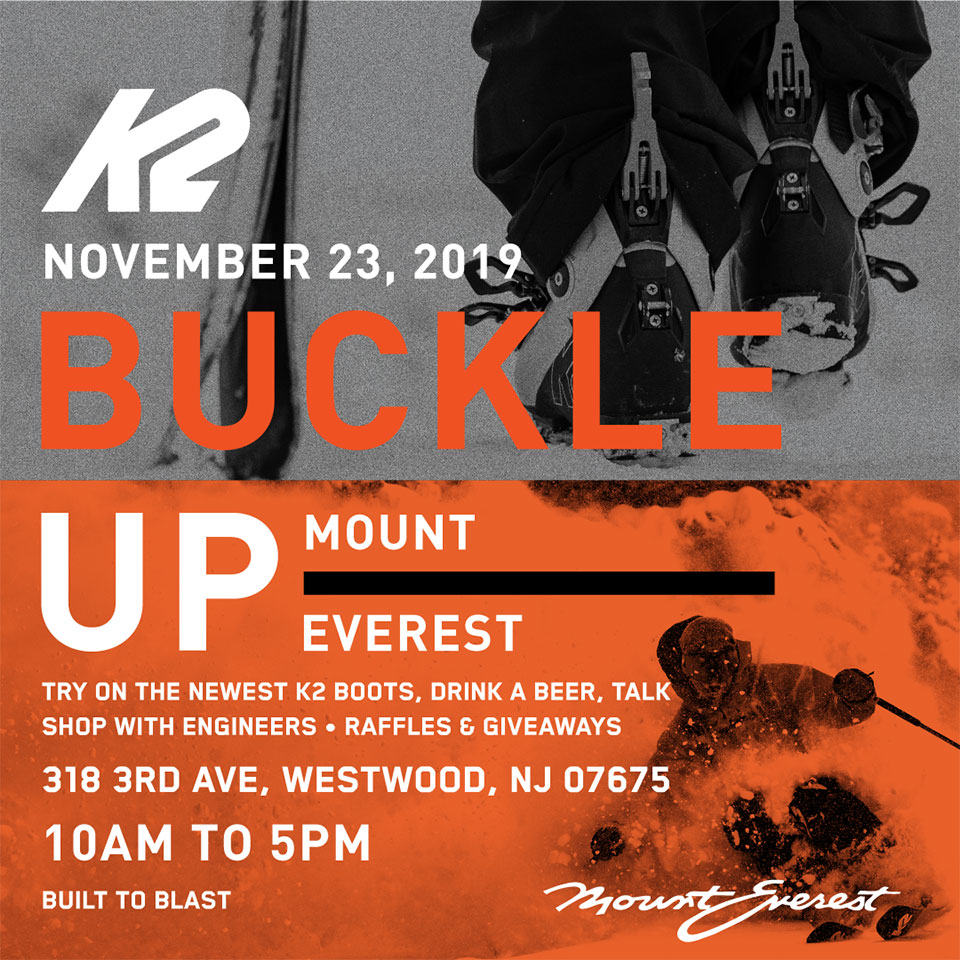 Mount Everest is partnering with K2 Skis to connect ski enthusiasts and engineers at their Buckle-Up event on Saturday, November 23rd from 10am- 5pm.
Boot engineers from K2 headquarters at Vashon Island will be setting up shop in the Westwood store to talk one on one with skiers about boot tech while finding and fitting K2 boots for each attendee.
The events focuses on K2's Freeskier's Editor's Pick elite Recon 130 boot but since boots fit differently for everyone,  attendees will also be able to try on and learn more about the K2 BFC 100, Antham  and others.
K2 will also running a raffle to give away a pair of Recon boots to one lucky skier and offering free beer (for those with proper ID) and pizza.
This is an all- day event, so stop in anytime to work with the engineers or just come grab a beer.
See you there, you don't want to miss out!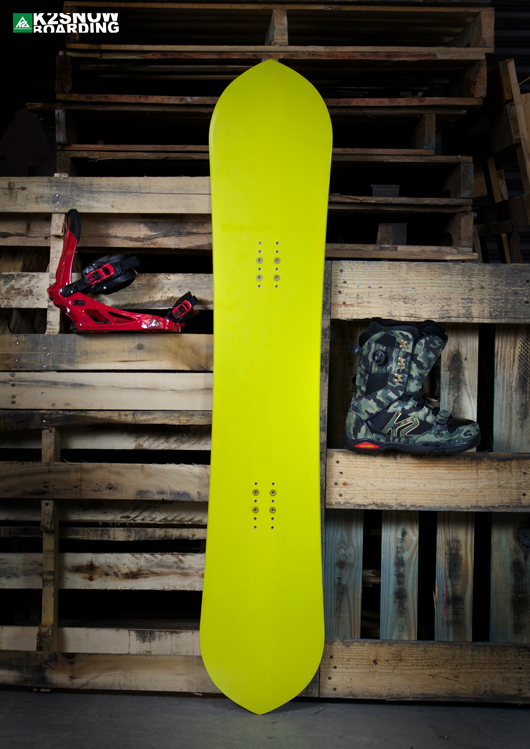 STAY WILD with K2 Snowboarding and Airblaster this season with this year's Happy Hour. The K2 Happy Hour is a 100% FLATLINE twin board that is reshaped with K2's new "Tweakend" technology. K2 just extended their Baseline Rocker all the way out to the absolute end of the board to create more rideable surface in the tip and tail of the board, giving the rider a more stable platform to press, butter, float, and stomp landings with. Add in K2's "Ollie" bar and carbon web laminates the Happy Hour gets all the pop and snap needed to stab and grab down the entire mountain.  Shop all 2013 K2 Snowboards.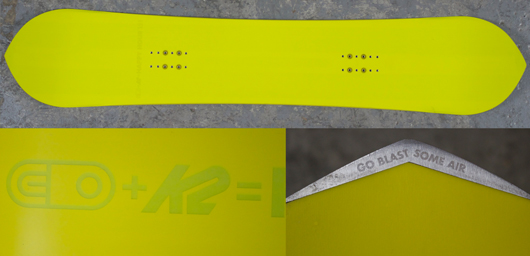 See our top picks and more highlights from 2013 K2 Snowboard Boots and 2013 K2 Snowboard Bindings after the jump.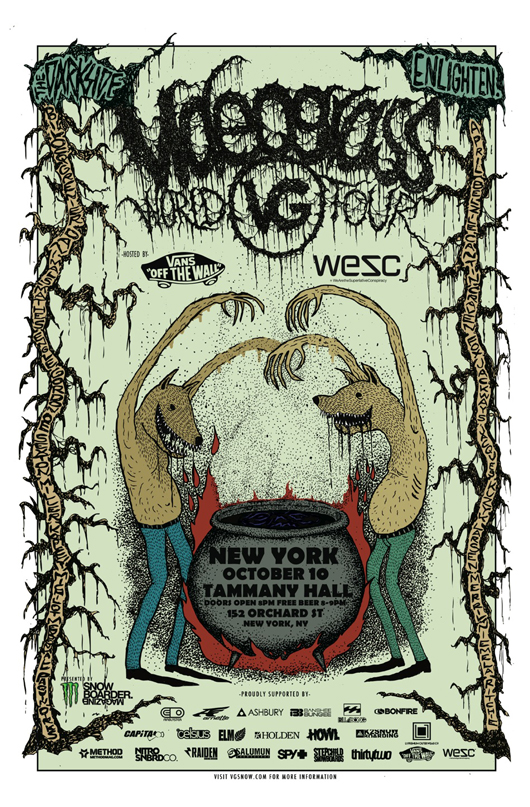 This Wednesday, October 10th, Videograss' new films "The Darkside" and "Enlighten" will drop the jaws of every spectator at Tammany Hall in NYC.  There will be FREE BEER at 8pm, so get there early and crack a few adult sodas with pro snowboarders Darrel Mathes, Jed Anderson and more.  Hosted by Snowboarder Mag, Vans and WESC.
Tammany Hall
Oct. 10th, 2012
Doors open at 8PM
Free to attend.
21+
Join the event on Facebook
The Darkside Early Teaser from VIDEOGRASS on Vimeo.
Enlighten Early Teaser from VIDEOGRASS on Vimeo.
"Enlighten" and "The Darkside" are sponsored by: Airblaster, Ashbury, Banshee Bungee, Bonfire, Capita, Holden, K2, Nitro, Salomon, Stepchild, ThirtyTwo and more.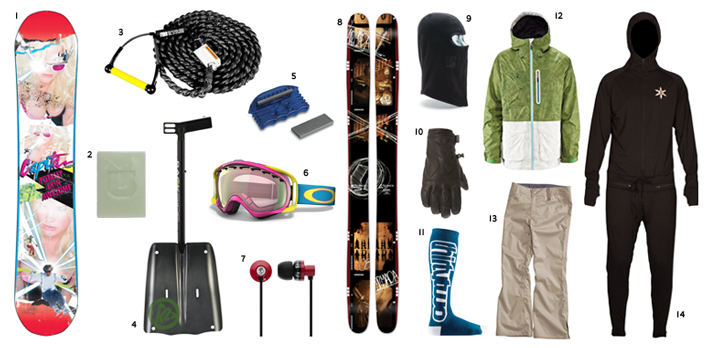 The forecast is showing that there is some white precipitation heading toward the East Coast.  In case you forgot what you need to make the best of a powder day, shop our guide to keep you getting freshies all day long.
1.  Capita Totally FK'N Awesome Snowboard
2.  Burton Hydrocarbon Hot Wax – All Temp
7.  Skullcandy Titan In-Ear Buds
11.  ThirtyTwo Double Down Sock
Earlier this year K2 unveiled its latest game-changer; the indestructible BamBooyah core. Taking it's cue from a skate deck, the core is constructed from multiple cross-layers of bamboo and fiberglass ply. You get the best of both worlds; the lively, lightweight resilience of bamboo and the tried & true reinforcement of fiberglass.
Bambooyah! 12-20-10
The result is a durable, responsive board with pop; perfect for playtime in the park. Lots of freestyle boards are all talk when it comes to enduring abuse from rails &  landings, but K2′s so confident in its new tech it's offering a 5-year warranty. Plus, all the benefits of using bamboo prove that if you're nice to Mother Nature, she'll be nice to you. Just look at its resume;
- Strength; has greater tensile strength and weight-to-strength ratio than steel, can withstand more pressure than graphite, & is more stable than oak or walnut.
- Growth Rate; has been recorded to grow as much as 24 inches in a 24 hr period & is one of the fastest-growing plants in the world. A plant that's been cut can fully regenerate in just 3-4 months.
- Lightweight; not as heavy as most beech or poplar cores
-Flexibility; bamboo's proven ability to bend and bounce back while still maintaining strength has made it a popular material for building structures in earthquake zones
- Sustainability; can be harvested annually with minimal impact on the environment and often doesn't require replanting
…how's that for eco-friendly? The K2 Fastplant is the first snowboard on the market to incorporate this technology. With it's twin tip shape and jib rocker base, riding the Fastplant's just about as fun as victoriously shouting "Bam BOO-YAH!" in public.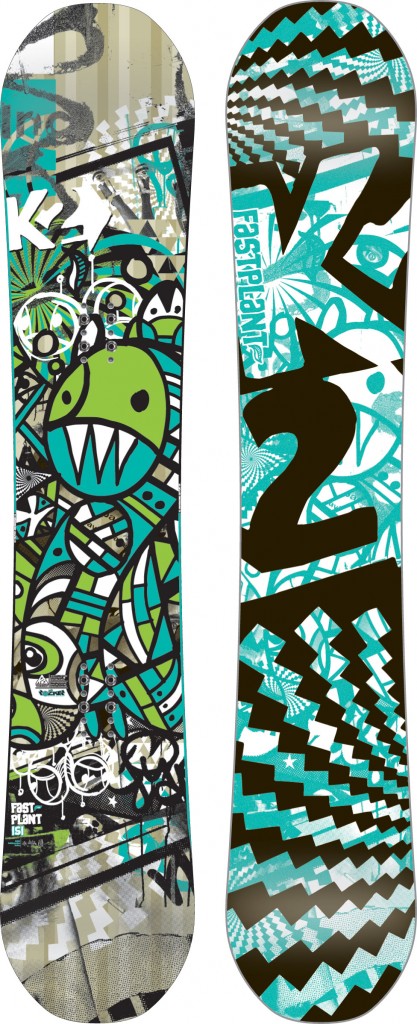 No wonder it's earned a Best of Test award, Platinum Pick, and tons of rave-reviews. An everlasting, eco-conscious board with Don Pendleton graphics?! Bam BOO-YAH! (ok, that's the last time. Promise.) Snag one & strap in while you still can!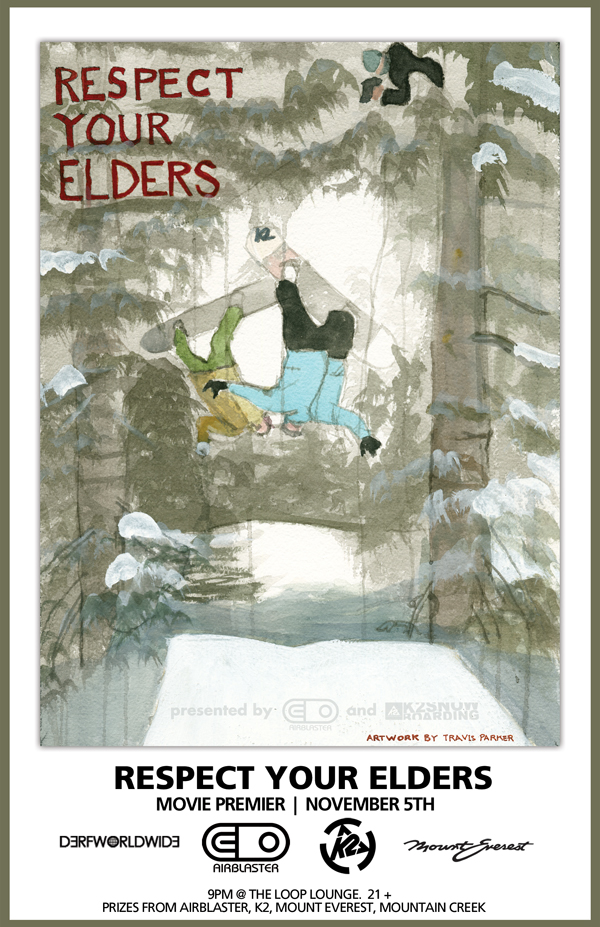 Come check out the new AIRBLASTER TEAM video RESPECT YOUR ELDERS tonight
21+ DOORS OPEN AT 9:00 PM VIDEO STARTS AT 10:00 PM LOOP LOUNGE: 373 Passaic County 622 Passaic, NJ 07055
PRIZES FROM AIRBLASTER, K2, MOUNT EVEREST, AND MOUNTAIN CREEK
Respect Your Elders Teaser from Resourceful Gnome on Vimeo.
RIDERS:
Travis Parker
Brandon Cocard
Ben Lynch
Josh Dirksen
Jed Anderson
Nick Dirks
Austin Hironaka
Temple Cummins
Aaron Robinson
Jonas Michilot
Tim Eddy
Eric Messier
Shaun McKay
Skylar Thorton
Pat McCarthy
and more…
Check out ESPN to read about Travis's return to snowboarding and K2
BAMBOOYAH!