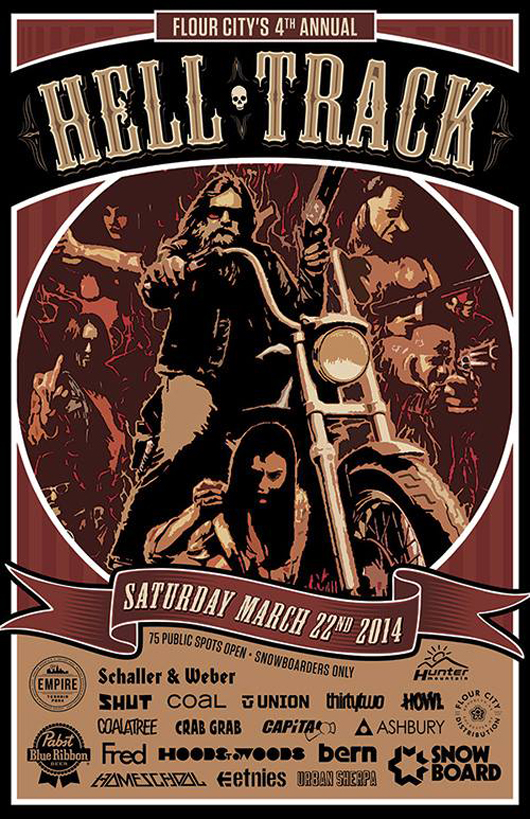 Flour City's 4th Annual Hunter Hell Track will be held this Saturday March 22nd.  This year the skate-style course will be slightly toned down but,  even longer than last years! Hunter Hell Track is free to enter and there will be 75 public spots open to snowboarders only of all ages.  The event is always a nonprofit event and once again we will be raising money for Hoods to Woods Foundation.
Final registration will be held at the Yurt from 10am-11:30am.  A riders meeting will be held at the Yurt prior to the contest at 11:30am. The contest runs from Noon until completion.  The Awards / Prizes will be handed out to the top 3 overall times within each division after the final racer crosses the finish line.
Divisions are based around the ages who have signed up so far:
Young Bucks 13 – 17
Younger Amateurs 18 – 35
Older Amateurs 35+
Women Amateurs
The Official After Party will be held once again at The Spinning Room with Tim MacKenzie's band The Stripdown. This is a 21+ event and $5 at the door. So, wax your shred unit and show your support for Hoods to Woods by shredding a skate-style rhythm course at Hunter Mountain!
This Saturday show your support for Japan by shredding a skate-style rhythm course at Hunter!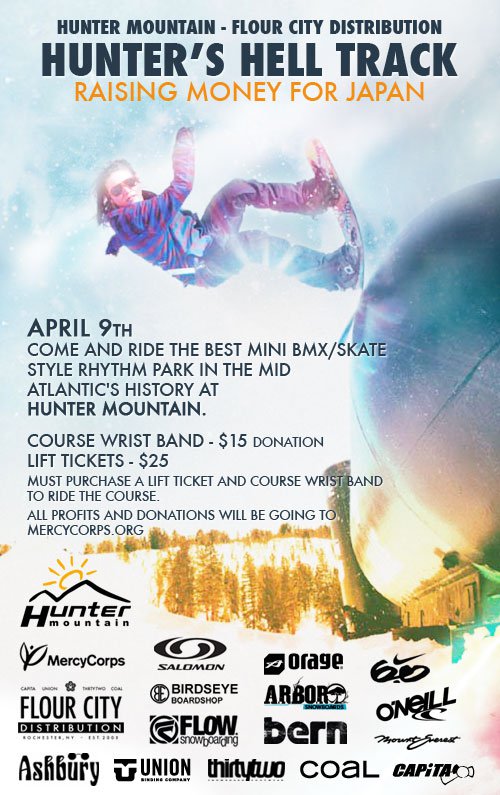 Registration will be open from 10am – Noon inside the Lodge, followed by a riders meeting at the Yurt.
The course promises be the most progressive BMX/Skate/Boardercross/ Rhythm Track you have ever seen on SNOW! Skiers and snowboarders welcome!
Course wristbands cost $15; all proceeds are being donated to MercyCorps to help the crisis in Japan. You'll be able to hit the track as many times as you want and receive raffle tickets for prizes including skis, snowboards, helmets, outwear, goggles and more. (Lift tickets are required to compete & can be purchased for $25. Season passes will be honored)
Raffle tickets will also be on sale to the general public, so there's really no excuse…good times for a good cause! RSVP & check Hunter's blog for event updates
If you're not a wuss like me and saw Paranormal Activity 2 over the weekend, you probably haven't slept since….not because you were scared sh*tless, but because you can't stop thinking about the amazing sunglasses "Ali" was wearing in the beginning of the movie;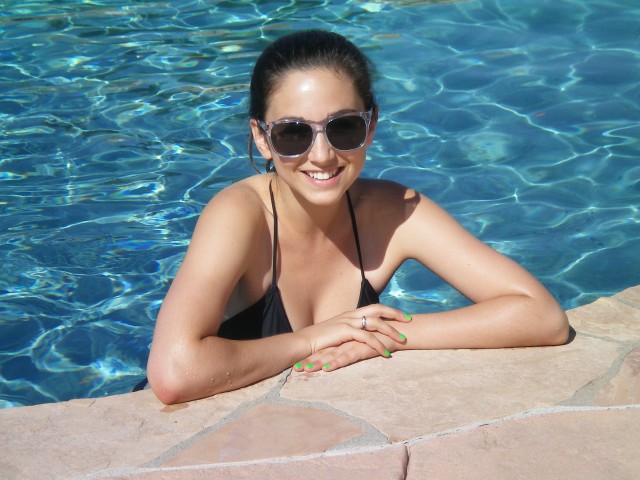 Well now you can rest easy…those are none other than the Ashbury Daytrippers! (As you can see by Ali's lime green nails, she's pretty hip. Perhaps she heads over to Mountain High when she doesn't feel like being terrorized by a house full of baby-snatching demons?)
EV's got the Daytripper in White, Black, and Lizard King's model (green, like Ali's manicure) along with the Psychedelic Lollipop, Crenshaw, and some of their 2011 goggles. Snag some before the rest of Hollywood catches on!