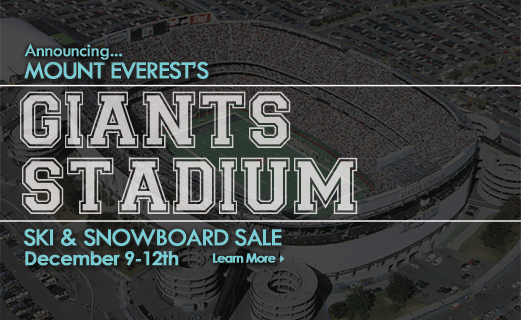 Mount Everest is bringing the NY Metropolitan Area's largest ski & snowboard sale to Giants Stadium on December 9th thru the 12th. Massive amounts of skis, snowboards, outerwear and apparel will be on sale at up to 80% off.
Every ski or snowboard purchase gets a free lift ticket to Windham Mountain and 10 other mountains will have representatives on-site with discounted lift tickets and/or vacations. Telluride in Colorado will be raffling off a free vacation.
Admission is free and so is the hourly shuttle service from Manhattan. Check back here for updates or check out the Official Giants Stadium Sale website for more detailed information.
NY Metro's Largest Ski & Snowboard Sale @ Giants Stadium. December 9th – 12th
NY Metro's Largest Ski & Snowboard Sale @ Giants Stadium. December 9th – 12th