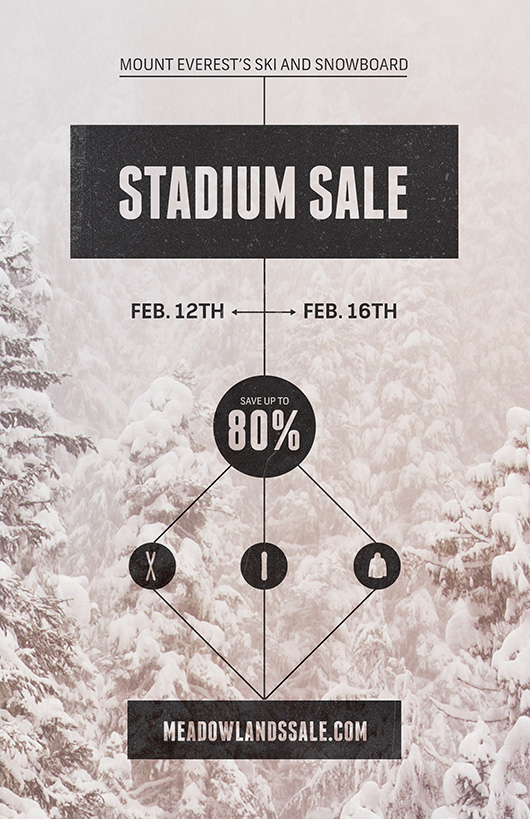 This February 12th – 16th, Mount Everest will be bringing another stadium sale to the Meadowlands.  With plenty of days left in the season and just in time for President's Week, now is the perfect time to grab all the gear you need at amazing prices.
We've worked hard to replenish our inventory and increase our product offering so there is sure to be great gear for everyone of all ages, ability levels and style.  Ski and Snowboard packages start at $250 and every ski or snowboard purchase comes with a Free Lift Ticket to Mountain Creek or Windham, a $10 Mount Everest Gift Card and one free tune-up card that never expires.
Great deals on winter outerwear and accessories are abound; with end-of-season-type discounts on current styles and super-discounted stadium-only specials, this sale has everything you need to get kitted from head to toe.  Just attending the sale gains you access to additional offers at Mount Everest's Retail Store.  Before leaving the sale be sure to get your hands on coupons that includes a skis or snowboard mount service for $12 (free if you are traveling from NYC), tune-up for $12,  and an extra 5% any future purchase.
Make sure to join the event on Facebook and follow us on Twitter to stay updated with special Stadium Sale promotions and deals!
Tuesday, February 12th: 5pm – 10pm
Wednesday, February 13th: 12pm – 10pm
Thursday, February 14th: 12pm – 10pm
Friday, February 15th: 12pm – 10om
Saturday, February 16th: 9am – 9pm
Free Admission | Free Parking | Free NYC Shuttles powered by OvRride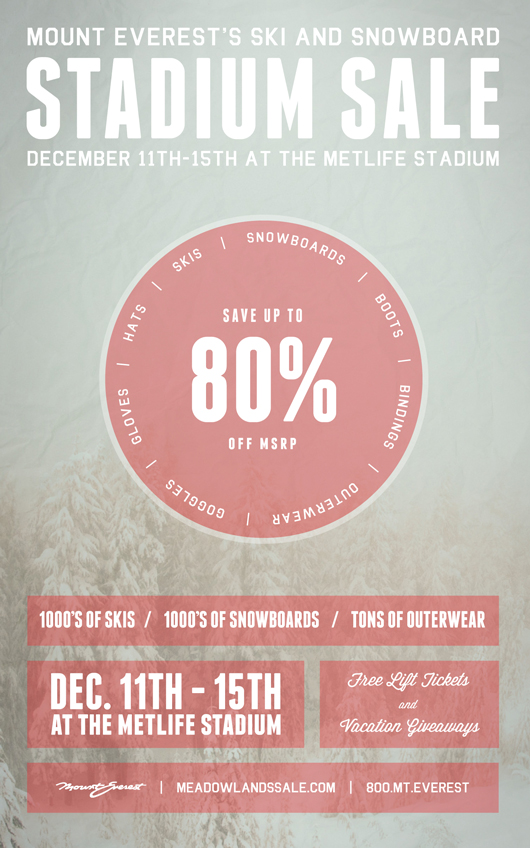 Shop Mount Everest's Stadium Sale & save up to 80% on everything you need this winter! From December 11th-15th, the Toyota Coaches Club inside MetLife Stadium will be transformed into a full-blown snow shop just in time for the holidays.  The five day event has a huge selection of skis, snowboards and outerwear at up to 80% off, as well as ski and snowboard packages that include a free lift ticket to Mountain Creek or Windham Mountain. Our expert staff, including industry reps, take the time to fit you with the perfect equipment at the most competitive pricing found anywhere before the holidays.
In addition to getting outfitted, the Mount Everest Stadium Sale is the perfect place to plan your vacations and trips for the season.  Twenty-five mountains from NY, NJ, PA, VT, CA, UT, CO, and MT will be onsite offering exclusive deals on lift tickets and vacation packages.  Jackson Hole, Squaw Valley, Park City and Telluride will be raffling off free vacation packages that include lodging.
Make sure to join the event on Facebook to stay updated with special Stadium Sale promotions and deals!
Tuesday, Dec. 11th: 5:00pm – 10:00pm
Wednesday, Dec. 12th: 12 noon – 10:00pm
Thursday, Dec. 13th: 12 noon – 10:00pm
Friday, Dec. 14th: 12 noon – 10:00pm
Saturday, Dec. 15th: 9:00am – 9:00pm
Free Admission | Free Parking | Free NYC Shuttles powered by OvRride
Next time you're stopping in, don't forget to pick up lift tickets at the register to save time & money at the mountain.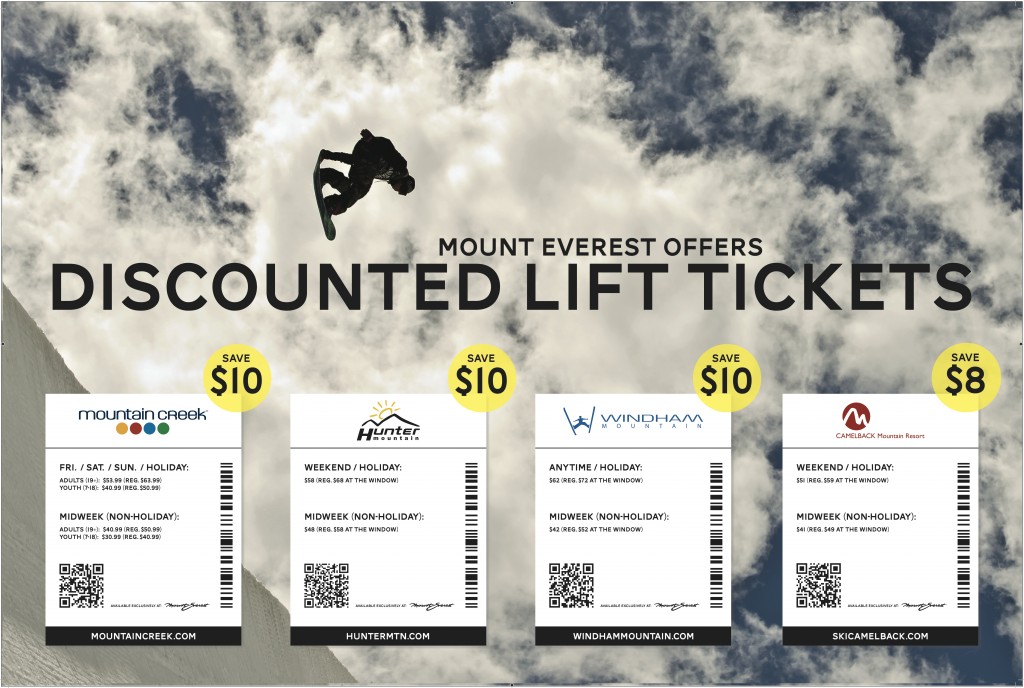 Mount Everest offers discounted ticket rates for the following nearby resorts:
Mountain Creek – Vernon, NJ
Weekend (Fri. – Sun. & Holidays):                                               Midweek (Mon.- Thurs. Non-Holiday):
Adults (19+): $53.99 vs. $63.99 at the Window                         $40.99 vs. $50.99 at the Window
Youth (7-18yrs.)     $40.99 vs. $50.99 at the Window               $30.99 vs. $40.99 at the Window
Windham Mountain – Windham, NY                                    Hunter Mountain – Hunter, NY
Midweek, Non-Holiday:  $42 vs. $52 at the Window             Midweek, Non-Holiday: $48 vs. $58 at the Window
Anytime, Holiday:  $62 vs. $72 at the Window                      Weekend, Holiday: $58 vs. $68 at  the Window
Camelback Mountain Resort – Tannersville, PA
Midweek, Non-Holiday*:  $41 vs. $49 at the Window
Weekend, Holiday*:  $51 vs. $59 at the Window
(*Rates for Camelback's Print-at-Home ticket program. For details on how to redeem online using our exclusive promo code, please ask at the register)
Don't have any plans for New Year's Eve yet?
Well, now you do!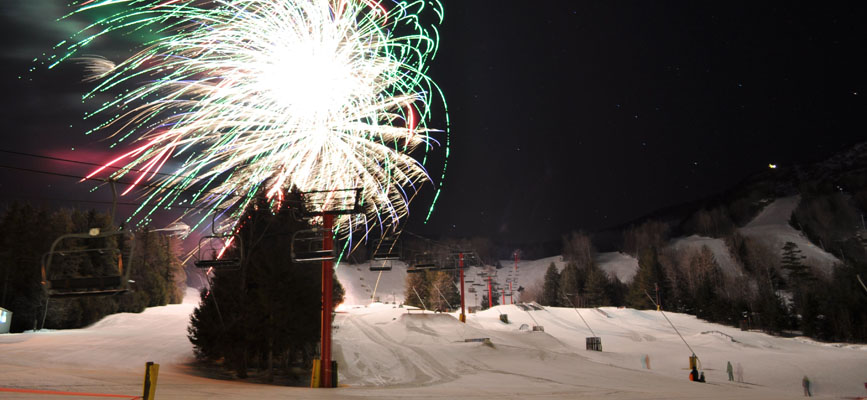 Find out what some nearby resorts have in store for Saturday, mid- and apres-shred >>>
Read more…
Skip the beach & spend this Memorial Day weekend on-snow – Windham's been gathering all their leftover snow to build the last few jibs of this season. Kick off your summer at the annual Endless Winter Rail Jam this Saturday, the 28th!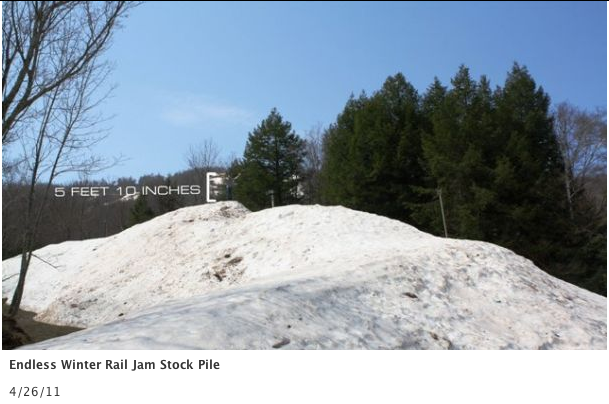 It's shaping up to be a busy weekend on the East coast with tons of events and contests going on. We suggest you take it easy this week, make a plan of attack, and pick a good co-pilot. Might not hurt to stock up on candy, Febreeze, and Red Bull either…
Thursday, Jan 20 –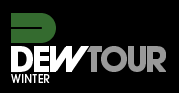 Killington, VT: Winter Dew Tour kicks off at stop #2. Watch Mason Aguirre, JJ Thomas, Louie Vito, Gretchen Bleiler, Jamie Anderson, Jossi Wells & Simon Dumont warm up in the 22-ft Superpipe. Preliminaries on Friday with an after-party at the Wobbly Barn featuring DJ Cassidy, Superpipe finals on Saturday, and Slopestyle finals on Sunday
Friday, Jan 21 –
Mountain Creek, NJ: VSMO Fundraiser/ Juice's birthday @ the Kink featuring what's sure to be a very classy & tasteful pole dance contest judged by local legend Danny Kass
Saturday, Jan 22–
Mountain Creek, NJ: Test the Best Demo Series hosted by yours truly & Volcom's Peanut Butter Rail Jam…online registration is already closed so get to South by 8am to sign up!
Big Boulder Park, PA: 2nd stop of Transworld's Trans Am. Register online & compete for a spot in the finals at Bear Mtn, CA & the Ride Shakedown at Summit at Snoqualmie, WA
Hunter Mountain, NY: Kids & parents interested in racing get  the chance to see what Giant Slalom is all about at their Mini World Cup #1
Windham Mountain, NY: Enjoy live music, ice sculptures, drink specials, a fireworks display & giveaway this weekend during the resort's 50th Anniversary celebration
Sunday, Jan 23 –
Mountain Creek, NJ: Your chance to get into Superpark 15 during the 1st stop of Snowboarder Magazine's Superpass series
Hunter Mountain, NY: We're running a bus charter to the resort from our shop w/ ticket deals, wifi, & TV. Save on gas & sleep on the way up! Sign up online
Okemo, VT: Gatorade Free Flow Tour gives am riders & freeskiers a chance to go from "Flow to Pro" at its 3rd stop.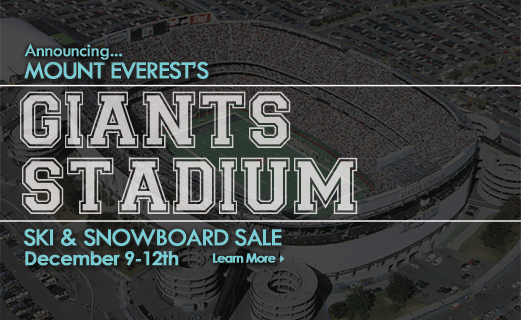 Mount Everest is bringing the NY Metropolitan Area's largest ski & snowboard sale to Giants Stadium on December 9th thru the 12th. Massive amounts of skis, snowboards, outerwear and apparel will be on sale at up to 80% off.
Every ski or snowboard purchase gets a free lift ticket to Windham Mountain and 10 other mountains will have representatives on-site with discounted lift tickets and/or vacations. Telluride in Colorado will be raffling off a free vacation.
Admission is free and so is the hourly shuttle service from Manhattan. Check back here for updates or check out the Official Giants Stadium Sale website for more detailed information.