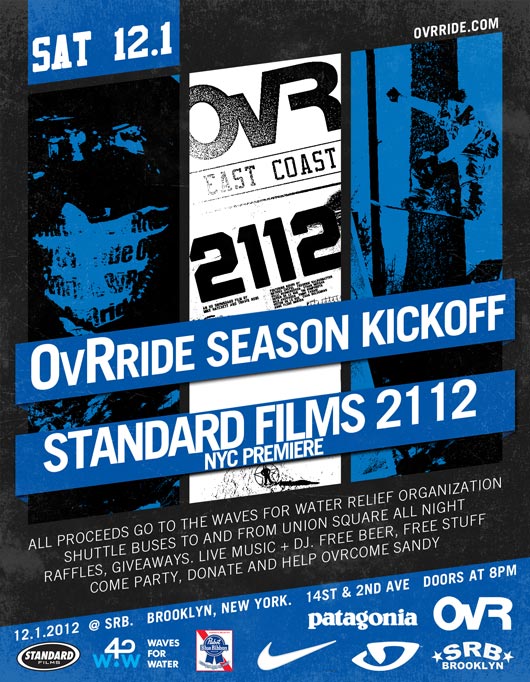 OvR is kicking off the season with a bang!  Standard Film's "2112″ will screening while you party the season in, open bar style.  Plus, all proceeds will directly benefit the Waves to Water organization and StillWater, who are working to help restore the Rockaways and the NJ shore.  Did we mention there will be raffles and giveaways from Burton Snowboards, Nike Snowboards, Patagonia and others.  For those of you who want to keep the party going afterwards, OvR is heading up to Mount Snow the following morning.
OvR Kick-Off Party, Video Premiere "2112″ & OvRcome Sandy Fundraiser
Location: SRB Brooklyn, 177 2nd Avenue, Brooklyn NY
Date: Saturday, Dec. 1st
Time: 9PM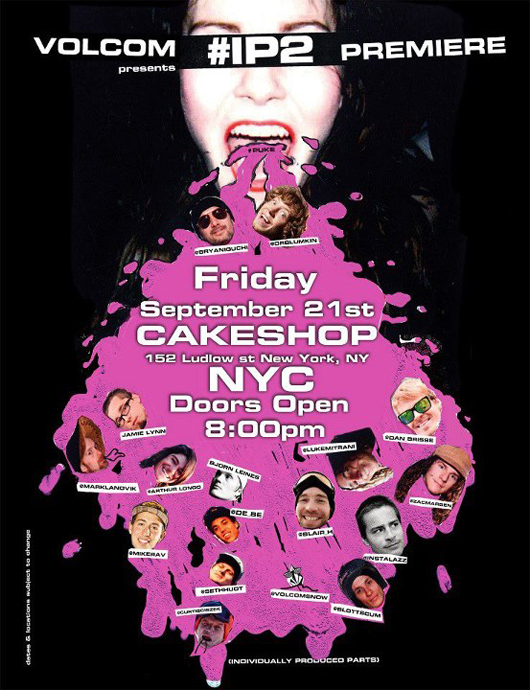 Come to the Cakeshop this Friday Sept. 21st to see the new movie from Volcom IP2.  Volcom riders traveled the globe filming "Individually Produced Parts" aka IP2s.  Each rider's segment is a mixture of their own personality, theme, and creativity.  Featuring riding from:  Curtis Ciszek, Jamie Lynn, Zac Marben, Bryan Iguchi, Bjorn Leines, Scott Blum, Seth Huot, Dan Brisse, Dyan Alito, and more.
Doors Open: 8PM
Location:  Cake Shop  152 Ludlow Street, New York, N.Y.