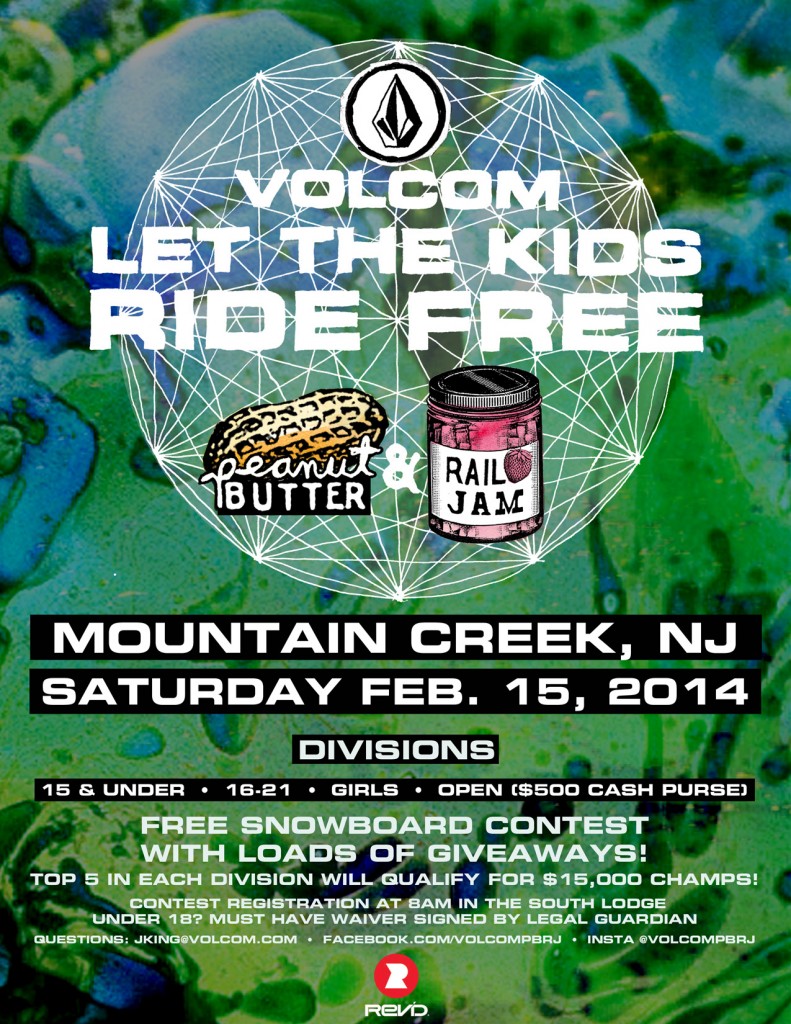 Volcom Peanut Butter and Rail Jam is coming to Mountain Creek, Saturday Feb. 15th. Come out and compete for $500 cash and a change to win 15 grand or just come cheer on some talented local shredders. There will be free give aways, free food and probably some sweet bails so it should be fun!
Free to enter — registration will begin at 8am at the south lodge.
Click here for Liability waiver Print it out, fill it out, sign it (parent signature if under 18) and bring it to registration. There will be blank liability waivers the day of the event.
DIVISIONS (Your division is determined by the age you are the day of the event):
Men's Open
Women's Open
16-21
15 & Under
*Top 5 in each Division qualify for the 2014 PBRJ World Championships!
More info: Jared jking@volcom.com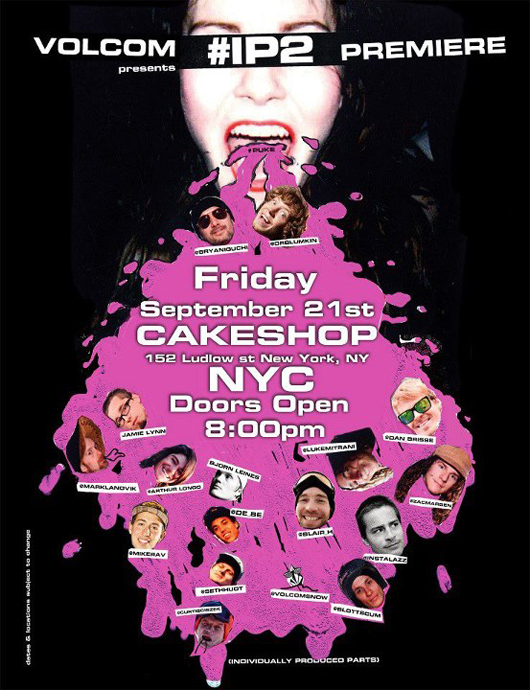 Come to the Cakeshop this Friday Sept. 21st to see the new movie from Volcom IP2.  Volcom riders traveled the globe filming "Individually Produced Parts" aka IP2s.  Each rider's segment is a mixture of their own personality, theme, and creativity.  Featuring riding from:  Curtis Ciszek, Jamie Lynn, Zac Marben, Bryan Iguchi, Bjorn Leines, Scott Blum, Seth Huot, Dan Brisse, Dyan Alito, and more.
Doors Open: 8PM
Location:  Cake Shop  152 Ludlow Street, New York, N.Y.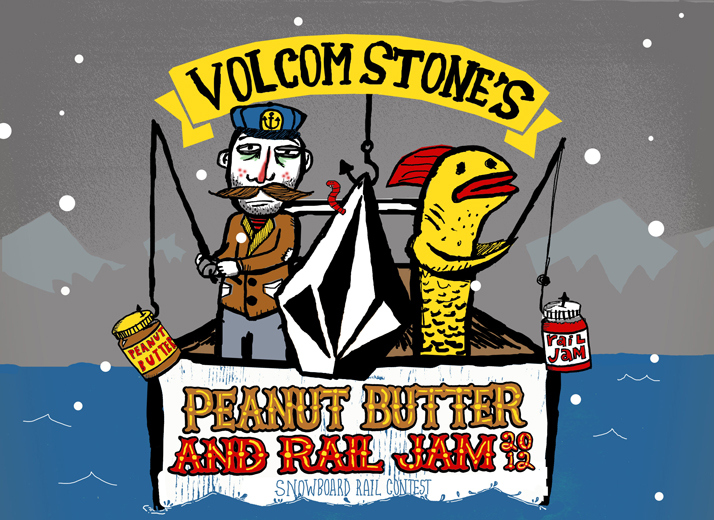 The Volcom PBRJ tour is back for the 2011- 2012 season! The tour is a amateur snowboard contest series. Instead of having three rails in a row, we have them side by side to create a rail zone. There are four divisions; 15 and under, 16 and over, Girls and Open (pro-am). The contest runs in a jam format so there are no scheduled runs. Each heat is 20 minutes and you have the option to hit each feature as many times as you want. The overall atmosphere is great. Jeff Arnold is a character as a judge and announcer. Everyone is a winner and they give competitors a free t-shirt and peanut butter and jelly sandwiches.
Schedule:
• 9:00am – 10:00am – Registration
• 10:00am – 10:30am – Riders meeting
• 10:30am – 11:00am – Open practice
• 11:00am – 11:30am – 15 & under qualifier
• 11:30am – 12:00pm – 16 & over qualifier
• 12:00pm – 12:30pm – Girls
• 12:30pm – 1:00pm – sandwich break
• 1:00pm – 1:30pm – Open qualifier
• 1:30pm – 2:00pm – 15 & under finals
• 2:00pm – 2:30pm – 16 & over finals
• 2:30pm – 3:00pm – Girls finals
• 3:00pm – 3:30pm – Open finals
• 3:30pm – 4:00pm – Awards
Wienerschnitzel, Lederhosen, Eric Jackson.
…sounds like a pretty good Tuesday to us.
Come out to the Pilsener Haus & Biergarten in Hoboken for some good bier, good times & GOOD LOOK – the latest snowboarding flick by People Films. Watch riders JP Walker, Torstein Horgmo, Simon Chamberlain, Eero Niemela, Shaun McKay, Aaron Biittner, Lauri Heiskari, Joe Sexton, Heikki Sorsa & Eric Jackson on the big screen inside an authentic, Beer Fest-esque German beer hall. Film sponsors K2 Snowboarding, Grenade & Volcom will also have gear to giveaway so grab some friends & get your Getränk on! Prost!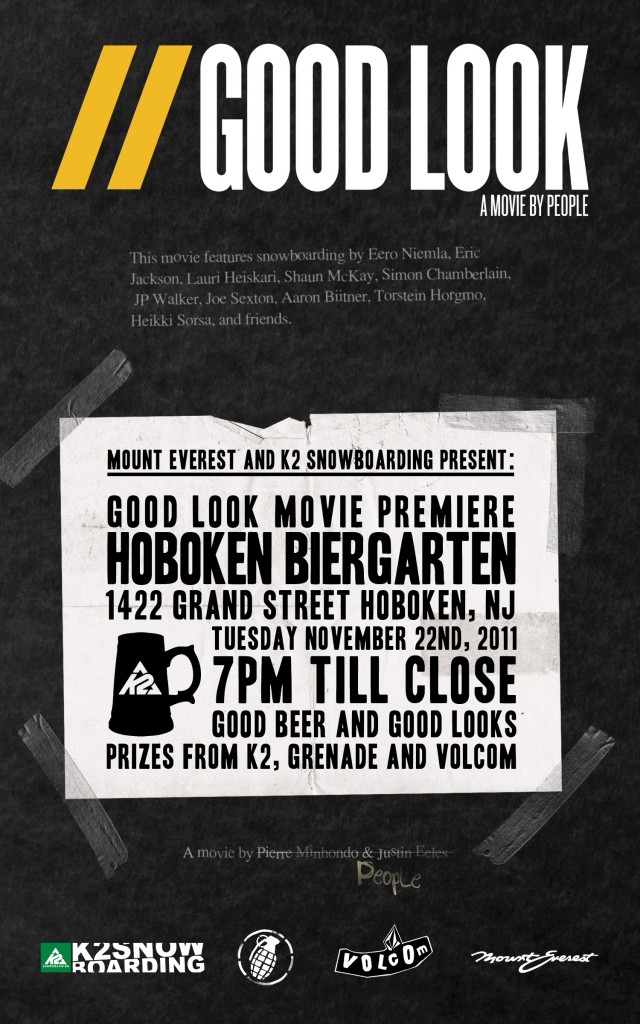 7pm – 2am (close)
must be 21+ to drink
…invite friends & RSVP to our event on Facebook and Meetup too!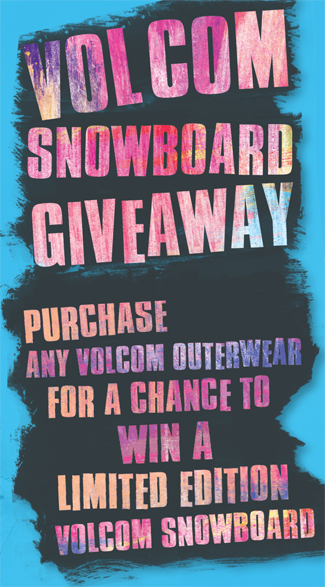 Volcom bangs out some of the most sought-after outerwear & accessories season after season, but we're still anxiously awaiting their hardgoods debut. The brand makes drool-worthy decks for their team riders each year, but has yet to make a line available to the public. Welp, our shop just so happened to acquire one of these precious rarities! After some serious inner-conflict, our shoulder-angel won out and we decided to put the Limited Edition board up for grabs. Next time you purchase any Volcom gear from our shop, you'll be eligible to win the drawing on Tuesday, February 15th. Just order Volcom gear online or drop your info in the shop for a chance to get your hands on an ultra-exclusive, super-rare, mega-rad Volcom snowboard.
Your friends will be jealous! The opposing gender will love you! Everyone will think you're totally sponsored! Don't blow it, grab your rabbit's foot & get over here!
The temperature's barely dropped below 70 here in Jersey, but we're already well into video premiere season. Volcom's 9191 was the latest to roll through the NYC area, so naturally several of EV's finest went to check it out at the Anthology Film Archive in the East Village.

9191 is described as "a mathematical equation of sideways style" and was inspired by the travels of Gigi Ruf. (Other riders featured include Wille Yli-Luoma, Bryan Iguchi, Luke Mitrani, Curtis Ciszek, and Blair Habenicht.) Personally, I was most excited to hear the soundtrack created especially for the film, but was really blown away by the overall  combination of elements. The riding was intense and the camera angles emphasized just how immense & impressive Gigi's backcountry riding is. Cinematography that blended super 8 footage and trippy effects effortlessly won over the artsy crowd and succeeded creating a signature style that never overwhelmed the riding. All of this, with a breathtaking backdrop and set to Baron's alternately metal/haunting score made 9191 a unanimous hit for all of us. (Plus Gigi was nice enough to sign a poster for the EV Board Room)
We advise you to see it ASAP–afterwards, expect an immediate desire to watch it again, rock Gigi's signature Volcom line, and d/l the soundtrack on iTunes. For now, feast your eyes on the official trailer;