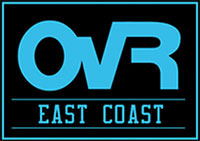 When's the last time you hopped on a bus to the mountain, high school ski club? When's the last time someone offered you food and beer on the ride up and back? How many times have you been able to watch movies with your friends on the way to an epic East Coast pow day?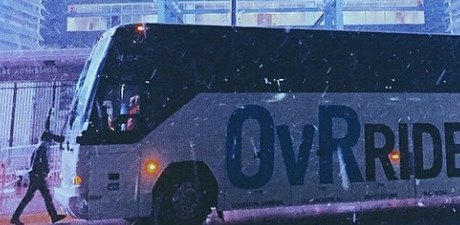 OVR has the answer for you. Running via NYC & NJ OVR organizes daily bus trips to and from various mountains on the East coast. For less than $100 you can get yourself on hill for an entire day on a slew of East coast locations like Killington, Mount Snow, Hunter, Windham, Camelback, and more. What's more breakfast and drinks are included for the ride there and back. First timers are encouraged with an array of discounted daily rental packages at their disposal if they ride with the OVR crew. OVR offers a great chance to make friends, and ride with some super cool people from your area on a regular basis. Granted you may need to wake up a bit earlier to get on the bus.
The fun doesn't stop on the East Coast however, OVR offers a number of trips around the world to locations like Alaska, South America, Western US, Japan, Europe, and more. The fun never stops with their affordable packages that guarantee you'll never be bored on or off the hill.

The bus runs throughout NYC and conducts pickups throughout North and Central jersey! It's as easy as showing up and hopping on for an epic day trip. The bus will make regular stops at the Mount Everest Ski and Board in Westwood New Jersey as well. Check out a pickup location near you here! 
Never miss an opportunity to get on hill with OvR and Mount Everest!  Like our Facebook page and reach out to us if you have any questions or concerns. We'll see you on the hill!
Book your trips here before spots fill up!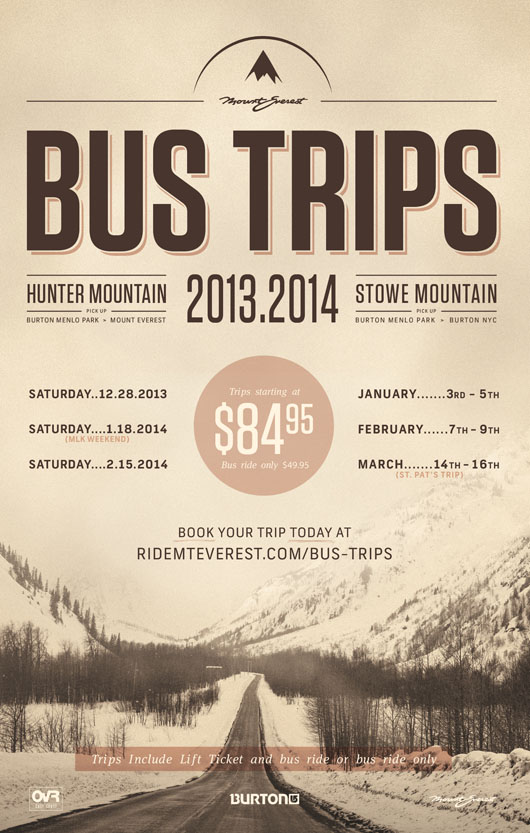 OvRride, Mount Everest and the Burton Store at Menlo Park have teamed up to offer NJ the bus trip it deserves.  Join us for day trips on a modern chartered coach bus to Hunter MT in the Catskills, and weekend trips to the legendary Vermont mountain experience at Stowe Resort.
Day trips to Hunter Mountain start at $49.95 for bus only and bus with a lift ticket package is $84.95.  Pickup locations include Burton Menlo Park, Hoboken, and Mount Everest Store in Westwood.
Weekend bus trips to Stowe Mountain include 3 days away from Friday – Sunday, at The Mountaineer Inn (March trip to Sun & Ski Inn).  Packages start at $189.95 for bus only and will range to $399.95 for lift, lodge, and bus.  Pickup locations include Burton Menlo Park, Skate Brooklyn, Homage, Burton NYC, and REI Paramus.
Gather up your gear and book a bus trip before all the spots are sold out! Book your bus trip today here.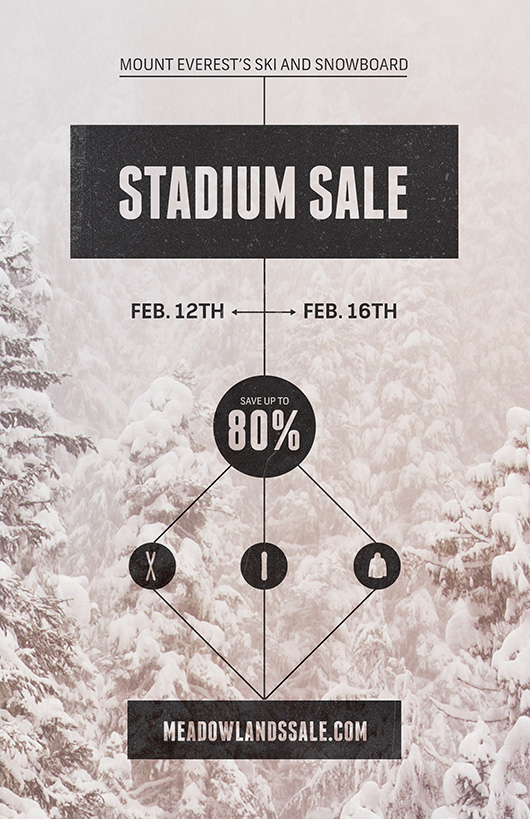 This February 12th – 16th, Mount Everest will be bringing another stadium sale to the Meadowlands.  With plenty of days left in the season and just in time for President's Week, now is the perfect time to grab all the gear you need at amazing prices.
We've worked hard to replenish our inventory and increase our product offering so there is sure to be great gear for everyone of all ages, ability levels and style.  Ski and Snowboard packages start at $250 and every ski or snowboard purchase comes with a Free Lift Ticket to Mountain Creek or Windham, a $10 Mount Everest Gift Card and one free tune-up card that never expires.
Great deals on winter outerwear and accessories are abound; with end-of-season-type discounts on current styles and super-discounted stadium-only specials, this sale has everything you need to get kitted from head to toe.  Just attending the sale gains you access to additional offers at Mount Everest's Retail Store.  Before leaving the sale be sure to get your hands on coupons that includes a skis or snowboard mount service for $12 (free if you are traveling from NYC), tune-up for $12,  and an extra 5% any future purchase.
Make sure to join the event on Facebook and follow us on Twitter to stay updated with special Stadium Sale promotions and deals!
Tuesday, February 12th: 5pm – 10pm
Wednesday, February 13th: 12pm – 10pm
Thursday, February 14th: 12pm – 10pm
Friday, February 15th: 12pm – 10om
Saturday, February 16th: 9am – 9pm
Free Admission | Free Parking | Free NYC Shuttles powered by OvRride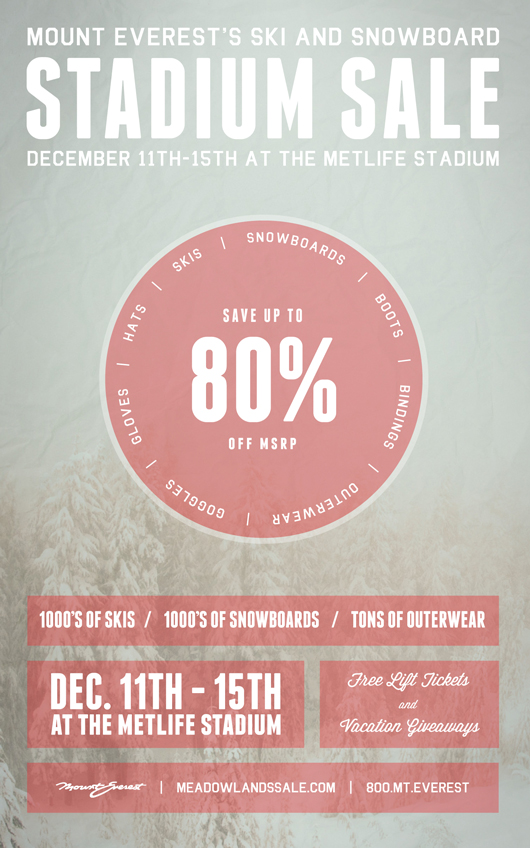 Shop Mount Everest's Stadium Sale & save up to 80% on everything you need this winter! From December 11th-15th, the Toyota Coaches Club inside MetLife Stadium will be transformed into a full-blown snow shop just in time for the holidays.  The five day event has a huge selection of skis, snowboards and outerwear at up to 80% off, as well as ski and snowboard packages that include a free lift ticket to Mountain Creek or Windham Mountain. Our expert staff, including industry reps, take the time to fit you with the perfect equipment at the most competitive pricing found anywhere before the holidays.
In addition to getting outfitted, the Mount Everest Stadium Sale is the perfect place to plan your vacations and trips for the season.  Twenty-five mountains from NY, NJ, PA, VT, CA, UT, CO, and MT will be onsite offering exclusive deals on lift tickets and vacation packages.  Jackson Hole, Squaw Valley, Park City and Telluride will be raffling off free vacation packages that include lodging.
Make sure to join the event on Facebook to stay updated with special Stadium Sale promotions and deals!
Tuesday, Dec. 11th: 5:00pm – 10:00pm
Wednesday, Dec. 12th: 12 noon – 10:00pm
Thursday, Dec. 13th: 12 noon – 10:00pm
Friday, Dec. 14th: 12 noon – 10:00pm
Saturday, Dec. 15th: 9:00am – 9:00pm
Free Admission | Free Parking | Free NYC Shuttles powered by OvRride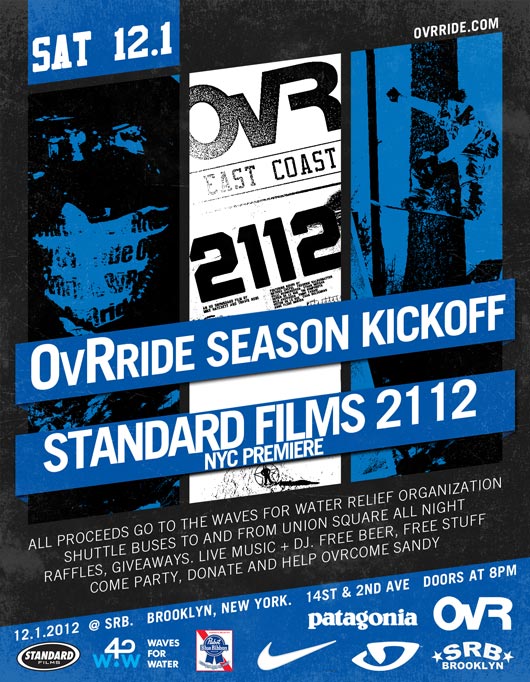 OvR is kicking off the season with a bang!  Standard Film's "2112″ will screening while you party the season in, open bar style.  Plus, all proceeds will directly benefit the Waves to Water organization and StillWater, who are working to help restore the Rockaways and the NJ shore.  Did we mention there will be raffles and giveaways from Burton Snowboards, Nike Snowboards, Patagonia and others.  For those of you who want to keep the party going afterwards, OvR is heading up to Mount Snow the following morning.
OvR Kick-Off Party, Video Premiere "2112″ & OvRcome Sandy Fundraiser
Location: SRB Brooklyn, 177 2nd Avenue, Brooklyn NY
Date: Saturday, Dec. 1st
Time: 9PM
Mark your calendars for January 14th – we've teamed up with OvRride to run a trip up to Hunter for a day of shredding. Click on our flyer below or visit Ovrride.com to sign up online.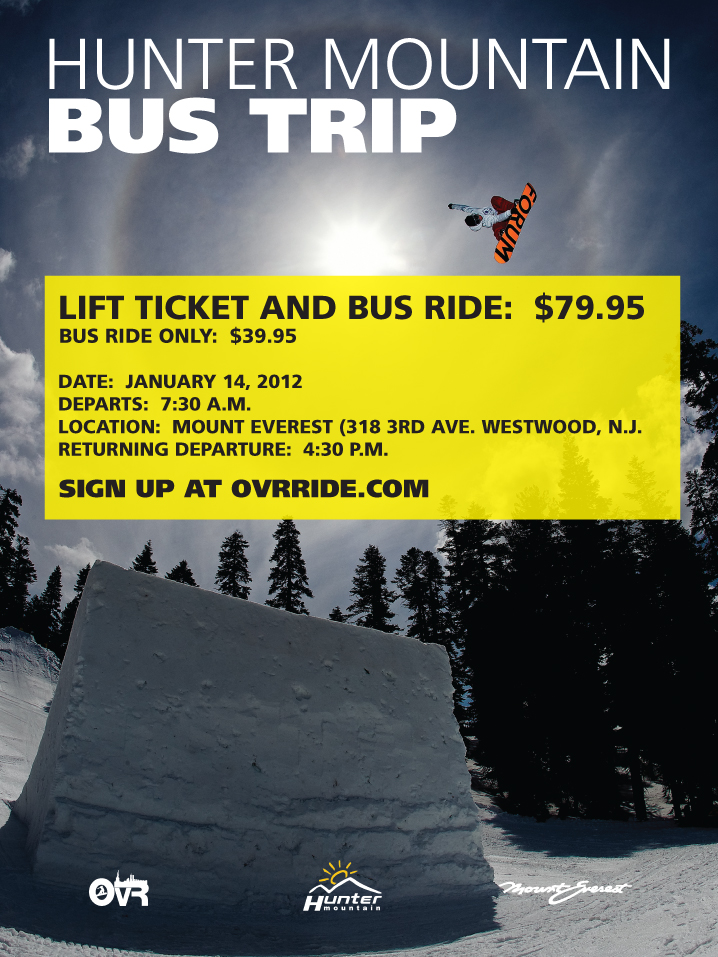 Grab your gear & meet at the shop in Westwood by 7:30am! Metered Parking is available in the Washington Avenue municipal lot on 4th Ave (just around the block from Mount Everest).
OvRride's putting the FUN into fundraiser tonight during their Season Kick-off Party in NYC!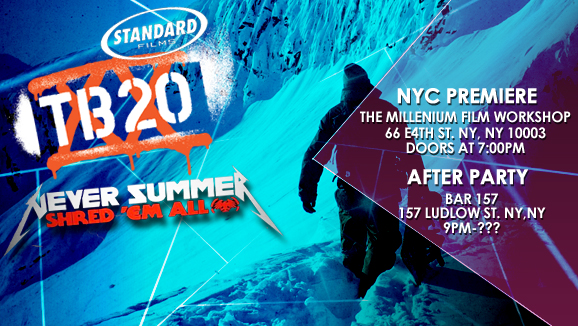 Start the night off with the city's only screening of Shred 'em All and TB20 starting at 7pm at the Millennium Film Workshop. Then it's on to the after-party at Bar 157 where your donation gets you FREE Lagunitas beer and 2 raffle entries for sponsor-donated prizes including a Mount Everest gift card, Celsius snowboard boots, a helmet cam, Stratton lift tickets, a Humanity snowboard & tons more. There will also be a live DJ AND drink specials to make sure the crowd gets dance-y.
Book your spot on the guestlist online – all proceeds from ticket sales go to the Stratton Foundation's Disaster Relief Fund to help flood victims in VT. So kick-off winter AND support a good cause!
Visit OvRride.com for full event details (check out their Stadium Sale shuttle & upcoming trips too!)