Come watch Capita's latest team video Defenders of Awesome at the Warwick Drive-In Theater on Thursday, Sept. 29th!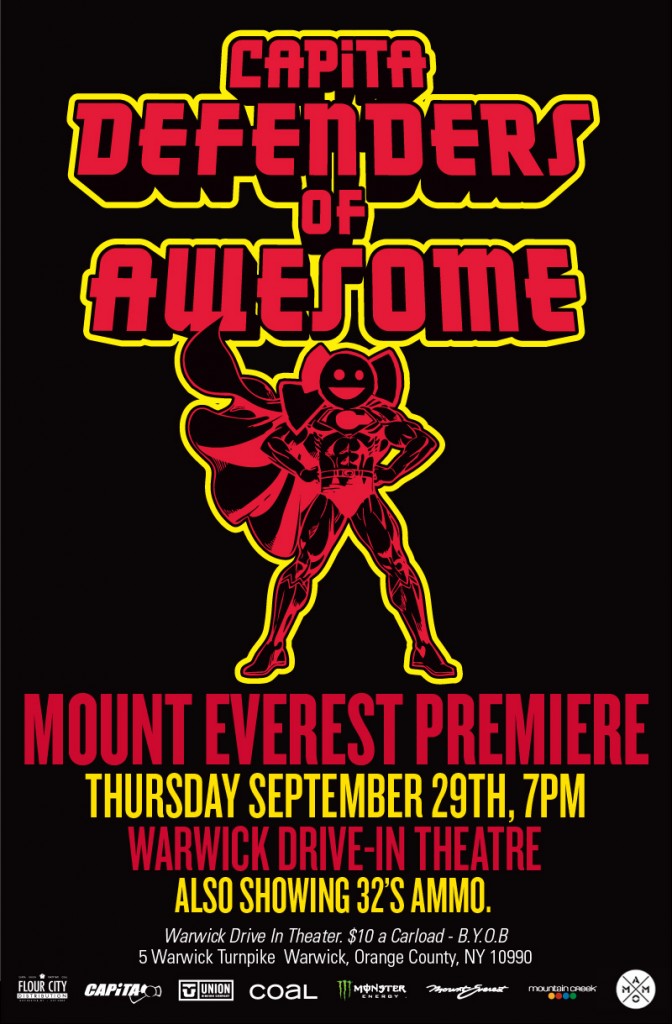 Grab some friends, pimp your ride & get to our premiere of ThirtyTwo's AMMO and Capita's Defenders of Awesome on a 70ft x 40ft screen. (Think movie theater screen size. Only huge-r. and Awesome-r.) The night will kickoff with some free swag & giveaways…any cars with snowboards in tow will earn extra raffle tickets so don't forget to show 'em off at the ticket booth!
7pm – Ticket booth open for admission
8:30pm – 9:30pm ThirtyTwo presents "Ammo"
9:30pm – 10:30pm Capita Snowboards presents "Defenders of Awesome"
(Sponsors: Capita Snowboards, Flour City Distribution, Mount Everest, Monster Energy, Mountain Creek, ThirtyTwo, Coal Headwear & Union Binding Company)
In case you haven't been, the AWESOME Warwick Drive-In is near Mountain Creek & easy to get to from Rt. 94 or Rt. 23 – Check their site for driving directions. Make sure you don't miss any event updates & RSVP on Facebook!
Check out Capita's 6th teaser featuring Mr. Zima in his "natural element"–
The full-length team vid, Defenders of Awesome is finally coming out next month…(stay tuned for details on the upcoming NJ premiere!)
Teaser 2 stars Capita Defender & "Danger Pony" Jess Kimura.

Her part in Left Brain, Right Brain earned her Women's Video Part of the Year at Transworld's 12th Annual Riders Poll Awards…could Miss Kimura's part in the upcoming Capita video be, dare-we-say?, even MORE awesome? (we're thinking "oh yes")
The title really says it all, but if you're still not completely stoked for Capita's Defenders of Awesome expect a whole slew of teasers that will get you itching for the team's first movie in 4 years.
New mini-teasers are set to drop every Tuesday until the full-length premieres in September. Here's Scott Stevens delivering the first fresh batch of Awesome:
Keep up with the Capita crew's antics at Mt. Hood & beyond on their blog and if you're feeling especially Awesome, like the Defenders on the 'book to do your part in preserving the legacy.
This Saturday, Feb. 19th Hunter Mountain & Capita are setting up TWO huge hips for their Best Trick on the Hip competition in Empire Park. This contest is all about STYLE……You do not have to SPIN IT to WIN IT, a Jamie Lynn styled out Method could take it all.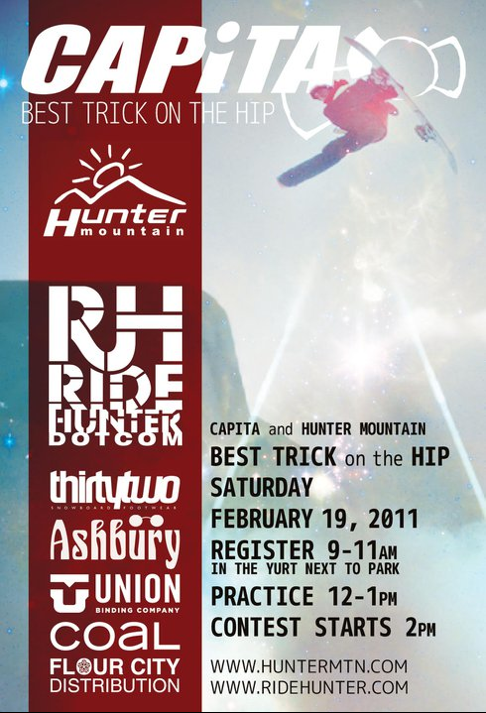 This will be a JAM style format, so pack as many tricks as you can in each run and DEVOUR!! Registration is FREE with prizes given for 1st, 2nd & 3rd.
Well, well, well…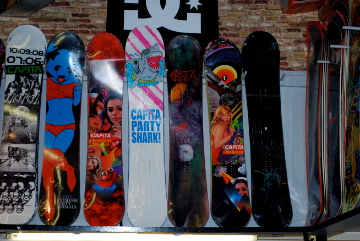 …if it isn't the Capita Party Shark!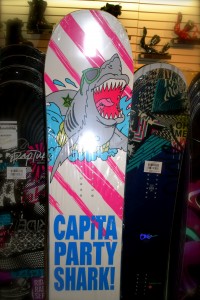 Just opened up our shipment from Capita (thanks for those Atomic Fireballs, C3!), and was psyched to see the graphics from Corey Smith & co. in person. Along with the Shark, we've got the tipsy & topless pandas of the Stairmaster EXTREME, some vicious space monsters attacking the Horrorscope FK, and a slightly-retro, stylish Saturnia for us ladies.
Capita's boards have been featured in this season's Good Wood and Best of Test, so if you're looking for a quality board at a good price (most under $360!), head over to the Board Room and check out the rest of our 2011 CAPiTA boards