Mount Everest Ski & Snowboard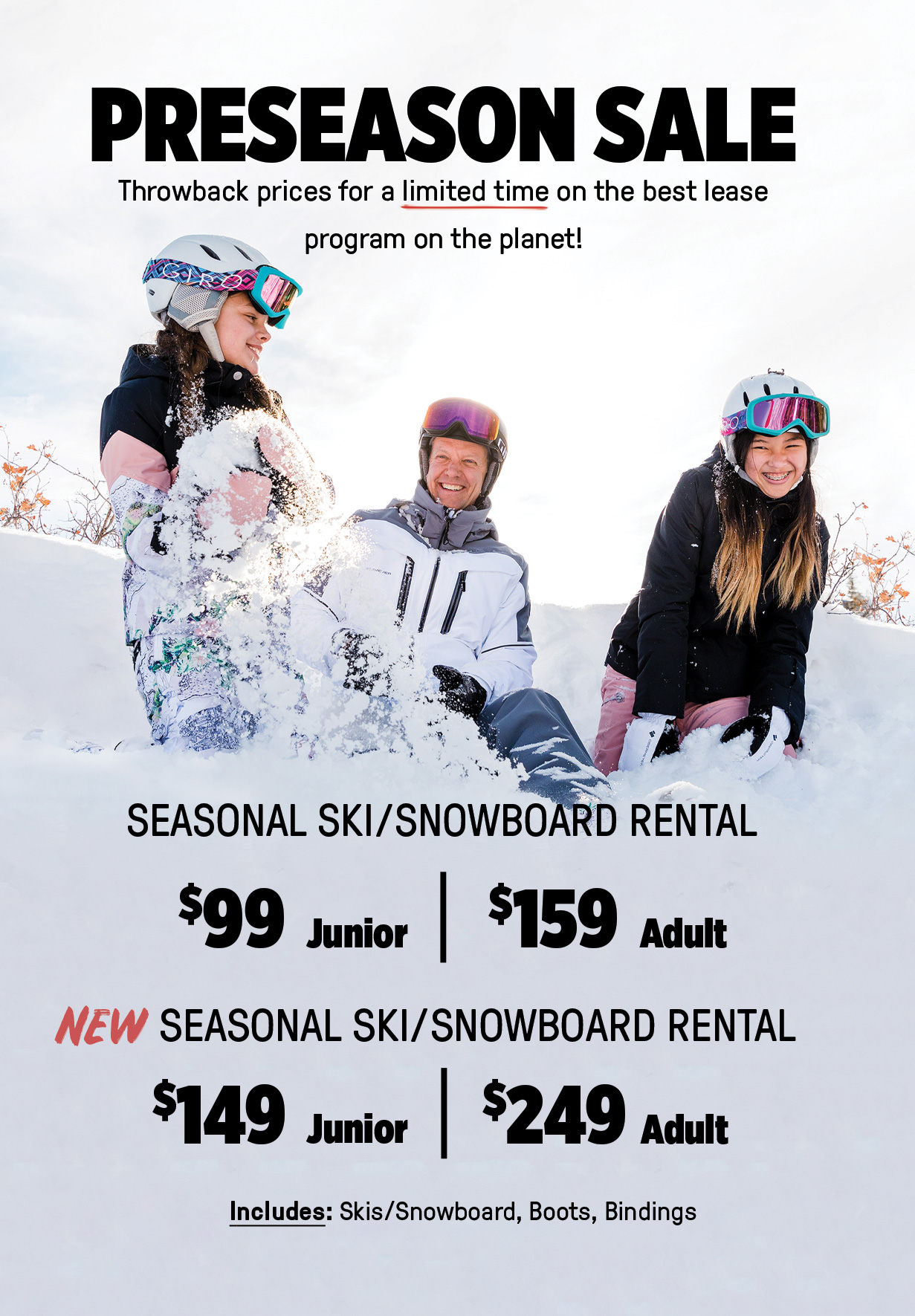 Seasonal Ski & Snowboard Rentals
Limited Time Discounts:  The early bird gets the . . best deals on rental equipment?! Stop in early this preseason for the best selection of equipment at a discounted rate! Just $99 for juniors and $159 for adults. All rentals include our Fit Guarantee which allow you to swap or resize any rental equipment throughout the season for no additional charge—perfect for those kids that just keep growing! We also offer the Snow Guarantee—if resorts don't open this season, you'll get a full rental credit for an additional season.
Rental Fittings & COVID-19:  We know things look a little different this year and here's how we're making rental fitting safe for you and your family. We've implemented a new, expanded and partitioned fitting area to keep a safe distance and give everyone lots of room.  All returned rental equipment will be sanitized upon arrival. And since this is a normally busy time for rentals, we've also added online reservations, so you can choose the time you want to come in and be fitted – no waiting! Just head to mteverest.as.me to reserve your appointment, or click the button below.
Additionally, we now offer contactless curbside home delivery and pickup of your rental equipment – how cool is that?
Nothing is more important to us than your safety while in the store. We are taking all precautions to keep our customers and employees safe with frequent cleaning and sanitizing of surfaces, display products, and high traffic areas throughout the day, with enhanced deep cleanings happening at night. We require masks be worn at all times inside the store, enforcing physical distancing, and limiting occupancy of the store.
Rental Returns:  Return dates have been extended from 11/1 to 12/15. For rentals returned after 12/15, your security deposit will be returned in the form of store credit, and returns after 1/15/2021 will be forfeited.
Can't make it to the store? Give us a call and we'll come pickup your rental equipment curbside.
For full info on our Seasonal Ski & Snowboard Rental program, visit mteverest.com/rentals or contact us with any questions.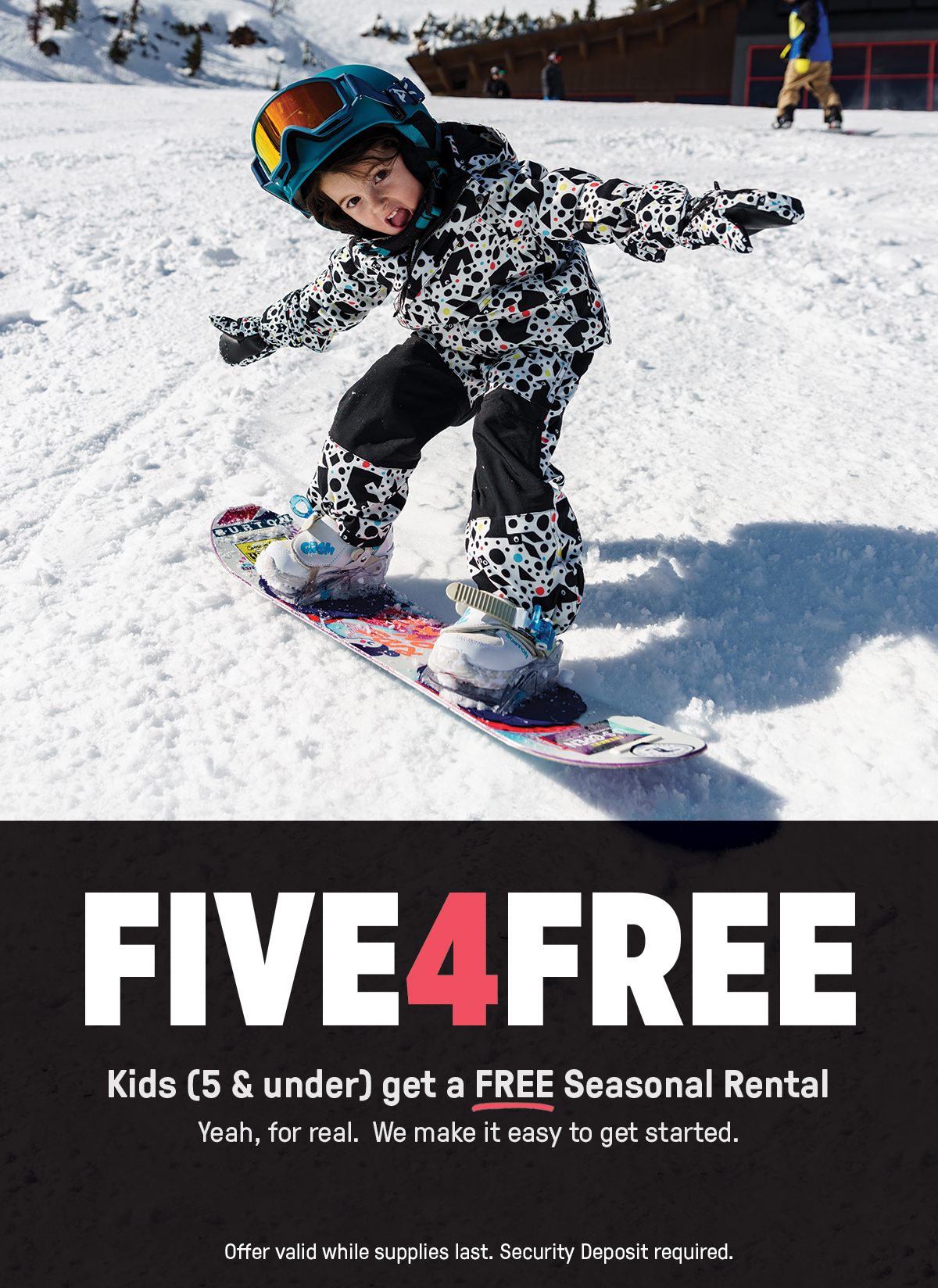 FIVE4FREE
It's back!  Want to introduce your child to the sport of skiing or snowboarding? Children aged 5 & under are eligible for a FREE ski or snowboard rental. Our FIVE4FREE program includes Skis/Snowboards, Boots, and Binding—all the equipment you need to get started! (a small, fully refundable Security Deposit is required)
New Ski & Snowboard Rentals
Choose from a wide selection of new skis or snowboards for rentals. Starting at only $149 for juniors and $249 for adults you can score brand new rental equipment from top brands like K2, Ride, Salomon and many more. This includes brand new skis/snowboard, bindings, and boots.
Love your gear? Buy it out at the end of season and we'll subtract your rental fee from the original retail price.
For full info on our Seasonal Ski & Snowboard Rental program, visit mteverest.com/rentals or contact us with any questions.
New Arrivals for 2021
Can't wait to get your hands on some new stuff? We have new 2021 gear arriving daily. Outfit yourself and your family in the latest from Patagonia, Burton, 686, The North Face, Under Armour, in-store now. Have your eye on a new board? New snowboarding gear has landed from K2, Arbor, Salomon, ThirtyTwo, and Nitro with more arriving daily. How about some skis, please?! We've got new arrivals from Atomic, K2, Line, Head, Salomon, Nordic, Fischer, Armada and Liberty. Be sure to shop early for the best selection of 2021 gear!
Past Seasons' Gear Sale
Because who doesn't a love a good deal? Time to get your hands on some past season's goods for 40-50% off! Now is the perfect time to get everything you need—jackets, pants, hats and gloves—at a discounted rate before the season starts. But you'll need to hurry, because quantities are limited, and you don't want to miss this!
Ridgewood Store Re-opening
We are excited to announce that our Ridgewood Store is re-opening this Friday, October 23rd!  Come shop the annual Preseason Sale with discounts on seasonal rentals, take advantage of our FIVE4FREE program that gives kids 5 & under a free ski or snowboard rental, and get 40-50% last season's gear! You can now also reserve your rental appointment online. We're excited to be opening back up and can't wait to see you there!
Store Hours & Information:
Monday – 12pm – 7pm
Tuesday – 12pm – 7pm
Wednesday – 12pm – 7pm
Thursday – 12pm – 7pm
Friday – 12pm – 7pm
Saturday – 10am – 6pm
Sunday – 11am – 4pm
Monday –  Closed
Tuesday – 12pm – 7pm
Wednesday – 12pm – 7pm
Thursday – 12pm – 7pm
Friday – 12pm – 7pm
Saturday – 10am – 6pm
Sunday – Closed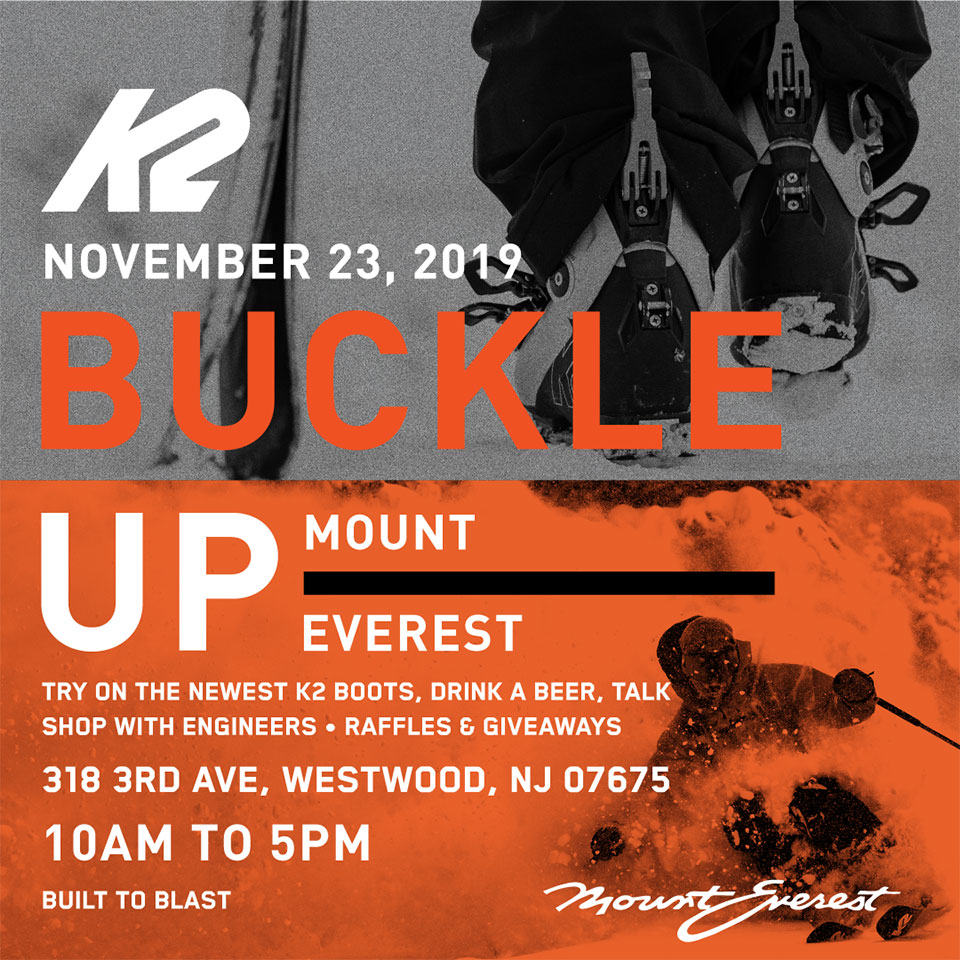 Mount Everest is partnering with K2 Skis to connect ski enthusiasts and engineers at their Buckle-Up event on Saturday, November 23rd from 10am- 5pm.
Boot engineers from K2 headquarters at Vashon Island will be setting up shop in the Westwood store to talk one on one with skiers about boot tech while finding and fitting K2 boots for each attendee.
The events focuses on K2's Freeskier's Editor's Pick elite Recon 130 boot but since boots fit differently for everyone,  attendees will also be able to try on and learn more about the K2 BFC 100, Antham  and others.
K2 will also running a raffle to give away a pair of Recon boots to one lucky skier and offering free beer (for those with proper ID) and pizza.
This is an all- day event, so stop in anytime to work with the engineers or just come grab a beer.
See you there, you don't want to miss out!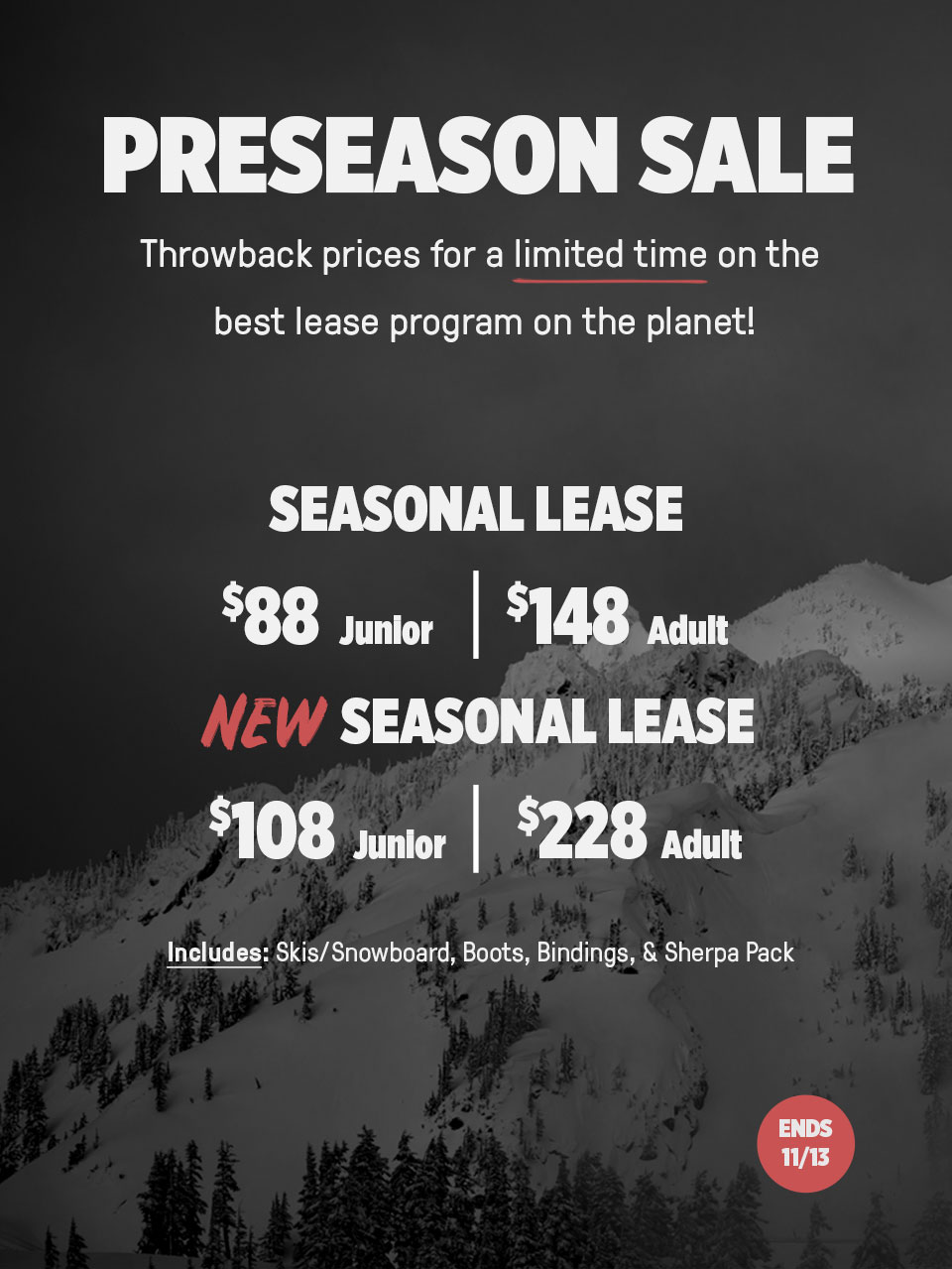 What's up!? It's been a while but we're back and welcoming winter with our annual Preseason Sale & Seasonal Lease Event:
Now through November 13, 2019, we're offering discounted seasonal rentals, making it the best time to beat the rush, and get fitted for winter.
Our seasonal rentals include all the equipment you need: skis/snowboard, boots, and bindings, and a Sherpa Mountain Guide, which includes offers from Windham, Hunter, Blue Mountain, Shawnee, Killington, and more!
Seasonal Ski & Snowboard Rentals
During this sale, juniors get rentals at a discount for $88 and adults for $148.  Our Fit Guarantee ensures that you can swap any rental equipment anytime throughout the season without additional charge, which is great when you have growing kids.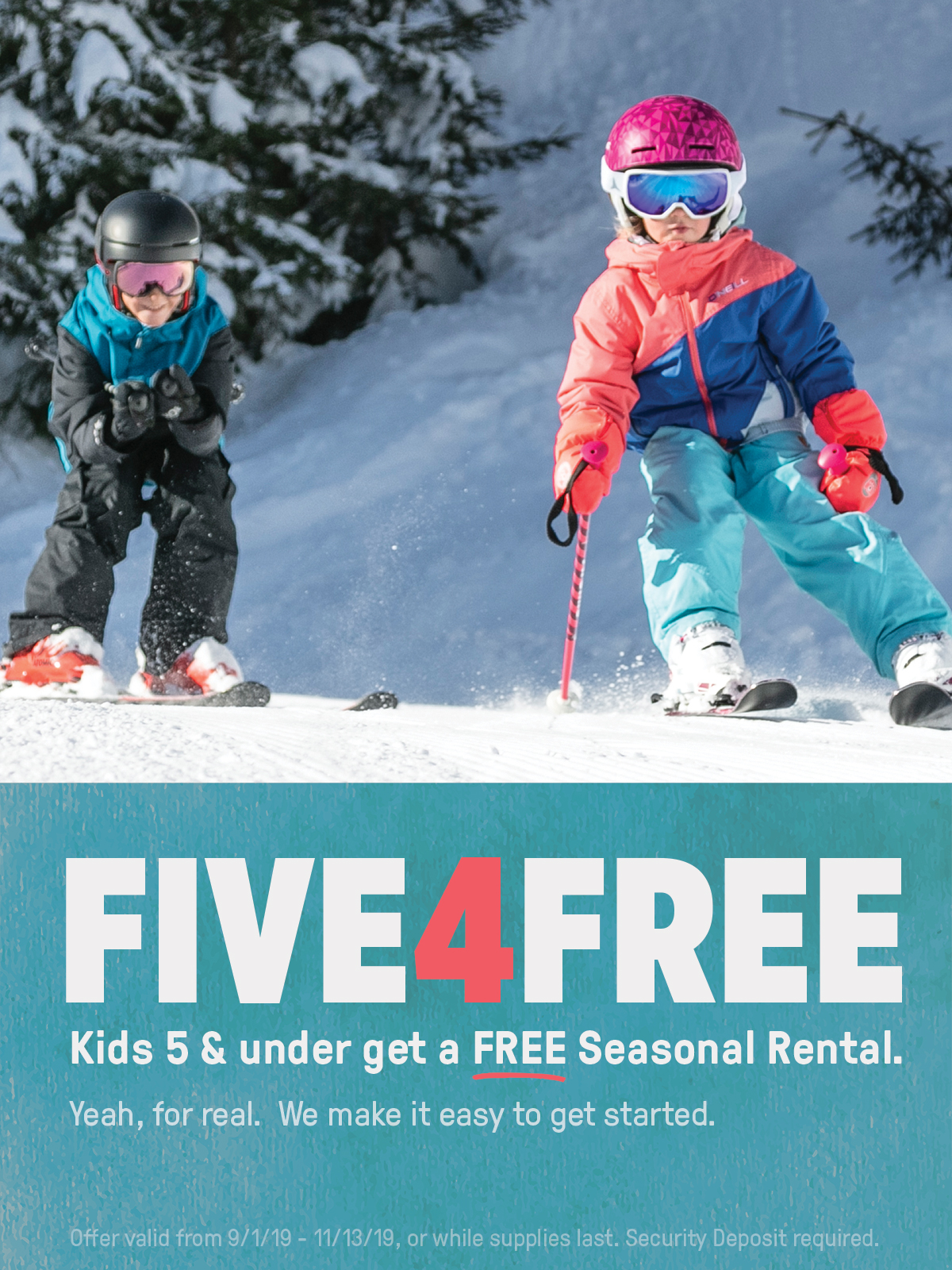 FIVE4FREE
If you've got a little one that is five years old or younger, they're eligible for a FREE ski or snowboard rentals through our FIVE 4 FREE program. This is a great way to introduce your kids to a lifelong sport that's fun for the whole family while enjoying a day at the mountain for yourself.
New Ski & Snowboard Rentals
This is the best program around for renting new skis and snowboards. Starting at $108 for juniors and $228 for adults, you can rent BRAND NEW skis/snowboards, boots, bindings.  Yeah, you read that right—completely new equipment from great brands like K2, Fischer, Ride, Nidecker and Elan! It includes new skis/snowboard, boots*, and bindings. (*Junior's can upgrade to new boots for $35).  If you love the set up, subtract your rental fee from the original price and buy it at the end of the season.
Past Seasons Gear Sale
Along with rental discounts, we have priced past seasons gear at 40% off.  Supplies are limited so you might want to stop in soon to shop these discounts!
With new arrivals of Burton, Arbor, K2, Fischer, Faction, and more dropping daily, our preseason sale and seasonal lease event is sure to put a smile on everyone's faces.
318 3rd Ave, Westwood, NJ / 201.664.2500 / mteverest.com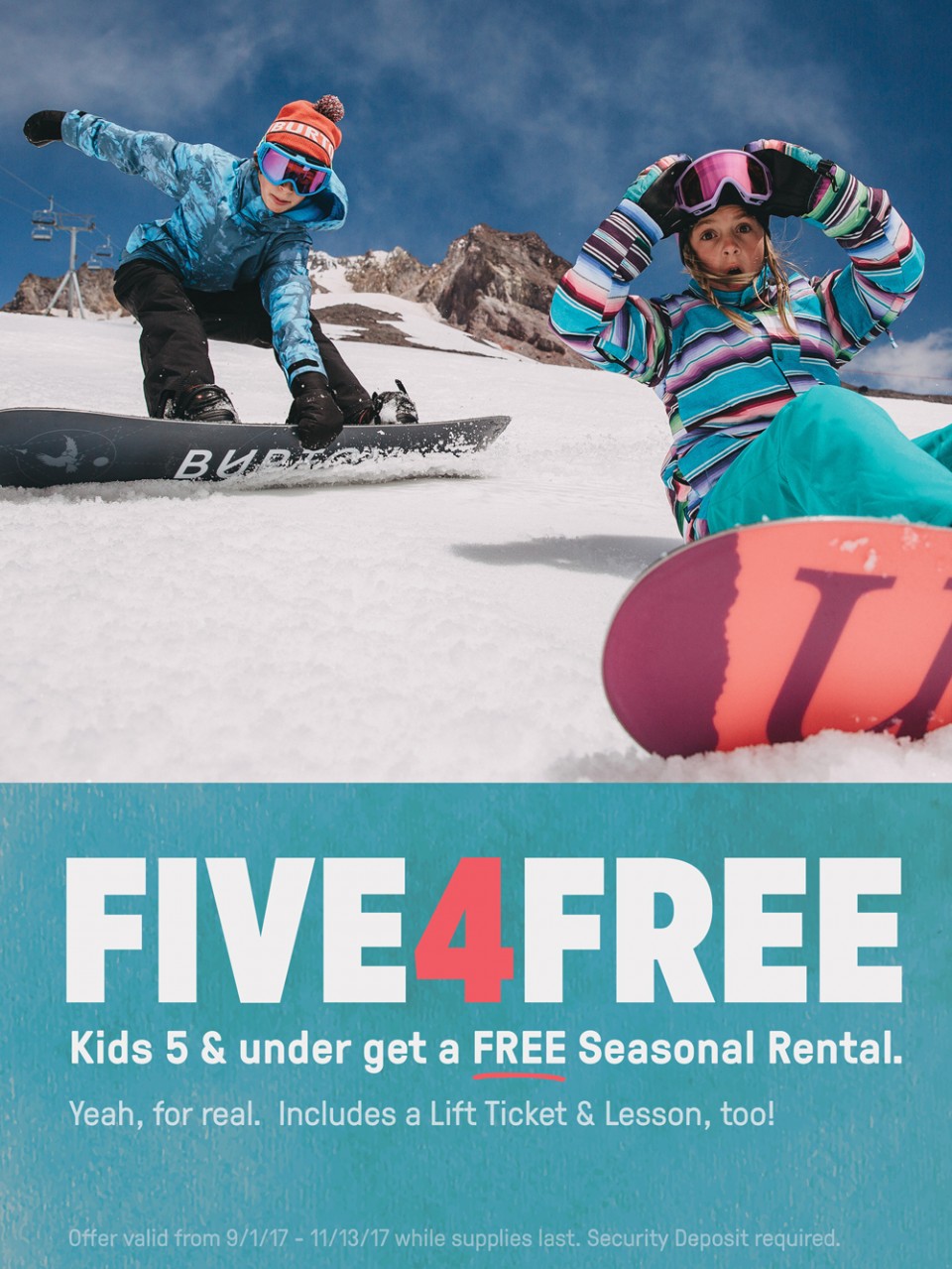 Winter is back, and with it comes Mount Everest's Seasonal Lease Event! For a limited time ending 11/13, Seasonal Ski and Snowboard Leases are offered at the lowest prices of the season.
New for the 2017 Seasonal Lease event is the FIVE4FREE program where kids five and under get a Free Seasonal Lease. This includes everything you need to get started; a set of skis or snowboard, boots, and a Free Lift Ticket and Lesson to Campgaw. Priced at $88 during the lease event and usually $108 during the regular season, this seasonal lease is now offered for free. Stop by the shop to get fitted while supplies last!  
If you miss the sale, don't stress! Mount Everest offers exclusive lease packages all season! Including seasonal leases as low as $88 for juniors and $128 for adults, and new seasonal leases going for $158 for juniors and $228 for adults.
Offer valid from 9/1/17 – 11/13/17. Security Deposit required.
318 3RD Ave, Westwood, NJ / 201.664.2500 / ridemteverest.com

Mt. Everest's Stadium Sale is back again with exclusive deals on the very best ski and snowboarding equipment. Sale dates are January 5-8 at Meadowlands MetLife Stadium.
Mt. Everest is serving the masses with a huge selection of skis, snowboards and outerwear at up to 80% off.
Free Admission and parking for all visitors. 
For more information visit our store in Westwood, or check out the sale online @ http://www.ridemteverest.com/giants-stadium-sale/. We'll see you there!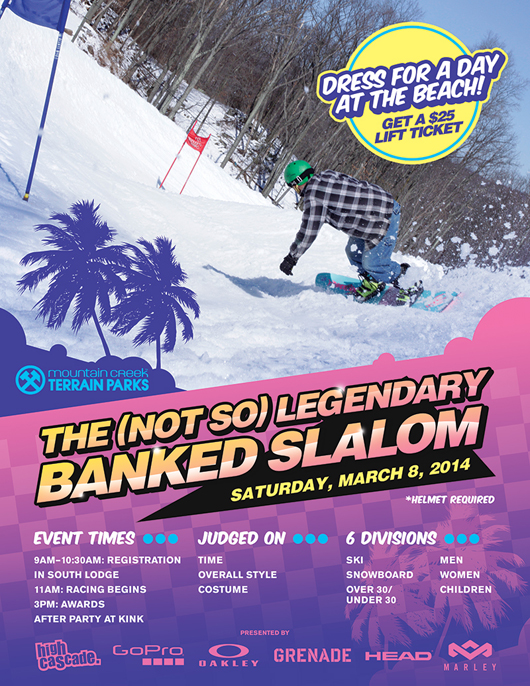 The (Not-So) Legendary Banked Slalom is back again this Saturday, March 8th, at Mountain Creek.  Get your swim trunks and coconut bikinis out of storage and ready for shredding because the theme this year is beach party! For a recap of last years event check out this Youtube video.
Registration: 9am-10:30am in South Lodge
Race starts at 11am
Awards at 3pm
After Party in Kink
Free to participate (lift ticket required). Dress for a day at the beach and get a $25 Lift Ticket. There will be 6 divisions and prizes for time, overall style, and costume. *Helmets Required
Well, well, well…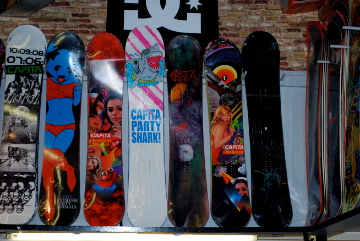 …if it isn't the Capita Party Shark!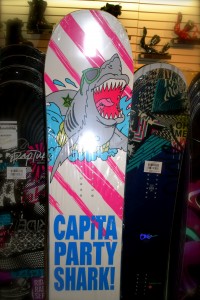 Just opened up our shipment from Capita (thanks for those Atomic Fireballs, C3!), and was psyched to see the graphics from Corey Smith & co. in person. Along with the Shark, we've got the tipsy & topless pandas of the Stairmaster EXTREME, some vicious space monsters attacking the Horrorscope FK, and a slightly-retro, stylish Saturnia for us ladies.
Capita's boards have been featured in this season's Good Wood and Best of Test, so if you're looking for a quality board at a good price (most under $360!), head over to the Board Room and check out the rest of our 2011 CAPiTA boards