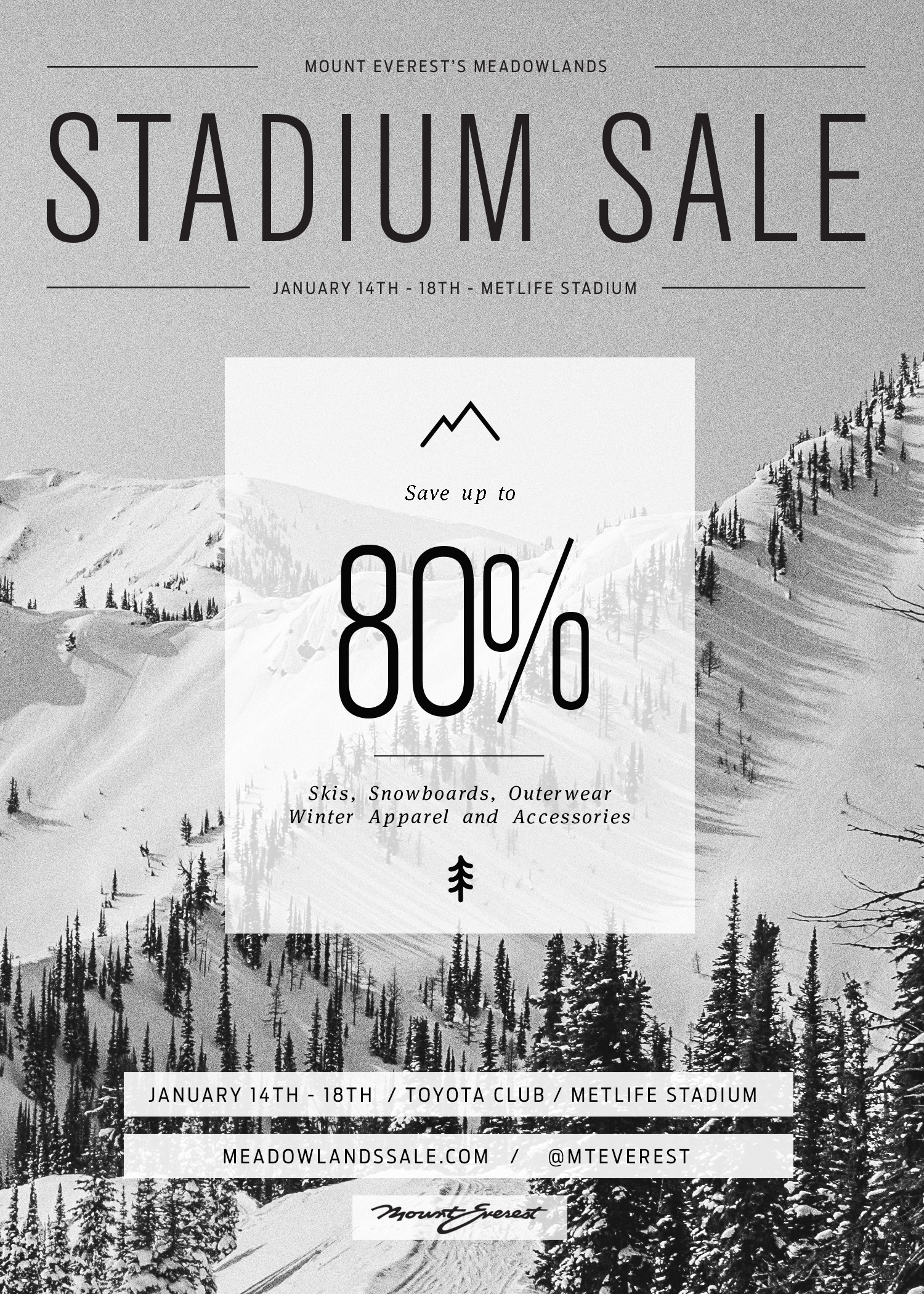 Mt. Everest's Stadium Sale is back again with exclusive deals on the very best ski and snowboarding equipment. Sale dates are January 14-18 at Meadowlands MetLife Stadium.
Mt. Everest is serving the masses with a huge selection of skis, snowboards and outerwear at up to 80% off. All ski and snowboard packages include a free lift ticket to Mountain Creek. Shoppers also have the chance to win a 4 day vacation to Whitefish Resort in Montana for some epic west coast winter riding.
Event Times
Thursday : 5pm – 10pm
Friday      : 12pm – 10pm
Saturday  : 9am – 9pm
Sunday    : 11am – 7pm
Monday   : 11am – 7pm
Free Admission and parking for all visitors. 
For more information visit our store in Westwood, or check out the sale online @ http://www.ridemteverest.com/giants-stadium-sale/. We'll see you there!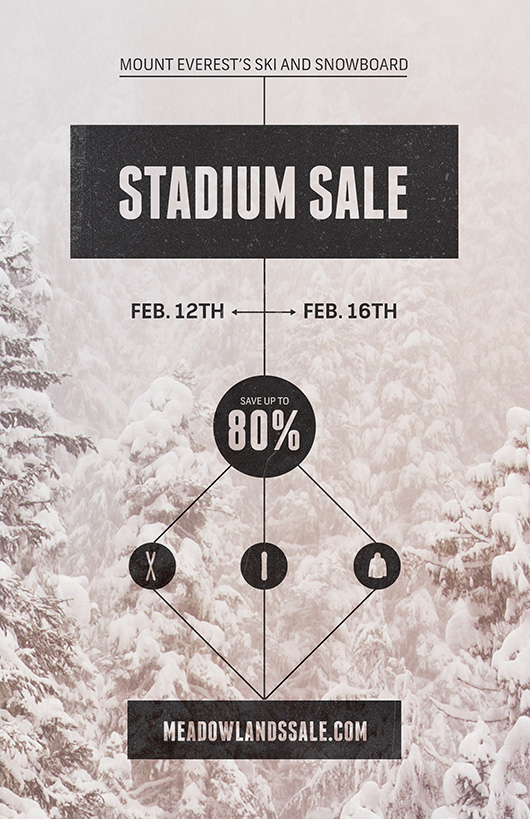 This February 12th – 16th, Mount Everest will be bringing another stadium sale to the Meadowlands.  With plenty of days left in the season and just in time for President's Week, now is the perfect time to grab all the gear you need at amazing prices.
We've worked hard to replenish our inventory and increase our product offering so there is sure to be great gear for everyone of all ages, ability levels and style.  Ski and Snowboard packages start at $250 and every ski or snowboard purchase comes with a Free Lift Ticket to Mountain Creek or Windham, a $10 Mount Everest Gift Card and one free tune-up card that never expires.
Great deals on winter outerwear and accessories are abound; with end-of-season-type discounts on current styles and super-discounted stadium-only specials, this sale has everything you need to get kitted from head to toe.  Just attending the sale gains you access to additional offers at Mount Everest's Retail Store.  Before leaving the sale be sure to get your hands on coupons that includes a skis or snowboard mount service for $12 (free if you are traveling from NYC), tune-up for $12,  and an extra 5% any future purchase.
Make sure to join the event on Facebook and follow us on Twitter to stay updated with special Stadium Sale promotions and deals!
Tuesday, February 12th: 5pm – 10pm
Wednesday, February 13th: 12pm – 10pm
Thursday, February 14th: 12pm – 10pm
Friday, February 15th: 12pm – 10om
Saturday, February 16th: 9am – 9pm
Free Admission | Free Parking | Free NYC Shuttles powered by OvRride
Kit up before it's too late!
Wednesday Dec 9th:
1pm – 10pm
Thursday Dec 10th:
12pm – 10pm
Friday Dec 11th:
12pm – 10pm
Saturday Dec 12th:
10am – 9pm
Also, check out the schedule for the Free Shuttle from NYC, Union Square

View Giants Stadium Sale – Pick Up Locations in a larger map
Shuttle buses are running from Union Square in NYC to the Giants Stadium Sale from 5pm-10pm Monday thru Friday. On Saturday, buses will be running all day from 10am until 9pm. Shuttle busses are free and snow DVDs are playing!!
The pick up and drop off location is in front of BOTH Starbucks in Union Square. Here are both locations and links to Google Maps
Starbucks – 10 Union Square East Google Map
Starbucks – 41 Union Square West  Google Map
Update 12/10/09 7:52pm: Please note: Round-trips are longer than expected due to heavy traffic. Bring your receipt from Starbucks and we'll pick up the tab.