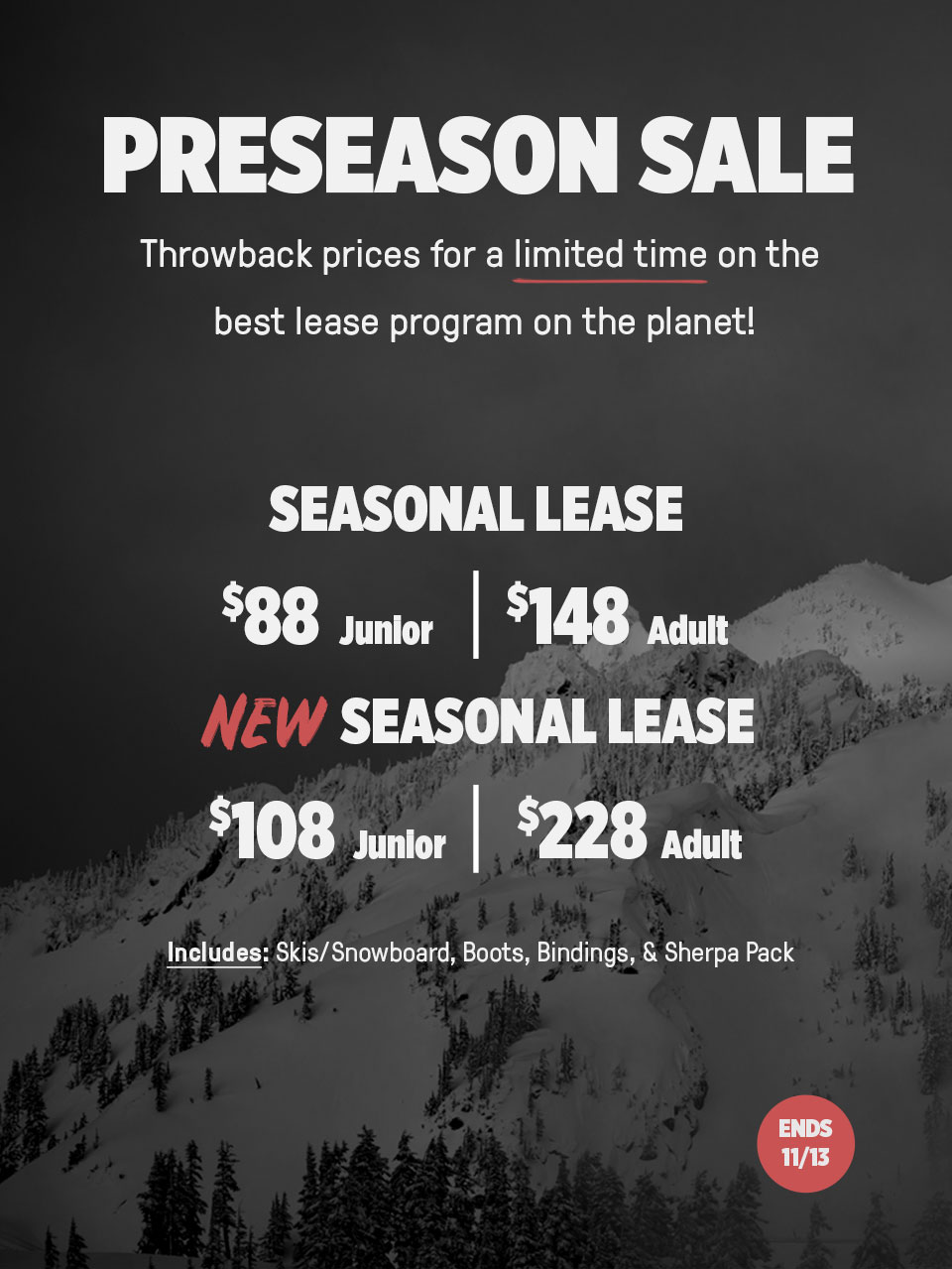 What's up!? It's been a while but we're back and welcoming winter with our annual Preseason Sale & Seasonal Lease Event:
Now through November 13, 2019, we're offering discounted seasonal rentals, making it the best time to beat the rush, and get fitted for winter.
Our seasonal rentals include all the equipment you need: skis/snowboard, boots, and bindings, and a Sherpa Mountain Guide, which includes offers from Windham, Hunter, Blue Mountain, Shawnee, Killington, and more!
Seasonal Ski & Snowboard Rentals
During this sale, juniors get rentals at a discount for $88 and adults for $148.  Our Fit Guarantee ensures that you can swap any rental equipment anytime throughout the season without additional charge, which is great when you have growing kids.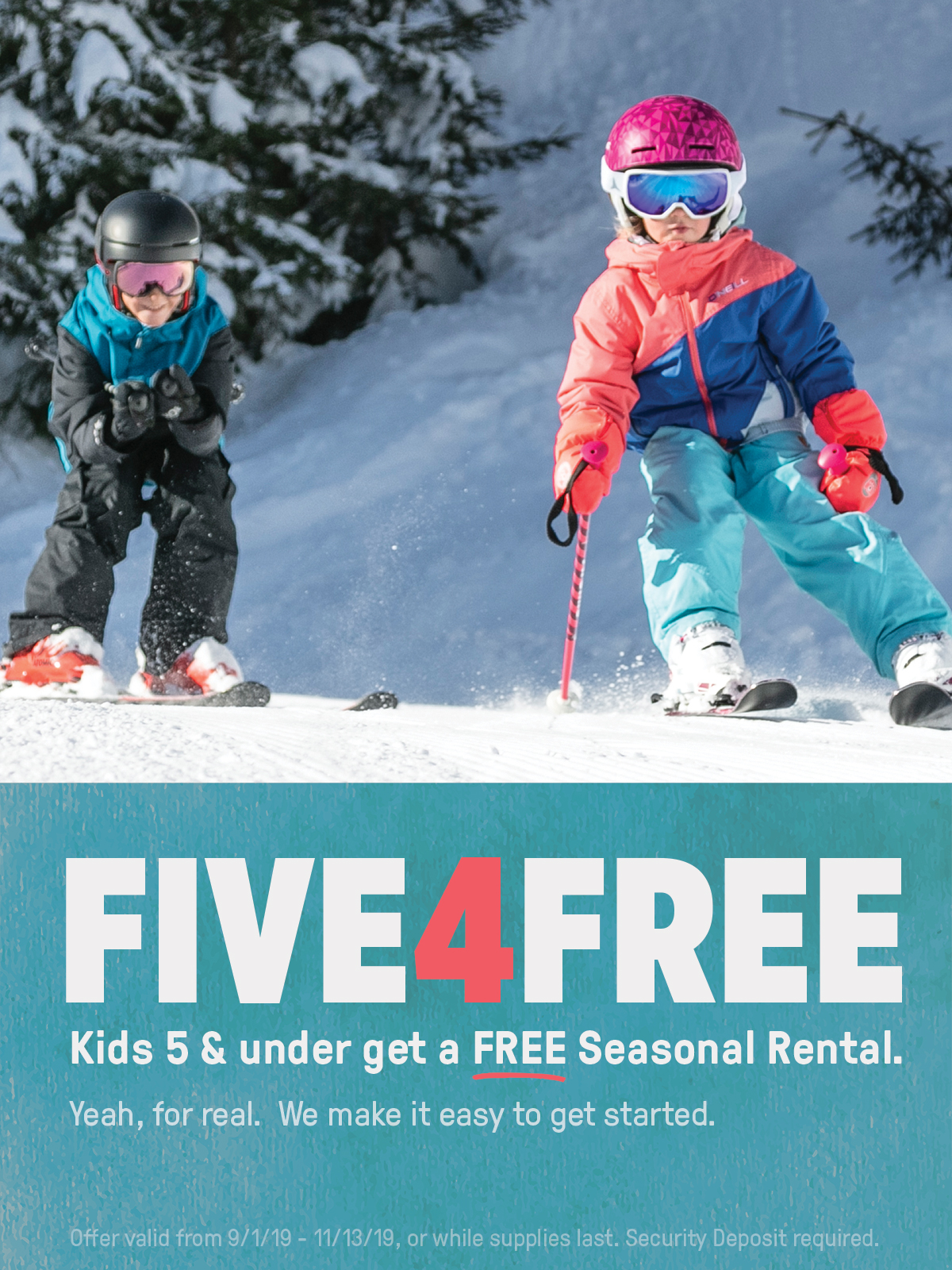 FIVE4FREE
If you've got a little one that is five years old or younger, they're eligible for a FREE ski or snowboard rentals through our FIVE 4 FREE program. This is a great way to introduce your kids to a lifelong sport that's fun for the whole family while enjoying a day at the mountain for yourself.
New Ski & Snowboard Rentals
This is the best program around for renting new skis and snowboards. Starting at $108 for juniors and $228 for adults, you can rent BRAND NEW skis/snowboards, boots, bindings.  Yeah, you read that right—completely new equipment from great brands like K2, Fischer, Ride, Nidecker and Elan! It includes new skis/snowboard, boots*, and bindings. (*Junior's can upgrade to new boots for $35).  If you love the set up, subtract your rental fee from the original price and buy it at the end of the season.
Past Seasons Gear Sale
Along with rental discounts, we have priced past seasons gear at 40% off.  Supplies are limited so you might want to stop in soon to shop these discounts!
With new arrivals of Burton, Arbor, K2, Fischer, Faction, and more dropping daily, our preseason sale and seasonal lease event is sure to put a smile on everyone's faces.
318 3rd Ave, Westwood, NJ / 201.664.2500 / mteverest.com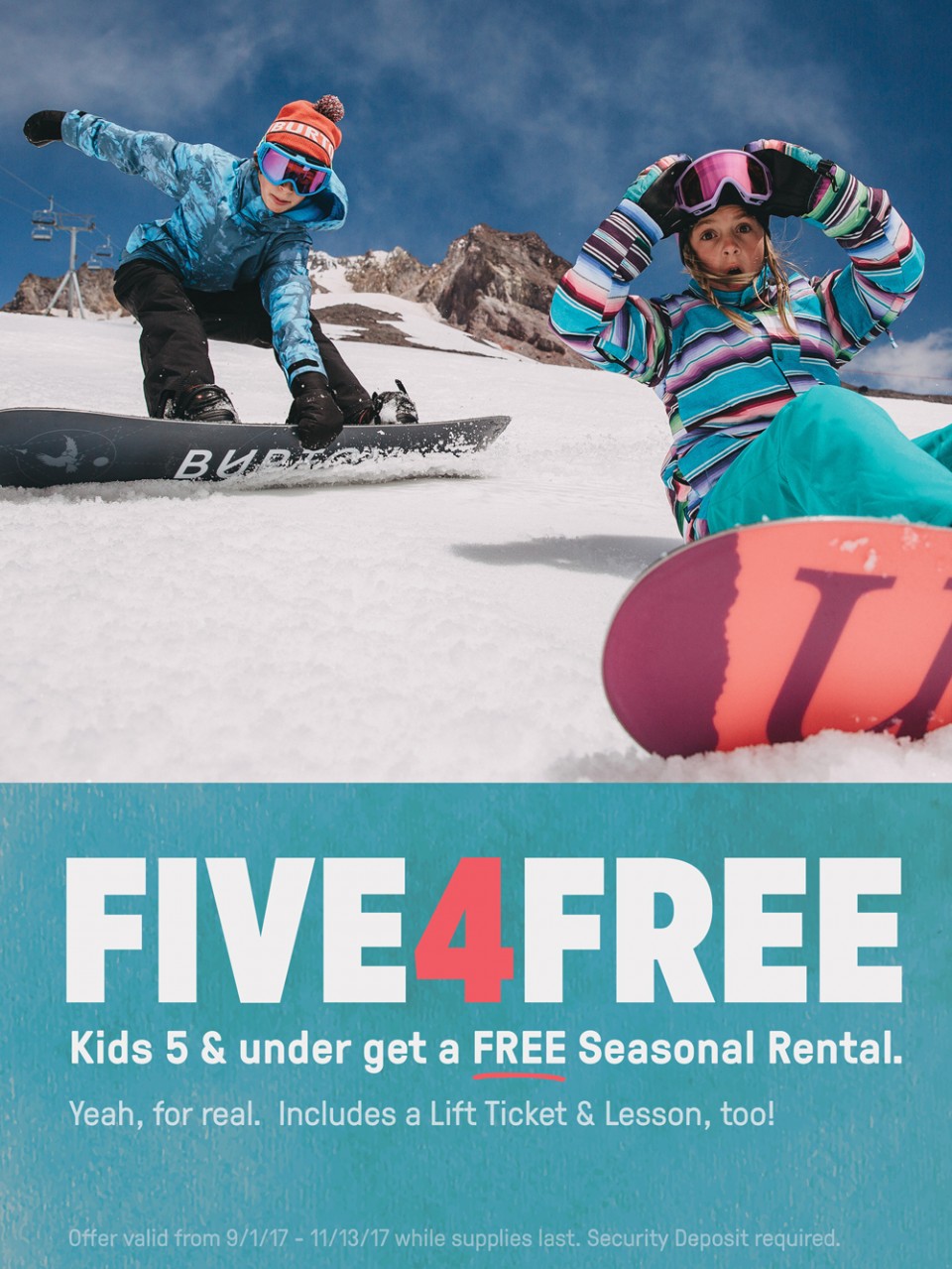 Winter is back, and with it comes Mount Everest's Seasonal Lease Event! For a limited time ending 11/13, Seasonal Ski and Snowboard Leases are offered at the lowest prices of the season.
New for the 2017 Seasonal Lease event is the FIVE4FREE program where kids five and under get a Free Seasonal Lease. This includes everything you need to get started; a set of skis or snowboard, boots, and a Free Lift Ticket and Lesson to Campgaw. Priced at $88 during the lease event and usually $108 during the regular season, this seasonal lease is now offered for free. Stop by the shop to get fitted while supplies last!  
If you miss the sale, don't stress! Mount Everest offers exclusive lease packages all season! Including seasonal leases as low as $88 for juniors and $128 for adults, and new seasonal leases going for $158 for juniors and $228 for adults.
Offer valid from 9/1/17 – 11/13/17. Security Deposit required.
318 3RD Ave, Westwood, NJ / 201.664.2500 / ridemteverest.com

Mt. Everest's Stadium Sale is back again with exclusive deals on the very best ski and snowboarding equipment. Sale dates are January 5-8 at Meadowlands MetLife Stadium.
Mt. Everest is serving the masses with a huge selection of skis, snowboards and outerwear at up to 80% off.
Free Admission and parking for all visitors. 
For more information visit our store in Westwood, or check out the sale online @ http://www.ridemteverest.com/giants-stadium-sale/. We'll see you there!
1. Capita Defenders of Awesome Snowboard 2016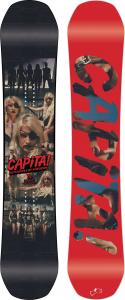 The Defenders of Awesome series has a big reputation and these boards back it up. And when we say they back it up, we mean they back to back to back it up. As winners of the most coveted design award in snowboarding three years in a row, this highly sought after series now has a Transworld Good Wood 3-peat. It's one of the best in the game and has the accolades to prove it. The DOA features a next-generation hybrid camber design, which delivers the pop and response of a camber board with the predictability of reverse camber. This truly is the go anywhere, do anything freestyle deck. For 2015 Capita has added an all new DS Select RFC Sustainable Dual Core and Fortress™ Kevlar Bound Sidewalls for bomb-proof construction.
MSRP: $419.95
The Westmark is a repeat winner of Transworld's Good Wood Award is guaranteed to satisfy the freestyle rider's appetite better than an all you can eat Chinese food buffet. This board provides the flex and response you want while jibbing, without sacrificing the stability and pop you need for higher speeds and bigger gaps
MSRP: $449.95
3. Jones Ultra Mountain Twin 2016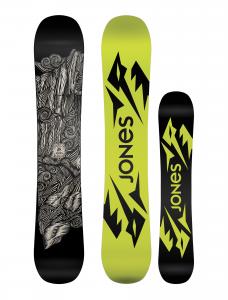 The new Ultra Mountain twin is the leaner, meaner brother of the time-tested award winning Mountain Twin. Using ULTRA Construction to eliminate weight and carbon stringers to add explosive pop, this board is designed to shred anything with playful finesse. Rocker tip and tail deliver serious float in the soft stuff while camber underfoot combined with Mellow Magne-Traction give the Ultra Mountain Twin snap and hold on hard pack. Bombing into jump lines, a sintered 9900 base will deliver the speed boost you need to go big while the carbon fiber stringers provide the stability to stomp. Though the base is as fast as it gets, it's also bullet hard and designed to withstand lap after lap buttering boxes and rails. For freestyle riders who take fun seriously, this is your shred stick. The Himalayan spine wall graphic on the Ultra Mountain Twin was drawn by artist Joseph Toney.
MSRP: $579.00
This creepy crusher developed by Louis-Felix Paradis has become one of the most popular creations in the Salomon line. The Rock Out camber is essentially normal, yet when loaded up and flexed, the tips flatten out to offer a nice stable zone for landing, pressing and powering up ollies. The kinked sidecut is subtle but disperses pressure and adds extra bite where you need it. The twin shape, rubber sidewall dampening, and ollie-promoting milled aspen core round out the rest of its sneaky traits.
MSRP: $449.95
Messing with something tried and true is always risky, but YES proto'd a few concepts, got them on snow, and soon uncovered what we can confidently say is the future of the Jackpot. It's still a true park master in every sense of the word. Responsive, fast, playful and stable. All thanks to the new MidBite outline. MidBite cheats by having a narrower waist width equaling faster toe-to-toe response time, while still maintaining the landing stability and ollie platform you need from width, just outside the bindings. Cheating or not, there's no need to compromise your ride any longer.
MSRP: $449.00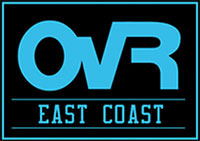 When's the last time you hopped on a bus to the mountain, high school ski club? When's the last time someone offered you food and beer on the ride up and back? How many times have you been able to watch movies with your friends on the way to an epic East Coast pow day?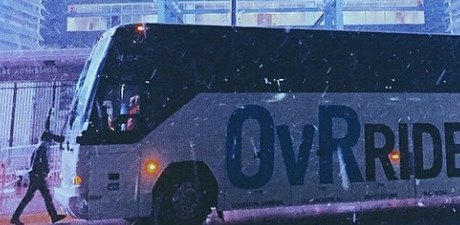 OVR has the answer for you. Running via NYC & NJ OVR organizes daily bus trips to and from various mountains on the East coast. For less than $100 you can get yourself on hill for an entire day on a slew of East coast locations like Killington, Mount Snow, Hunter, Windham, Camelback, and more. What's more breakfast and drinks are included for the ride there and back. First timers are encouraged with an array of discounted daily rental packages at their disposal if they ride with the OVR crew. OVR offers a great chance to make friends, and ride with some super cool people from your area on a regular basis. Granted you may need to wake up a bit earlier to get on the bus.
The fun doesn't stop on the East Coast however, OVR offers a number of trips around the world to locations like Alaska, South America, Western US, Japan, Europe, and more. The fun never stops with their affordable packages that guarantee you'll never be bored on or off the hill.

The bus runs throughout NYC and conducts pickups throughout North and Central jersey! It's as easy as showing up and hopping on for an epic day trip. The bus will make regular stops at the Mount Everest Ski and Board in Westwood New Jersey as well. Check out a pickup location near you here! 
Never miss an opportunity to get on hill with OvR and Mount Everest!  Like our Facebook page and reach out to us if you have any questions or concerns. We'll see you on the hill!
Book your trips here before spots fill up!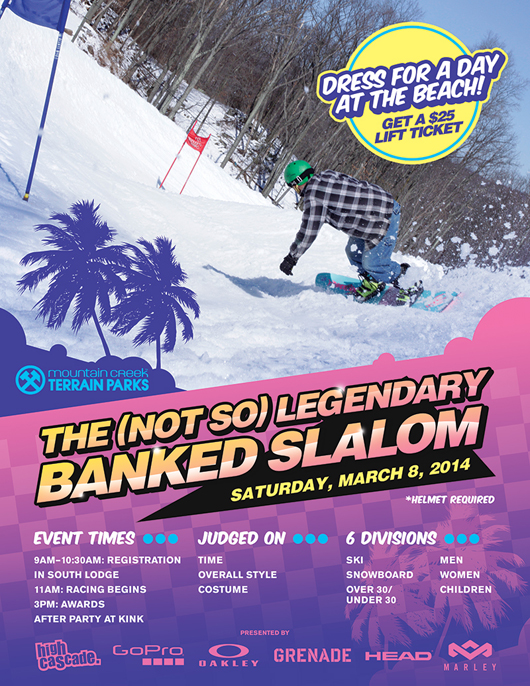 The (Not-So) Legendary Banked Slalom is back again this Saturday, March 8th, at Mountain Creek.  Get your swim trunks and coconut bikinis out of storage and ready for shredding because the theme this year is beach party! For a recap of last years event check out this Youtube video.
Registration: 9am-10:30am in South Lodge
Race starts at 11am
Awards at 3pm
After Party in Kink
Free to participate (lift ticket required). Dress for a day at the beach and get a $25 Lift Ticket. There will be 6 divisions and prizes for time, overall style, and costume. *Helmets Required