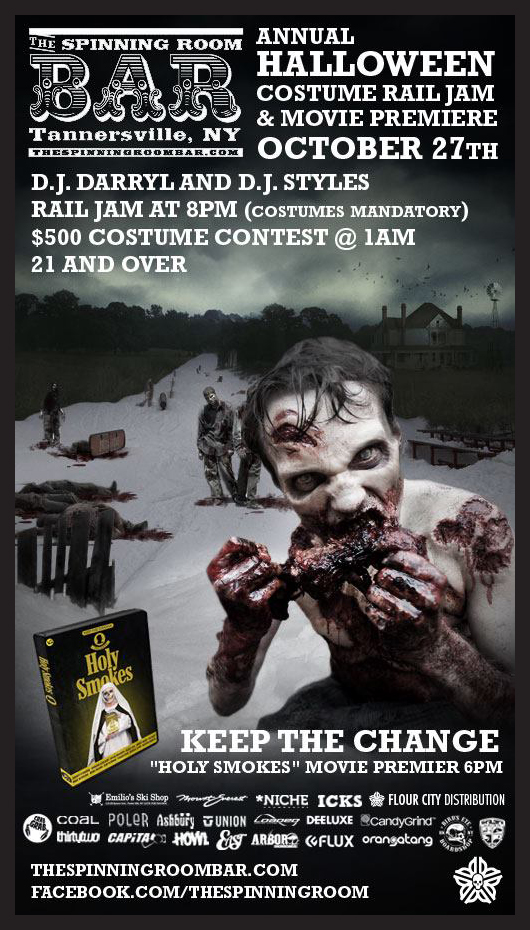 Slay zombies with your snowboard edges on Saturday, October 27th!  Not really, but if you dress up in costume you can show off your tricks (and treats, sorry I had to) at the 5th Annual Spinning Room Halloween Rail Jam & Costume Contest.  There will also be a premiere of Keep the Change's "Holy Smokes", featuring local Johnny O'Connor.  Oh yea, did we mention there will be a $500 Costume Contest hosted by DJ Darryl, DJ Styles and Sake The'Deejay?  It's going to get weird.
Join the event as spots are limited.
Location:  The Spinning Room, 5975 Main Street, Tannersville, New York 12485
Date:  10/27/12
Time: 6pm
KTC: Holy Smokes Early Teaser from VIDEOGRASS on Vimeo.
Sponsored by:  Ashbury, Capita, Coal, ThirtyTwo, Union, Arbor and more!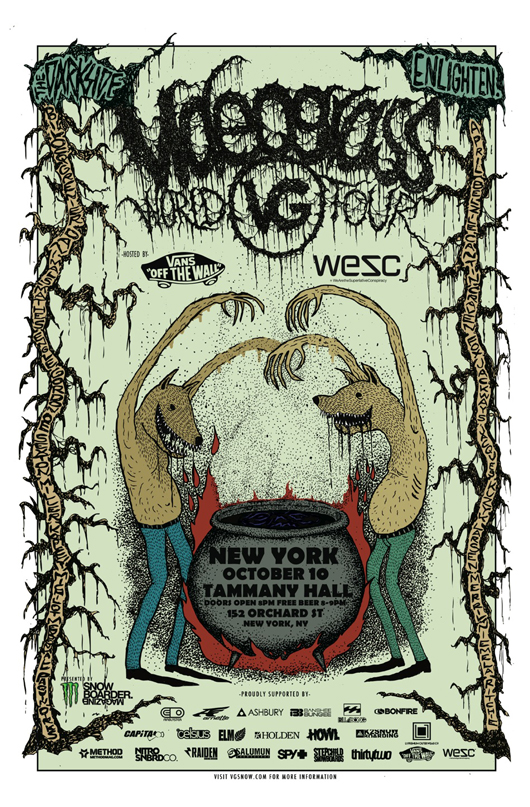 This Wednesday, October 10th, Videograss' new films "The Darkside" and "Enlighten" will drop the jaws of every spectator at Tammany Hall in NYC.  There will be FREE BEER at 8pm, so get there early and crack a few adult sodas with pro snowboarders Darrel Mathes, Jed Anderson and more.  Hosted by Snowboarder Mag, Vans and WESC.
Tammany Hall
Oct. 10th, 2012
Doors open at 8PM
Free to attend.
21+
Join the event on Facebook
The Darkside Early Teaser from VIDEOGRASS on Vimeo.
Enlighten Early Teaser from VIDEOGRASS on Vimeo.
"Enlighten" and "The Darkside" are sponsored by: Airblaster, Ashbury, Banshee Bungee, Bonfire, Capita, Holden, K2, Nitro, Salomon, Stepchild, ThirtyTwo and more.