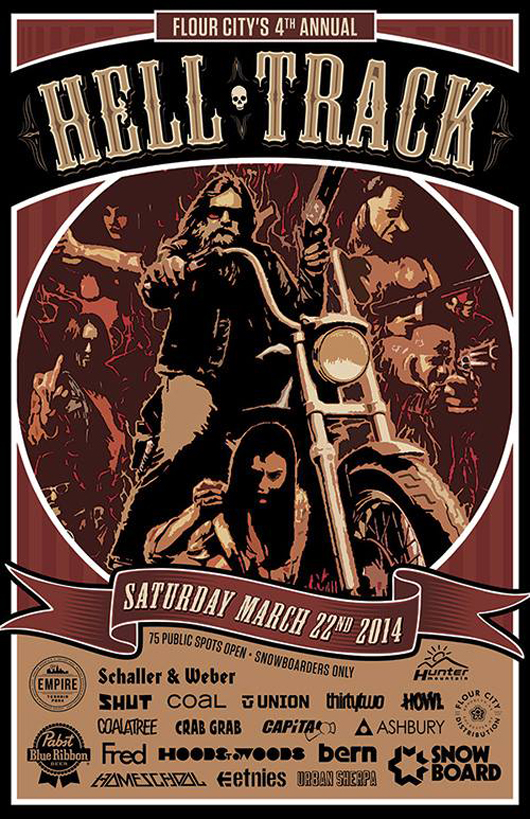 Flour City's 4th Annual Hunter Hell Track will be held this Saturday March 22nd.  This year the skate-style course will be slightly toned down but,  even longer than last years! Hunter Hell Track is free to enter and there will be 75 public spots open to snowboarders only of all ages.  The event is always a nonprofit event and once again we will be raising money for Hoods to Woods Foundation.
Final registration will be held at the Yurt from 10am-11:30am.  A riders meeting will be held at the Yurt prior to the contest at 11:30am. The contest runs from Noon until completion.  The Awards / Prizes will be handed out to the top 3 overall times within each division after the final racer crosses the finish line.
Divisions are based around the ages who have signed up so far:
Young Bucks 13 – 17
Younger Amateurs 18 – 35
Older Amateurs 35+
Women Amateurs
The Official After Party will be held once again at The Spinning Room with Tim MacKenzie's band The Stripdown. This is a 21+ event and $5 at the door. So, wax your shred unit and show your support for Hoods to Woods by shredding a skate-style rhythm course at Hunter Mountain!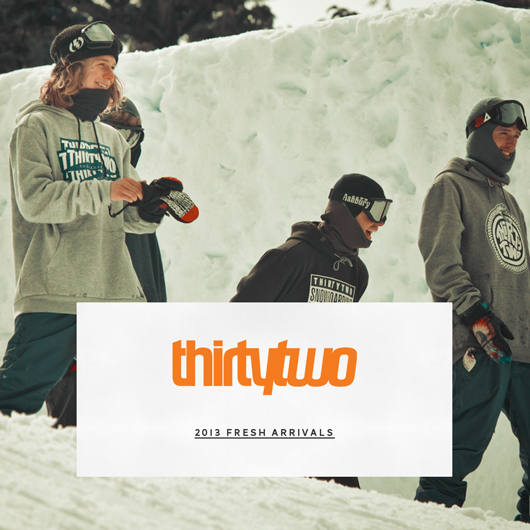 ThirtyTwo's claim to fame are their snowboards boots and for all the right reasons.  They're known for being lightweight, well-fitting, and packed with progressive tech features.  ThirtyTwo's lineup of technical outerwear is no exception.  With team riders like Joe Sexton, Scott Stevens, Jake Kuzyk and Chris Bradshaw testing the line, you know this gear can take a beating.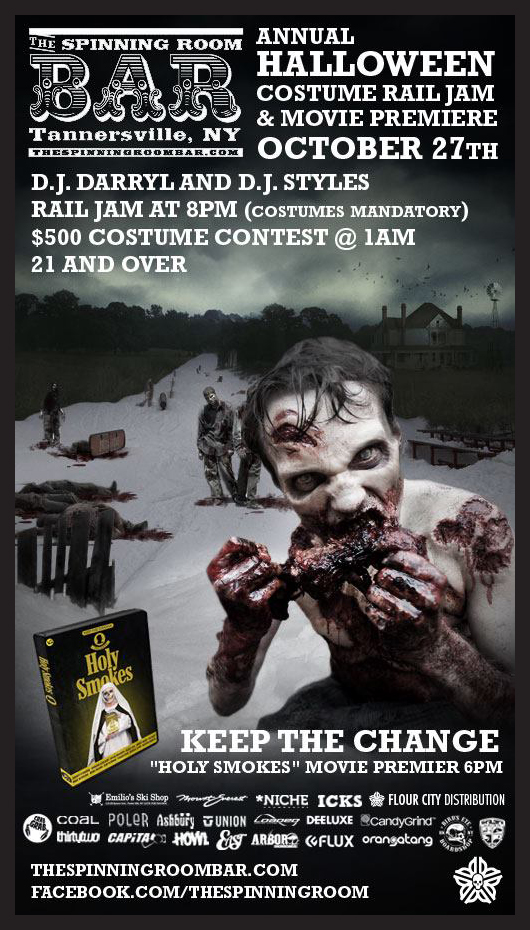 Slay zombies with your snowboard edges on Saturday, October 27th!  Not really, but if you dress up in costume you can show off your tricks (and treats, sorry I had to) at the 5th Annual Spinning Room Halloween Rail Jam & Costume Contest.  There will also be a premiere of Keep the Change's "Holy Smokes", featuring local Johnny O'Connor.  Oh yea, did we mention there will be a $500 Costume Contest hosted by DJ Darryl, DJ Styles and Sake The'Deejay?  It's going to get weird.
Join the event as spots are limited.
Location:  The Spinning Room, 5975 Main Street, Tannersville, New York 12485
Date:  10/27/12
Time: 6pm
KTC: Holy Smokes Early Teaser from VIDEOGRASS on Vimeo.
Sponsored by:  Ashbury, Capita, Coal, ThirtyTwo, Union, Arbor and more!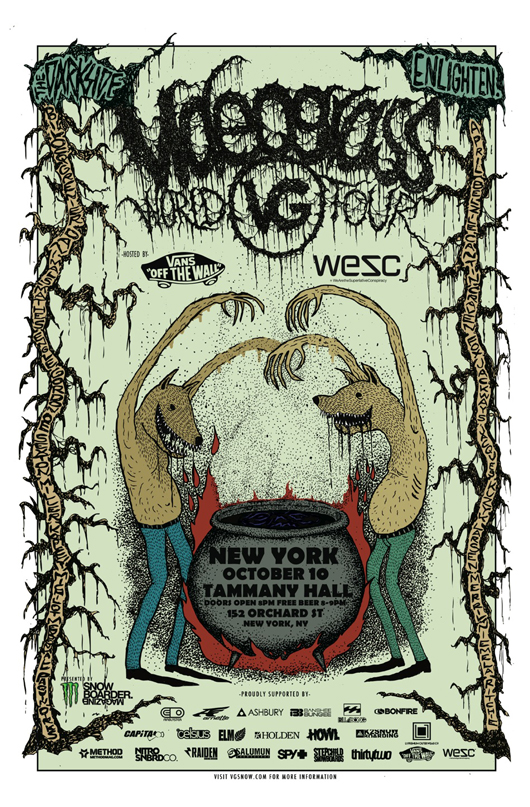 This Wednesday, October 10th, Videograss' new films "The Darkside" and "Enlighten" will drop the jaws of every spectator at Tammany Hall in NYC.  There will be FREE BEER at 8pm, so get there early and crack a few adult sodas with pro snowboarders Darrel Mathes, Jed Anderson and more.  Hosted by Snowboarder Mag, Vans and WESC.
Tammany Hall
Oct. 10th, 2012
Doors open at 8PM
Free to attend.
21+
Join the event on Facebook
The Darkside Early Teaser from VIDEOGRASS on Vimeo.
Enlighten Early Teaser from VIDEOGRASS on Vimeo.
"Enlighten" and "The Darkside" are sponsored by: Airblaster, Ashbury, Banshee Bungee, Bonfire, Capita, Holden, K2, Nitro, Salomon, Stepchild, ThirtyTwo and more.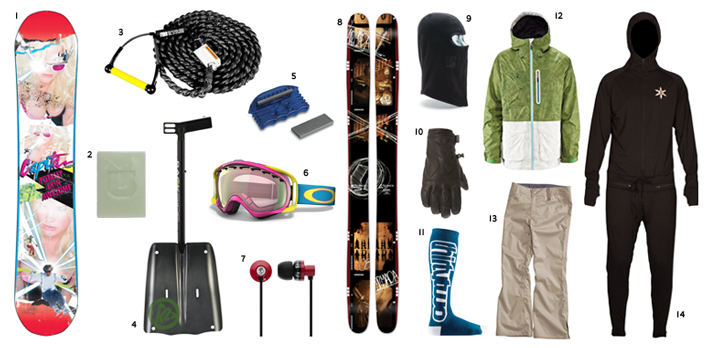 The forecast is showing that there is some white precipitation heading toward the East Coast.  In case you forgot what you need to make the best of a powder day, shop our guide to keep you getting freshies all day long.
1.  Capita Totally FK'N Awesome Snowboard
2.  Burton Hydrocarbon Hot Wax – All Temp
7.  Skullcandy Titan In-Ear Buds
11.  ThirtyTwo Double Down Sock
Come watch Capita's latest team video Defenders of Awesome at the Warwick Drive-In Theater on Thursday, Sept. 29th!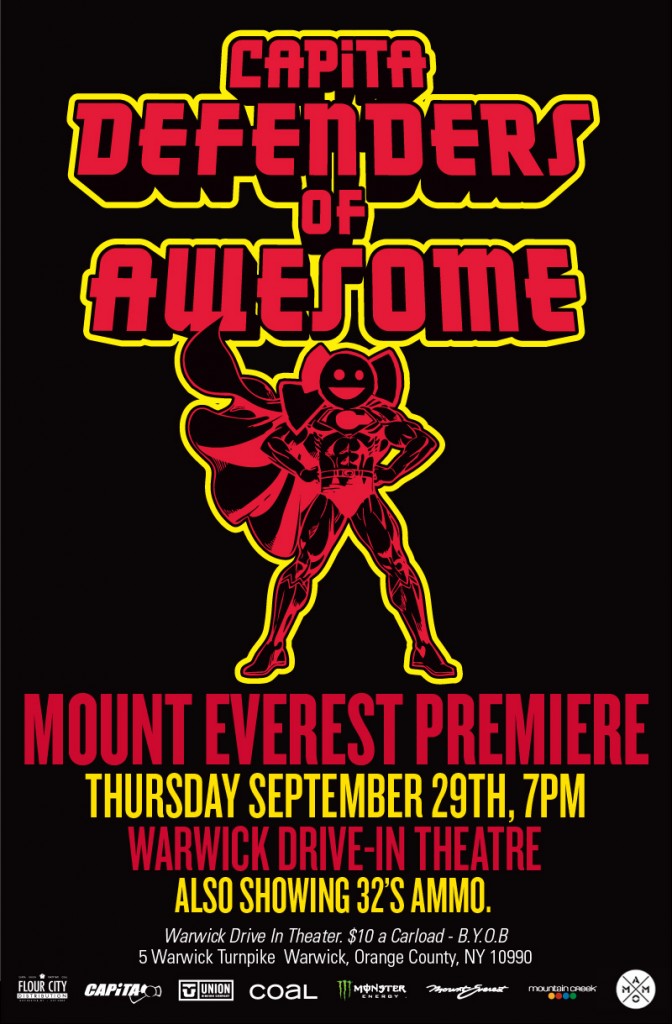 Grab some friends, pimp your ride & get to our premiere of ThirtyTwo's AMMO and Capita's Defenders of Awesome on a 70ft x 40ft screen. (Think movie theater screen size. Only huge-r. and Awesome-r.) The night will kickoff with some free swag & giveaways…any cars with snowboards in tow will earn extra raffle tickets so don't forget to show 'em off at the ticket booth!
7pm – Ticket booth open for admission
8:30pm – 9:30pm ThirtyTwo presents "Ammo"
9:30pm – 10:30pm Capita Snowboards presents "Defenders of Awesome"
(Sponsors: Capita Snowboards, Flour City Distribution, Mount Everest, Monster Energy, Mountain Creek, ThirtyTwo, Coal Headwear & Union Binding Company)
In case you haven't been, the AWESOME Warwick Drive-In is near Mountain Creek & easy to get to from Rt. 94 or Rt. 23 – Check their site for driving directions. Make sure you don't miss any event updates & RSVP on Facebook!
This Saturday show your support for Japan by shredding a skate-style rhythm course at Hunter!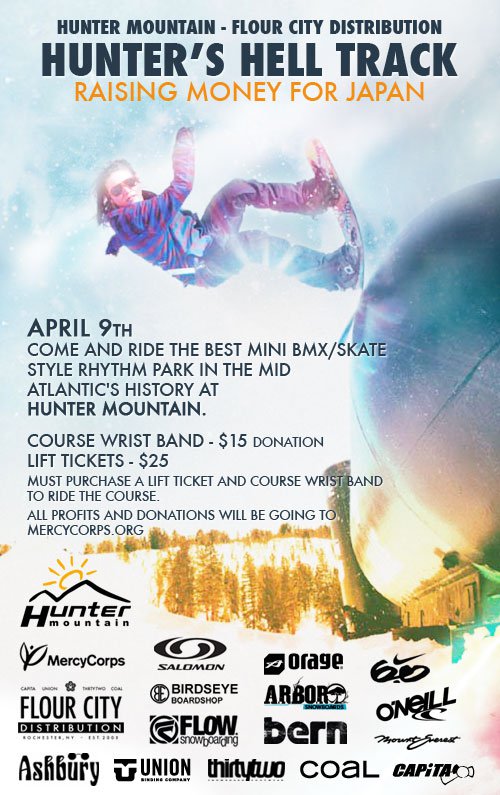 Registration will be open from 10am – Noon inside the Lodge, followed by a riders meeting at the Yurt.
The course promises be the most progressive BMX/Skate/Boardercross/ Rhythm Track you have ever seen on SNOW! Skiers and snowboarders welcome!
Course wristbands cost $15; all proceeds are being donated to MercyCorps to help the crisis in Japan. You'll be able to hit the track as many times as you want and receive raffle tickets for prizes including skis, snowboards, helmets, outwear, goggles and more. (Lift tickets are required to compete & can be purchased for $25. Season passes will be honored)
Raffle tickets will also be on sale to the general public, so there's really no excuse…good times for a good cause! RSVP & check Hunter's blog for event updates
Two weeks ago, riders Brandon Hobush, Chris Brewster, Dom Luza, & Dylan Alito hit Empire Park at Hunter for the latest ThirtyTwo Spot Check. The Spot Checks showcase some of the best parks, features, & riders from mountains all over the country; watch all the edits on ThirtyTwo's blog.
This Friday we're pumping up our Test the Best demo fleet with 2012 early release gear and giving YOU a chance to demo 400% totally awesome decks, boots, & bindings from Capita, ThirtyTwo & Union.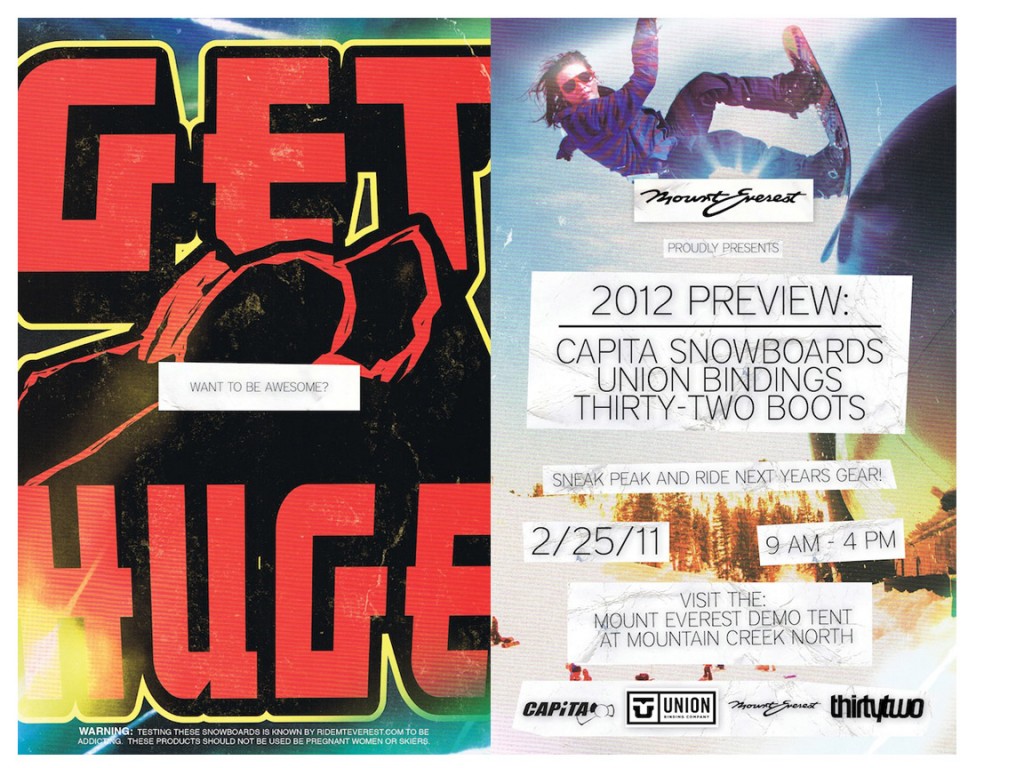 New tech, new models, new features…new EVERYTHING!
Check out our Facebook event to RSVP!